Now that it is time for confinements again, there was someone who had a worse time. Juan Miguel Esteban was locked up in jail for seven years. More than 2,555 days of punishment and more than 61,000 hours discounting the time to return. Everyone's first day was February 2009 and it was snowing. Juanmi was 32 years old and they undressed him as soon as he entered the Aranjuez prison, just before a few hundred, all his new companions, came to look at him. But Juan Miguel Esteban soon found an escape route that completely transformed his life until he became an athlete. And he left prison as a champion.
Before all that, Esteban lived comfortably. He studied an Electronics FP and then became interested in nutrition, which led him to specialize in personal training. He began working with famous students and his next step was the world of the night. He set up a security company and was doing very well, touring with artists like Madonna, Alejandro Sanz and El Canto del Loco. One day it went wrong.
An event in the Plaza de Alcalá de Henares changed his life. One of its 300 employees, the one assigned to Alcalá, could not go to work, and Juanmi replaced him with a man without papers. He had to guard an ice rink, and the afternoon got complicated. A brawl broke out and the Romanian employee hired was murdered after being stabbed several times. The justice condemned Juan Miguel Esteban for a crime against the workers' rights. A sentence that was raised to 14 years in prison, aggravated by some incidents of Juanmi in the world of the night, and finally reduced to 11 years after several resources.
A few days in prison served him to detail an accurate diagnosis: "Either I do something here or I spank it." A visit to jail saved him. It was that of his cousin Carlos. He and Jesús, another of his cousins, did athletics and triathlon, and they told Juanmi everything that helped them. They proposed a madness to him: why not start running in his confinement.
In the prison yard they had a futsal court of about 120 meters. A ridiculous space to run, but Juanmi steeled herself. He started doing it for a few minutes a day, which soon grew, until he reached hours of training. Juanmi faced a perpetual curve, circling like a mouse, on the futsal court. From the ridicule of his companions, from the crazy from the patio, for some of them to follow him. From a few joining him, to running with more than a hundred people.
A routine to save yourself
What affects the most is what happens closer. To not miss anything, subscribe.
Subscribe
I ran every day. Rain, cold or hot. It was his routine, along with a more sentimental one. He got hold of an analog radio to soften the hours in the cell, and found another of his escape routes in Malú's music. Juanmi also says that he clung to the bad. Hatred and anger as motivation to get out of there.
As he progressed through his training, he began competing in prison races. And he won them all. Later, his first leave. The first time they let him out of jail, he went to a race organized by Penitentiary Institutions, in which more than 3,000 people ran and Juanmi finished in the top 70.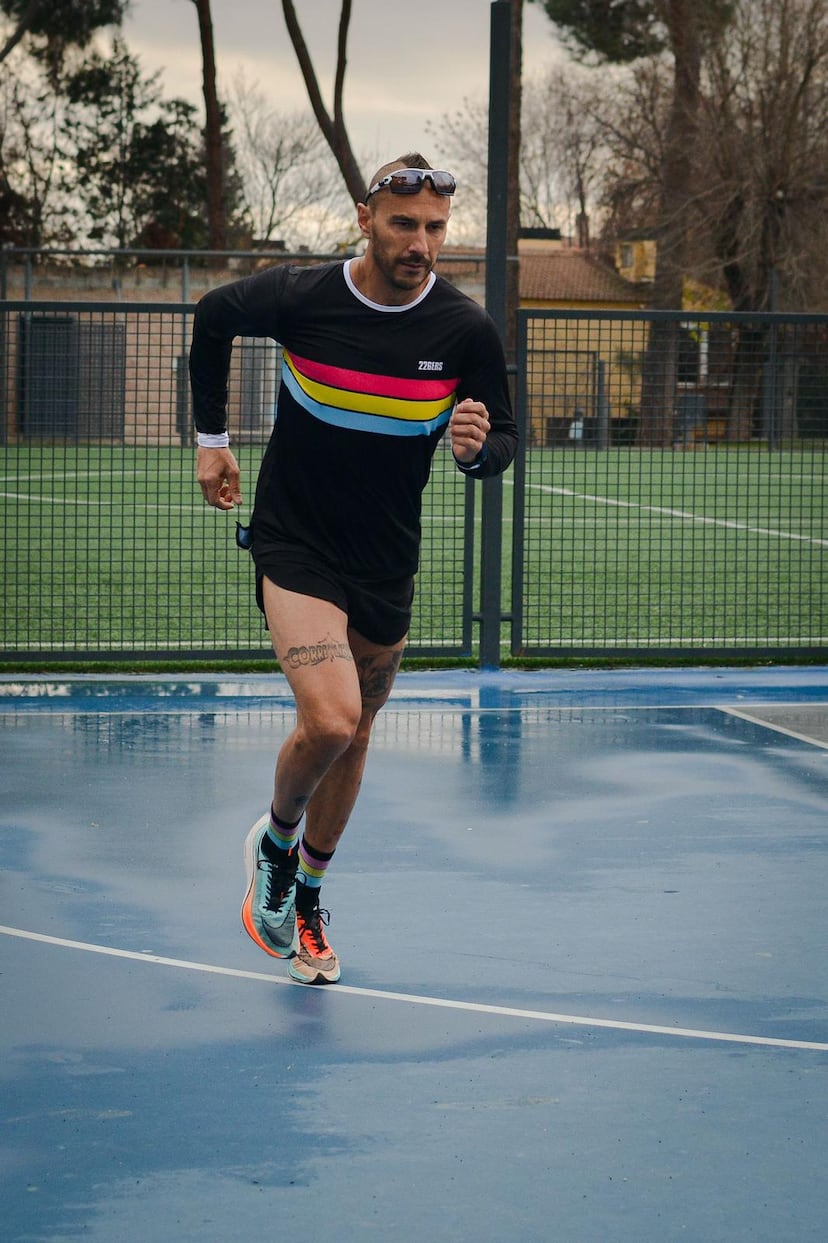 Later, another revealing visit from her cousins. They told him about a magazine that told stories of overcoming related to sports, and Juanmi wanted to write his. They never responded. However, his time came. On his second prison leave, he started running the Madrid marathon. At the Runner's Fair, where he went to pick up the race number, he came across the stand by Running Fiz, the brand of world marathon champion Martín Fiz. Juanmi approached him and told him her story. Martín Fiz, with weight in the magazine Runner, to whom Juanmi had sent his letters, he promised to help her.
In 2016, Juan Miguel Esteban ran his first marathon in Madrid with his cousins. But the next day he was back to his jail routine. A few weeks later, his mother called him crying to prison. Álex Calabuig, director of the magazine Runner, and Martín Fiz wanted him to do a report. And after another time, his story came to light.
The report also ran, and reached the right people. Thanks to his publication, the General Directorate of Penitentiary Institutions reviewed his case. They visited Juanmi in prison, they asked him if all this was true and his life changed again. "Pick up your things because tomorrow you are going home." In 2016, at the age of 39, Juan Miguel Esteban was released from prison.
A free man
Are you so free when you get out of jail? "No," he answers bluntly. The Madrilenian confesses that he will always carry a backpack on his back, that many nights he continues to hear the noise of the doors. At first nobody hired him to work. But the good news prevailed. His story was recognized as the best story of overcoming on a global scale in the last 15 years by the magazine Runner's world. And in 2019 he was champion of the Madrid Banco Santander Triathlon, of the Spanish Championship.
Juanmi didn't stop running. He even got on his bike and jumped into the water to swim. His next challenge was to do an Ironman, the most demanding race, combining running, cycling and swimming. To train he had a stroke of luck. He wanted to swim in the facilities closest to his home, at the Estudiantes de Las Tablas school, and ended up working for the school. Now he is a sports director at two schools, the Estudiantes and the Liceo Europeo de La Moraleja. And met the Ironman in Lanzarote.
Together with Martín Fiz and Álex Calabuig, already inseparable in his life, Juanmi continues to run. Running set him free. And it has made him an example. Now he is dedicated to helping, promoting all kinds of initiatives: guide for the blind, charity races for people with disabilities, cancer patients. At 45 years old, still far from his last straight, Juan Miguel Esteban has already lived a career that will never be forgotten.
Subscribe here to our daily newsletter about Madrid.

elpais.com
Eddie is an Australian news reporter with over 9 years in the industry and has published on Forbes and tech crunch.