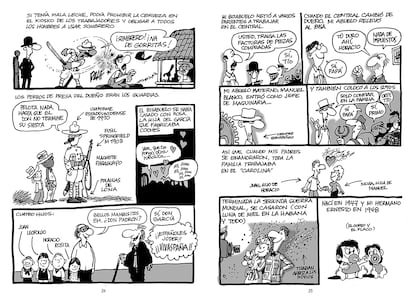 Lately, a lot of laughter came from Juan Padrón's office. "The image I have is to enter his house and see him laughing alone at the cartoon that he had just finished," says journalist Mauricio Vicent, a close friend of the Cuban genius. "He enjoyed drawing, remembering the jokes," agrees Silvia Padrón, the artist's daughter. In fact, Padrón knew by heart what he was portraying. He was not preparing a new adventure for Colonel Mambí Elpidio Valdés; nor were there in his next story mafia vampires or incompetent Spanish military men. This time, his overwhelming fantasy must not invent anything: it was enough to remember. Because the cartoons talked about him, his brother Ernesto and a thousand anecdotes from his youth that are still irresistible. It is hard to believe that so much joy sneaks into the home of a sick man, who passed away, on March 24, 2020, before finishing his drawn autobiography. But that was Juan Padrón. And so it shows My life in cuba (Reservoir Books), which was to be the first of two volumes of memoirs and today remains his last, and incomplete, monument to laughter.
"This book allows to know the person. He expresses very well his sense of humor, his part more reactive to authority, how much injustice annoyed him. Even during the production and talking to him, I have discovered a little bit more about my father ", adds Silvia Padrón, who participated last Thursday in the tribute that her father received at the Quirino Awards for Ibero-American animation. For readers, the comic is an open door to the more personal side of a comic icon, to know who was the man who fell in love with generations of Cubans with his pencil, the only one capable of winning both the National Film Award and the of Humor, which led the musician Carlos Varela to boast in a song: "I don't have Superman / I have Elpidio Valdés." And, incidentally, let yourself be guided by his strokes and his smile through the recent history of the island.
Because My life in cuba It started in 1853, when Padrón's Canarian ancestors landed ecstatically at their new home. Although, a vignette later, they discover that they have fallen short: Havana is on the other side of the bay. "Cruzal it's half real. As a head ", a local sailor tells them. Enough so that they stay where they are, in Guanabacoa. From there, the creator recounts with his contagious irony and tenderness more than a century of experiences. Of the Padrón, and of Cuba.
The first home movies of Juan and Ernesto, and the fall of Batista; military service, the rise of Fidel Castro and the eternal fight with the United States; the Kurdish (drunkenness) and embargoes, duels, executions and laughter. Learning with the Spanish cartoonist Jan and the trip to Saint Petersburg in the seventies. Until that epiphany that changed everything. "I started to draw a cartoon with the character Kashibashi, a samurai. In the adventure a Cuban appeared. I drew him the first time and named him Elpidio Valdés. I liked it so much that I changed the whole script and made him the main character, "writes Padrón.
From then on, the colonel would defeat the troops of the useless Spanish general Resóplez over and over again, in hundreds of cartoons, dozens of shorts and three feature films. Except, curiously, in his first appearances, set outside of Cuba. Padrón later said that he did not know how to draw the Mambi army or the Spanish. Only after a long investigation did he bring the colonel back to his home. And he accumulated so much material and knowledge that he put it together in the didactic volume The Mambí book, which will be reissued soon with new illustrations and documents.
One day, long before, his father had snapped at him: "And are you going to make a living making dolls in the future?" "Yes," answered little Juan, as seen in My life in Cuba. He did, in fact, much more. Mauricio Vicent, journalist for EL PAÍS and author of the book's foreword, sums it up like this: "He was an absolute genius. He had a very Creole humor, universal and at the same time anchored to the local. We met once or twice a week for a beer, and everyone always wanted to talk to him. He was a delight, a hearty talent, super simple and great. In Cuba he was a god ". Many began to speak as their characters as well. It is not uncommon for someone in Cuba to ask to smoke in the manner of that drunkard in his cult movie, Vampires in Havana: "Give me a cigarette there, King of the World."
"For him, such success was a surprise. He didn't quite believe it. He enjoyed being told how much his work had meant. In Cuba it did not bring him great economic benefits. But the social recognition gave him satisfaction ", adds Silvia Padrón. Many of the stories of My life in cuba he heard them in his father's voice and enthusiasm: "You had to see him telling them, he was an actor." And others are part of their shared treasure. Like that seabed that his father helped him paint and the teacher ended up hanging in the classroom; or when she discovered that if she crept up the steps, she might scare him before letting him know that dinner was ready. "Most of the time, he gave away a postcard or a handmade drawing for birthdays or family dates. You can tell the story of the family and the important moments or themes from these postcards, "says the other son, Ian.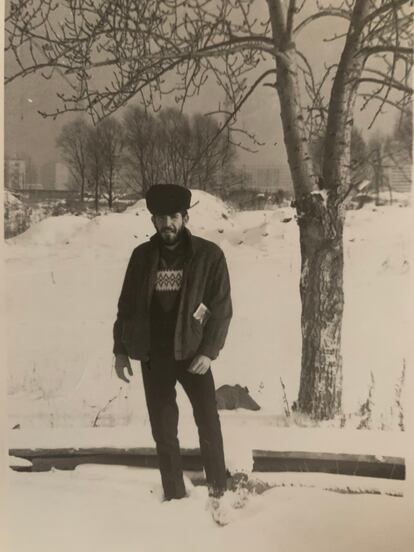 "You would come home and I would show you its pages, to see what they seemed to you. We enjoyed seeing him return to his past. When he was sick and he saw that he was not recovering, he was terribly screwed up not finishing this novel. After entering his study we saw from the annotations that he was a month away ", recalls Silvia Padrón. His father was always very fast at drawing. But it was not enough. In the original plans, My life in cuba it had to end with the release of the first feature length by Elpidio Valdés, in 1979. And the second volume would face the most recent years. Instead, the work includes the last cartoon Padrón drew, on March 3. He felt bad, and couldn't finish it, just like the project. Hence, his wife, Alberta Durán, is in charge of completing the narration in an epilogue. He relates when they told Juan that he was being transferred to intensive care, from which he did not return, and they asked him if he wanted anything. "Can I have a coffee?" He replied.
The smile, a lifelong companion, accompanies even the last memories of Padrón. "He had the perfect phrase for any moment," adds Ian. Mauricio Vicent, a friend of so many long nights, knows it well. Once, he called him the next day, seized with a hangover and remorse: "Padrón stopped me in my tracks: 'After a kurda, never listen to yourself until two in the afternoon ". All this, its essence, is in My life in cuba. For her daughter, the book is "a sweeper of sadness." Perhaps the best possible legacy, in such tough times. Juan Padrón's definitive gift to his readers.
A CENTER IN HIS MEMORY
Silvia Padrón has decided to devote herself to caring for her father's legacy. "She died with some dissatisfaction with her work. I proposed a place where she would be experienced in another way, where children can go to play and interact not only with her work but with the spirit of her work. A place that, at the same time , be in contact with the history of Cuba and the best values ​​of Cuba, "he explains. For this purpose, the La Manigua Cultural and Creative Center is expected to emerge, whose construction should begin this year on land granted by the Ministry of Culture of Cuba.
"My father had projects for 20 more years. Sometimes my mother looked at me as if to say: 'It will not last that long," adds Silvia Padrón. Among the forthcoming initiatives are an exhibition of the posters of his films, a new edition of The Mambí book and the rescue of the originals of his films, to check "which tapes exist, which can be recovered or digitized." Silvia Padrón also wants it to be edited All Elpidio, a project similar to All Mafalda, of Quino, of whom Padrón was a friend and collaborator. Finally, a color edition of the book of Vampires in Havana.

elpais.com
Eddie is an Australian news reporter with over 9 years in the industry and has published on Forbes and tech crunch.