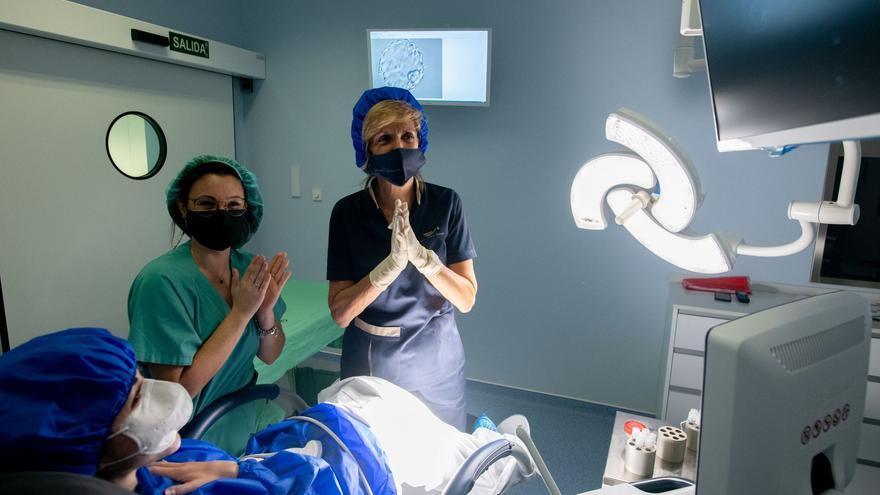 The doctor Juana Isabel Crespo Simón (Peñíscola, Castellón, June 24, 1961), graduated in Medicine and Surgery from the Faculty of Medicine of the University of Valencia in 1985, the same year in which he was born. the first in vitro fertilized baby in Spain, in Barcelona. A fact that stands out in the forceful biography of this gynecologist and obstetrician with an overflowing personality who is perhaps one of the Spanish doctors who knows the most about assisted reproduction. Behind him: more than 30 years of experience. The last ones in the clinic that bears his name, which was born in 2014, and where he treats very complex cases.
On assisted reproduction he speaks from Valencia with THE NEWSPAPER OF SPAIN Dr. Crespo at a very particular time: after the recent signing of the ministerial order updating the portfolio of services to ensure that lesbian, bisexual and single women and women trans people with a pregnant capacity can access fertility treatments in public health resort to the public health system to receive treatments for Assisted Human Reproduction (RHA). "I am absolutely in favor of supporting motherhood in all its facets, because we are a demographically unsustainable country," says the doctor.
Former medical director of the Spanish fertility giant IVI-RMA, Dr. Crespo attends this newspaper first thing in the morning and full of energy. When it is pointed out that her resume is overwhelming, she takes away iron: "Life has given me the privilege of helping many women. By character, I am very challenging, like: 'Why not?' yes'. If you take the gasoline of the vocation and add a tenacious character to it, it is the life that I liked and the one that I have decided, "he says bluntly.
As a detail, he says that that morning, they sent him a photo of a girl who was born in Polynesia. "A super difficult case. His mother has come to Spain, to Valencia, in order to get pregnant. You start the day with this and you say: 'Of course, why not?' "His clinic, Equipo Juana Crespo, opened in 2014. It is a highly complex reproductive medicine center specialized in women with a poor prognosis.
Waiting lists in public health
Juana Crespo admits that "we are in a particular moment, of adapting and learning". For this reason, all support for motherhood, "is welcome," he points out when asked about the right restored to lesbian, bisexual and single women and trans people with a pregnant capacity so that they can access fertility treatments in public health .
The majority of women who come to assisted reproduction are over 35 years of age and have a waiting list of two years ahead of them to access treatment.
However, he clarifies, it does not seem "so good" not to take into account the social reality of our country. The majority of women who come to assisted reproduction are over 35 years of age and have a waiting list of two years ahead of them to access these treatments. "That means that if a woman starts looking at 35, does not get pregnant at 36, is put on the waiting list, reaches 38, undergoes a first IVF, a second at 39, reaches 40 and already they don't give you coverage because your chances have dropped drastically, "he explains. "I attend every day to that woman who comes with 40 years, who has been waiting for five years to undergo an in vitro fertilization, which above, with the pandemic, they have waited even more. The percentage is very high," he insists.
"I have a private center but I'm talking about money and medicine must be sustainable; you have to think that, in the end, the resources we have are limited," says Dr. Crespo.
That said, Dr. Crespo assures that there is prioritization. And he explains: "The criterion must be medical, not political and must be prioritized. Medicine, and I have a private center, I am talking about money, it must be sustainable and we must think that, in the end, the resources we have are limited. Agreements must be reached on the sustainability of our system. It seems unfair to me that a 37-year-old woman or with a endometriosis -when tissue similar to the one that covers the uterus grows out of it- it is severe that it will eat the ovaries, I have to wait two years on a waiting list in public health. Urgent cases will have to be prioritized. "
Juana Crespo enters fully into the controversy: "Delaying a cycle to a 38-year-old woman will always seem very bad to me and I would always prioritize this type of patient who has finite fertility over a trans person with a pregnant capacity. Be careful, respecting all the options. But it would not seem fair to me that, due to political connotations, we are able to give preference to one case over another ".
"In these 30 years I have witnessed an exponential growth of single women who want to be mothers," says the doctor.
Has a trans person with pregnant capacity? "No, I did not have any case," replies the doctor. However, she points out, she has more and more single women seeking to be mothers. "It is a social reality and it is that the couple is not forever. In these 30 years I have witnessed an exponential growth of women without a partner who want to be mothers. 30 years ago I had a case or two a year. Now, every day ".
Power in assisted reproduction
In recent years, Spain has become one of the great powers of assisted reproduction worldwide, admits Dr. Juana Crespo. Moreover, in our country between 40 and 50% of treatments in Europe are performed. Also, in the second country in Europe in which motherhood is delayed the most, behind Italy.
According to a study by the "la Caixa" Foundation Social Observatory released this week, Spain register one of the fertility rates lowest in the world (1.3 children per woman according to 2019 data) and the average age of women at the birth of their first child is among the highest internationally (30.9 years).
The problem of late motherhood
"The most difficult cases are those of older women. No one prepared us – not society, not women, not doctors – to face aging in the face of a first pregnancy. We started from the wrong bases, we thought that delaying motherhood at 35 was the same. No. Your mother got pregnant at 32, but before that, she had three more children. Doctors learned in that environment and we believed that it was the same to get pregnant for the first time at 22, like our predecessors, than at 33. And it goes and it doesn't. It has nothing to do with it, "explains Juana Crespo.
On a scientific level, Spain is also in a very high position: "We can compete perfectly with the United States, Japan, China …".
It is precisely this experience in late pregnancies that has placed Spain at the forefront, says the doctor. "We are leaders, among other things, because we have innovative professionals. Also because, precisely as we are one of the countries that has delayed maternity the most, we have expertise in older patients that other countries do not have. Not even USA. What's more, I constantly see American patients. They do not come here because it is cheaper, but because of the experience in complex patients. At 35 and beyond you are at your best in every way, but not reproductively. "
On a scientific level, Juana Crespo adds, Spain is also in a very high position. "We can compete perfectly with the United States, Japan, China … Yes, it is true that great changes and advances will come from the East. European society is very conservative in terms of risk, but the East has another perspective," he says. Where are the limits? . "Society will have to put them. If we talk about genetic engineering, I would love to cure a disease before it occurs," he replies.
The gap between desired and achieved fertility
The aforementioned research also reveals the gap between desired fertility, in all age groups women show their desire to have or have had two children, and the one finally achieved. Behind, the difficulties to achieve stability in different spheres of life: leaving the parents' home, finding a decent job and forming a stable partner.
"It is educational. We cannot rely only on the economic part. Maybe we have to show that you can be a mother and work and have children and value the family with the concept of family that you want. We have given a lot of value to I have, not to I am, "disagrees Dr. Juana Crespo.
Last year, Dr. Crespo achieved the birth of the first baby gestated by a woman with a 3D prosthesis of cervix. It was a patient with a cervix amputation (trachelectomy) who had undergone 7 previous treatments in other centers, without success. Her team, recalls the gynecologist, designed the prosthesis, implanted it and managed to get the woman to carry her pregnancy to term.
"A very nice story", he recalls, because when he was thinking about how to solve the situation, he did not know if he would find someone capable of such a project. And it was the patient's husband, an engineer, who ended up designing the prosthesis and working hand in hand with her, he concludes.

www.informacion.es
Eddie is an Australian news reporter with over 9 years in the industry and has published on Forbes and tech crunch.