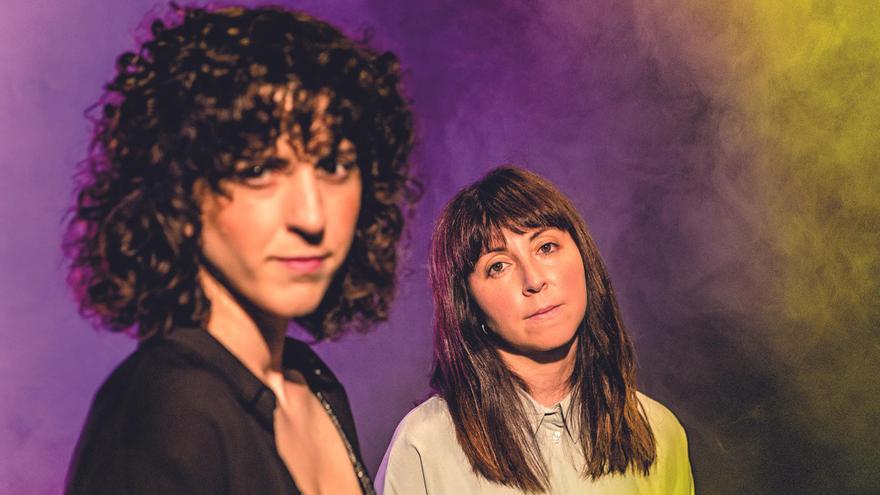 How has that residence at CADA been reflected on the album?
(Lídia) It came at the key moment in which we were going to start the process of making the album. It was something casual, with a good endowment and it was a good opportunity for Estela to quit her job and dedicate herself completely to the album. It gave us time to make an album with some peculiarities and an investigation behind it. We had ideas that we could not have captured without the residency. We would have made another album, probably similar but it wouldn't be the same.
Part of the research has consisted of digitizing the organic sounds of a house (kitchen utensils, wood, glass, marble) to use them in songs. Why?
(Estela) I've always had that curiosity about how to transform or translate those primitive everyday sounds into an electronic base. And to be able to start recording a library of those sounds with all the time ahead and to deal with it digitally was a challenge and also a privilege.
(Lídia) It was important to make this transformation because it is what ultimately rounded off the concept of "home." Apparently we have always gone through the clouds, through the planets like Pròxima B (the exoplanet that gave its name to Júlia's previous album), but our songs have always been very close. Making CASA was to show that simplicity of our songs, and the sound had to go through that daily life.
The work with the voices is also noticeable.
(Lídia) Investigating with the voice was a part of the residency process, as much as investigating with the materials. Recording the voice is always very complex and requires many hours. Normally you always want to work on the voices more, and this time thanks to the residency we could do it.
(Estela) In the end the voice is another organic element. We have been able to play with it, start in a traditional way and then modulate it with the same resources that we used to make rhythms.
It is paradoxical to experiment so much to arrive at such a simple album.
(Estela) That feeling of simplicity has been had by many people when listening to the album. But it is the album in which we have done more than production companies and in which we have worked the most because there has been a great process of research and creation. In each song there are a lot of tracks and a lot of cleaning elements to make the structure. The magic is that, despite all that research and production, the feeling that the listener has left is that it is a very minimal album.
«You are the difference. Preferred anomaly ", you sing. Is it a priority for Júlia to be different?
(Lídia) It's not something we do consciously. As well as the concept we meditate a lot, and the design also, the composition is a super impulsive process. It is difficult for us to explain what we do but we do see that there are characteristics that define us in some way.
(Estela) On the album there is no specific style but in the end everything fits. You are various styles and that is the label. We do not make an artifice on a fashion style, we just want to make something simple from, to complexity.
But some musical references do sneak in that, at least, do show your musical roots and your tastes.
(Estela) Of course, there are times when you do worry about how a record like this, with so many edges and so many vanishing points, explains how you are to others. But in the end the explanation of how we are is that: we are complex.
But do they make CASA so that they understand them?
(Estela) No. It's one of the things we're most happy about: we've never been to the act of pleasing. We needed to make the album with whatever we wanted, without any pretense. We already had a bad time in the live shows so that it does not compensate us to get into a studio.
Don't you enjoy the stage?
(Estela) Not in all of them, but yes, we suffer a little, it is where we feel the most emotional danger. But because we demand and criticize ourselves too much.
Are they study animals?
(Estela) I really like it. I would like to be like Caballero Reynaldo, who makes records and never presents them live. I find it super honest and one of the best you can do as an artist. The best time to be a musician is when you first hear a finished song in the studio.
And after making an album with the media and the time that residency has given you, does it give you vertigo to know that for the next album it surely won't be like that?
(Estela) An album is a stage, a project that opens and closes. At the moment we do not have vertigo, but we have not considered it yet.

www.informacion.es
Eddie is an Australian news reporter with over 9 years in the industry and has published on Forbes and tech crunch.