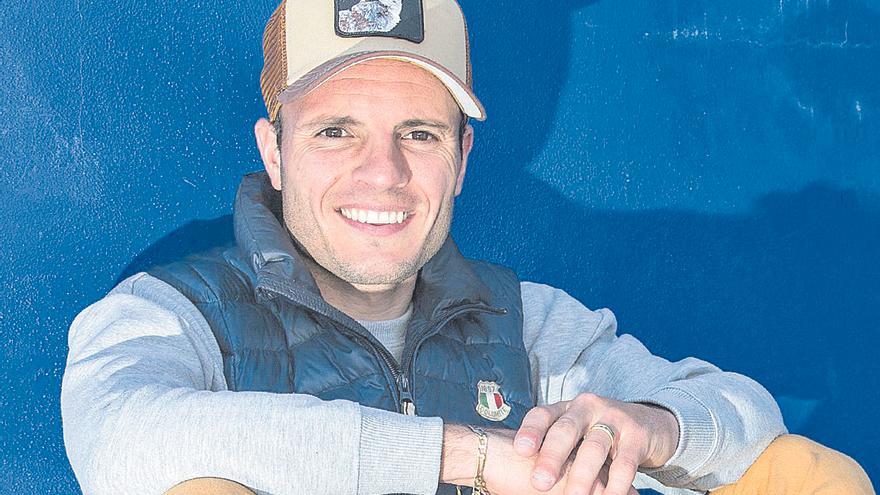 Midfielder of Alcoyano. Juli (Alcoy, 1981), about to enter quarantine, the other, the good one, debuted in Second B in 2001 with the great Alicante of Pepe Bordalás. Important in his twelve clubs, the footballer from Alcoy returns to where it all began. After overcoming an injury that has taken him two months off in the summer, he faces every day "with the illusion of a 16-year-old boy" and is clear that playing "a derby without an audience is ugly."
Muscle injury overcome in every way?
Exceeded 100%, but I lack physical background after wearing more than 80 days without competing.
What exactly happened?
It was about two months ago, in the first preseason game, in Muro. At minute 35, I noticed a cramp and stopped. In the end it was discovered that it was more serious because an old lesion was reproduced, the scar was reopened in a zipper and everything was complicated. Something that, under normal conditions, does not exceed four weeks, left until eight.
And in the current circumstances, confined, without training, what costs more to preserve, the physique or the head?
The physical. Mentally, at my age, you already know how to regulate yourself, you don't obsess over it. A team is affected by time without competing at all levels, but physically even more. We need continuity, it is essential for performance, hopefully from now on we can work regularly.
"I think that when a footballer resigns with a club he should be free, there should be nothing that would continue to link him to him"
Will it take its toll on Sunday against a more rolling rival?
Seeing how the team is doing, I think we are going to replace the effects of inactivity with the desire we have to be able to play an official match again. That momentum, that passion to rejoin the league may be beneficial for us on Sunday.
Statistics make them favorites.
I hate statistics. Just mention them to make them break. What is important is the year after year because the dynamics, the players, the coaches change … It is a derby, and not just any derby. The Depor-Hercules it always offers different, unexpected things. Statistics will not make us win or lose, you have to play and do things well.
Have you imagined what it will be like without an audience, without tension in the stands?
It is a very atypical. The essence of the competition is given by the follower. Without him, everything is very soulless. You hear even the smallest noise, even what the coach says, which you normally don't hear. Playing without people in the stands is ugly. I do not understand protocols, but it is normal that they extend the restrictions to all fields because otherwise this would be the whistle of the night watchman.
"Playing a derby without an audience is ugly, not feeling people's breath during the match is also ugly; at the end you hear everything, even the coaches »
And how do you deal with it?
I always try to isolate myself when I play. I try to concentrate as much as possible and I am not aware of what happens off the field. But it is true that you miss the breath, the scream that pushes you, even the whipping of the rival fans. And, although I get involved a lot, I isolate myself, I feel an emptiness because the essence of this sport is missing.
Without fans, what role does the home court factor play in a derby?
The field factor loses strength that and benefits the visitor. The favoritism of the whole house goes from 60-40, when there is an audience, to 50-50 without him. Everything is equalized.
Any spirit of revenge after his forced departure from Hercules?
None. Zero. It does not enter my head. I am little or no spiteful, the other way around. I always like to be grateful for the opportunities that are given to me. My stay at the Hercules ended early, but the club gave me the opportunity to do what I like the most and it is always appreciated. Not a reproach to the teams I have played for. They have fed me and facing them always makes me proud of my past.
"We have not competed for so long and we have so much desire to do so, that just as that momentum benefits us"
Where do you find the motivation after two decades?
I have turned my work into my hobby. I have been around for many years and have hardly done anything else. When I signed for Alicante (2001) I couldn't reconcile football with anything else and, since then, I have dedicated myself to it, body and soul. The motivation is to feel the immense luck that I have to work in something that I am passionate about, in what I always dreamed of and it makes me happy. I wake up to train with the same enthusiasm as when I was 16 years old. That is my strength. And, as long as my head and legs are with me, I will continue to do my best every day that I spend as a footballer.
What do you contribute that gives added value to Alcoyano?
From my experience, I try to help my teammates as much as possible off the field. I make myself available to the new ones. They come to my city and I try to make adaptation as simple as possible. The happier a player is, the more performance he gives the group. I am humble, hardworking and I always leave places with my head held high, calm, knowing that I have given everything I had, although that is not a guarantee that things will turn out well for you.
How do you see the derby?
It will be a difficult game. Of much control by the Hercules. Now, the ABCs of football, and more so in clubs in this category, is to guarantee work, defensive dedication, sacrifice and, if you have quality at the top, wait for them to resolve in action. Hercules unites a lot of work and quality footballers. Overcoming them will be tough.
In your career, have you been in a situation like Jona's?
Never. Whenever I have gone, I have been free. The only time I had to rescind in my life was with Hercules and nobody proposed anything to me about it.
What do you think of these types of deterrents?
My opinion, and it does not mean that he is right, is that if a footballer leaves a club he no longer has to join him, he has to be free. What is certain is that Jona did not know anything that he could not play against Hercules, that is a negotiation between clubs apart from the footballer. And there I do not go. In fact, I insist, Jona found out this week that he was staying out. In the case of Solbes (blue and white U-23 center-back), if you give up a footballer to train, the normal thing is that he is not prevented from growing, but that's what I think and I could be wrong.
Who will win on Sunday?
Whoever is most focused will win the match. I think it will be decided by small factors and you have to be very involved and not make mistakes. History says that many derbies are resolved by the bare minimum.
How much soccer does Juli have left?
I do not know. It's the million dollar question. I live so much for the day that I don't worry about what may come. I don't do numbers or guesses. When the season is over I will sit down with the people in charge and ask them how, or where, they think I can be more useful to them. On the field, in another facet … I don't know … Physically and mentally, I feel perfectly, but my future as a footballer no longer depends only on me. I wish I could go on for two more seasons, but … sooner rather than later the end will come.

www.informacion.es

Digsmak is a news publisher with over 12 years of reporting experiance; and have published in many industry leading publications and news sites.