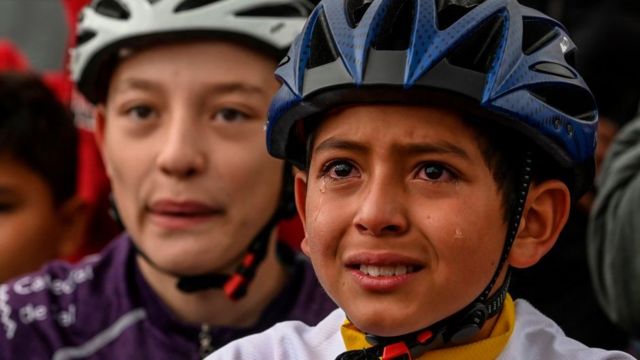 His dreams of being a great cyclist ended abruptly for Julián Esteban Gómez.
The face of the 13-year-old Colombian boy went around the world in 2019, when he cried with emotion when he saw Egan Bernal become the primer Colombian to win the Tour de France.
"It was a great emotion to see him. Egan is our idol," said Julian at the time. "It was an emotion to see him, because I also ride a bike and I want to be like him."
While training with his uncle on Sunday, a tractor-trailer ran over the teenager on a road north of Bogotá
"Today you are leaving without being able to fulfill your dreams that you had," his team's coach, Fabio Rodríguez, wrote on Twitter.
"Only 13 years old and a muleteer [conductor de tráiler] it takes your life. Your early departure breaks my heart, it only remains for me to tell you that I will miss you forever, my dear Julián, "Rodríguez wrote.
What happened?
Gómez's uncle, Guillermo Caicedo, explained to the Colombian media that he and his nephew They were training on their bicycles when the incident occurred in the department of Cundinamarca, north of Bogotá.
They were rolling along a road between the towns of Zipaquirá and Cajicá, and apparently a tractor-trailer was following them.
"The driver was an intolerant person. Harassing us with the horns, he got too close to us, in such a way that the boy got more nervous than me"Caicedo explained to the newspaper El Tiempo.
"He lost his balance and fell between the wheels of the mule, dying instantly," he added.
Upon seeing what happened, the driver – who has not been identified – got out of his vehicle and reproached them for driving on the road, instead of the bike path located on the side of the road.
Caicedo explained that Julián was "a high performance cyclist", so when training should ride at higher speeds that cannot be reached on the bike path.
"The bicycle lanes are not suitable for those speeds. People go on the bicycle lanes walking the dog, on soft bicycles. You cannot do competition cycling on bicycle lanes."
"We have to use the roads and drivers … there are many who are angry to see cyclists and bring the car 50 cm from a bicycle. Every day there is danger riding a bicycle".
The driver was taken into custody on a possible wrongful death charge, but was released while investigations continue.
"I had illusions"
Caicedo says he and his nephew became close friends through cycling
"I wanted him to fulfill his dreams and he would ask me questions about cycling, I would teach him. We had a good time. We were there yesterday when the accident happened," he said.
"He was a child who had illusions of being a great athlete. And he had to be."
In Egan Bernal's childhood town, Zipaquirá, artists Emerson Cáceres "Cacerolo" and Luis Carlos Cifuentes painted a mural in 2019 after the triumph of the Colombian cyclist. Little Julián Esteban Gómez appears to the side, crying with joy.
"Fly high, little friend," Cifuentes wrote when sharing a video of the mural's completion on Sunday.
The president of Colombia, Iván Duque, also mourned his death: "We accompany his relatives in prayer and send them a message of solidarity," he wrote on Twitter.
Now you can receive notifications from BBC Mundo. Download the new version of our app and activate them so you don't miss out on our best content.

www.bbc.com
Eddie is an Australian news reporter with over 9 years in the industry and has published on Forbes and tech crunch.