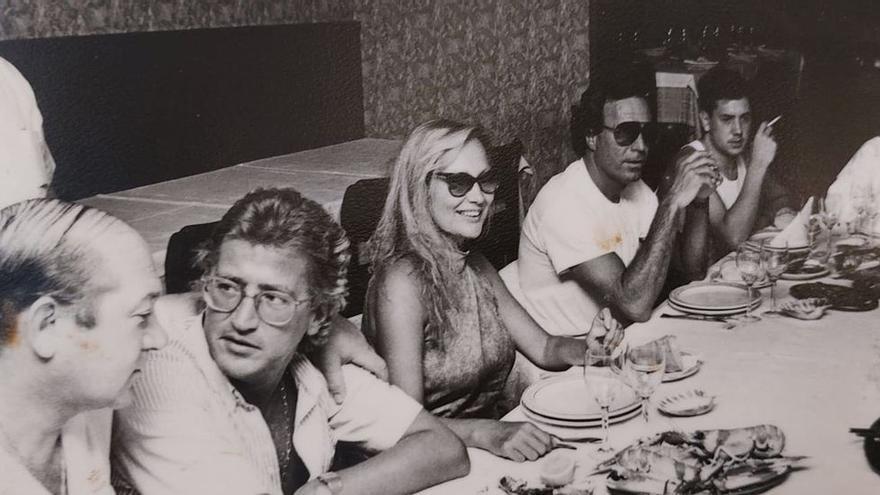 Julio Iglesias continues to waste ssense of humor, loyalty to friends and attachment to Galicia and its good times lived in Cangas do Morrazo. Spain's most international singer participated in a gathering on the radio program 'El Partidazo' on the Cope network, to be at the side of his great friend, the music and sports journalist, Pepe Domingo Castaño, on the occasion of the presentation of his book "until I run out of words", which has a prologue. At the table they were also sitting next to Pepe Domingo Castaño, the former coach of the Spanish soccer team, Vicente del Bosque; the mayor of Madrid, José Luis Martínez-Almeida; and the actress Cristina Castaño.
In a live connection from miami, where Julio Iglesias resides, singer and journalist remembered the anecdote, of when from Florida they traveled to Ibiza to make the leap to Galicia in search of a sunny day and enjoy a seafood platter in Cangas. It appears in one of the chapters of the book that Pepe Domingo Castaño dedicates to Julio Iglesias, in which he recalls that trip, of how the journalist had been invited by the singer to travel to Miami to inaugurate the Palacio de los Deportes 'Miami Arena'. It is an exciting chapter, commented the announcer Juanma Castaño during the interview, to which Julio Iglesias responds humorously: "And let him tell you what it cost".
Pepe Domingo Castaño assures that when they arrived in Ibiza, "after a wonderful journey, we woke up, it was raining cats and dogs and Julio asked, where can we go Pepe if there is a bit of sun? I told Galicia. I called Vigo or A Coruña, I don't remember anymore, and they told me that the weather was good throughout Galicia. I told him why don't we go to Cangas de Morrazo? He did not hesitate, Julio Iglesias recalled in the program that In Cangas he had spent the summers of the first fifteen years of his life with his parents, something indelible in his memory and perhaps "the most beautiful memory I have of a summer with my father and my mother".
In Cangas they went to Casa Simón, a restaurant that the singer visited frequently throughout his life, and asked them to prepare the best seafood of his life. Remember? Pepe Domingo Castaño asked Julio Iglesias, to which he replied, wasting humor, the singer "especially because we left without paying running. I told Pepe, go to the bathroom and when you leave, instead of going to the table, I'm already waiting in the car. And we left".
Singing again in three or four months
Regarding his state of health, he pointed out that he is much better than he hears, that he gets scared when he reads what is written about him and how they have killed him fifteen or twenty times, he does not know how he has survived, but "As a good Galician would say, I'm crazy". So much so, that he announced that in three or four months he will sing again. "Some photos came out with two girls who helped me when I had a broken tibia and fibula and I was skinny. But I am perfectly fine".
In the gathering, they alluded to Iglesias's madridismo, how he is up to date on the team's news, they valued the Super Cup final match, he showed his support for President Florentino and the prestige that the club gives to Spain as a whole. He recognized that singing at the Bernabéu, at his 70-odd years, would cause him great anguish.
the covid
Julio Iglesias has not traveled to Spain for two years, but he did not attribute it to COVID, although he did acknowledge that he takes care of himself because "I am vulnerable" due to age. He insisted that you have to respect the coronavirus and that it is essential to get vaccinated. Pepe Domingo Castaño recalled that he had a bad time with the disease, but he has not been obsessed with being locked up at home either, quite the opposite.
A song
The book alludes to how the song "Un canto a Galicia" came about, after the success of "La vida está tú", which is part of a publication that the singer described as "magnificent", due to the long life it has had. Pepe Domingo Castaño, whose musical facet stood out. Of favorite songs, the journalist chose "Mediterranean" by Serrat and "In a corner of the soul" by Alberto Cortez. Julio Iglesias opted for 'Cantares' by Serrat and another by Sabina, "two characters for the history of Spanish music" and who would also stay with 'Corazón partío' by Alejandro Sanchez.

www.informacion.es
Eddie is an Australian news reporter with over 9 years in the industry and has published on Forbes and tech crunch.