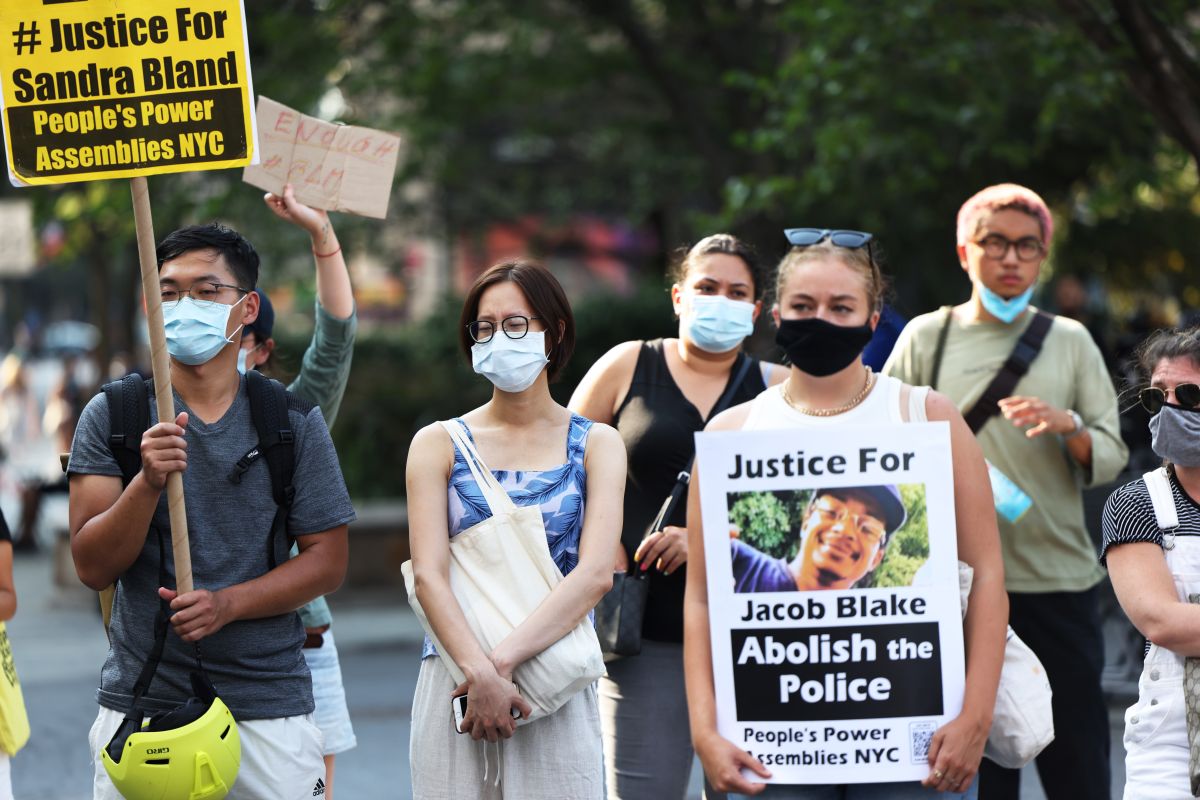 Foto:
Michael M. Santiago / Getty Images
The US Department of Justice reported Friday that he will not file civil charges against Wisconsin officer Rusten Sheskey, who shot Jacob Blake in 2020 partially paralyzing him.
Authorities reported that Sheskey, a police officer who shot the African-American man seven times on August 23 of last year, had acted under the use of weapons due to a domestic dispute involving Blake.
Following an investigation, federal prosecutors indicated that the evidence obtained was not sufficient to prove that Sheskey used "Intentional excessive force", pointed a statement from the Department of Justice.
This investigation concluded in this way after collecting and reviewing police reports, reports from agents, witness statements, sworn statements and audiovisual material of the incident, which was captured on the cell phone of a witness and that after its circulation generated protests of a racial nature in Kenosha, Wisconsin and some cities around the country.
"After a careful and thorough review, a team of experienced federal prosecutors determined that there is insufficient evidence to prove beyond a reasonable doubt that the premises officer willfully violated federal criminal civil rights statutes.", reported the Department of Justice.
When the announcement was made, Jacob Blake Sr., father of the attacked African American, was dissatisfied with the ruling of the Department of Justice and criticized the mechanisms used by the US judicial system.
"I expected more from management than this. I expected much more than this "said Blake Sr. to ABC News. "I think we are in a systematic racist system, and that this system was not created for us, so I did not expect the system to work for us, because it never works. It was not created for us ".
Blake's father stressed that he disagreed with what in his opinion was an excessive use of force. "Seven times in the back is excessive. I don't care if you're a dog, isn't seven times excessive? "
This fact happened almost three months after the murder of George Floyd It happened when officers tried to arrest Blake over the domestic dispute, in addition to the fact that he already had a warrant for his arrest. He ran to the front of his vehicle, and while trying to flee, It was when Sheskey fired the gun seven times at his back, leaving him paralyzed.
Sheskey claimed that he was acting in self-defense because it was discovered that Blake was armed with a knife, which was found during investigations into the incident.
Blake sued Sheskey for use of force "Excessive and unnecessary"; however, he has not proceeded and the officer did not receive any sanction from the Kenosha Police Department.
You may also like:
The cop who shot Jacob Blake seven times is back on duty
Teen used stimulus check to buy gun and kill two people in riots: Jacob Blake case
The first public statements of Jacob Blake after being shot by the Police in Wisconsin

eldiariony.com
Eddie is an Australian news reporter with over 9 years in the industry and has published on Forbes and tech crunch.