JUstin Bieber's sixth studio album is accompanied by a personal statement. "In an age when there is so much evil on this broken planet, we all long for healing and justice for humanity," he says. "This is me playing a small role. My part. I want to continue the conversation about what justice is like so that we can continue to heal. "
You can certainly see why you have done this. We are living in an era in which it is considered important that pop music addresses, or at least is seen as addressing, serious problems. It's no different than that time in the '80s when even Duran Duran felt compelled to bring up nuclear war, so that no one would think they weren't dying at the prospect of mutually assured destruction when they weren't frolicking with models on yachts.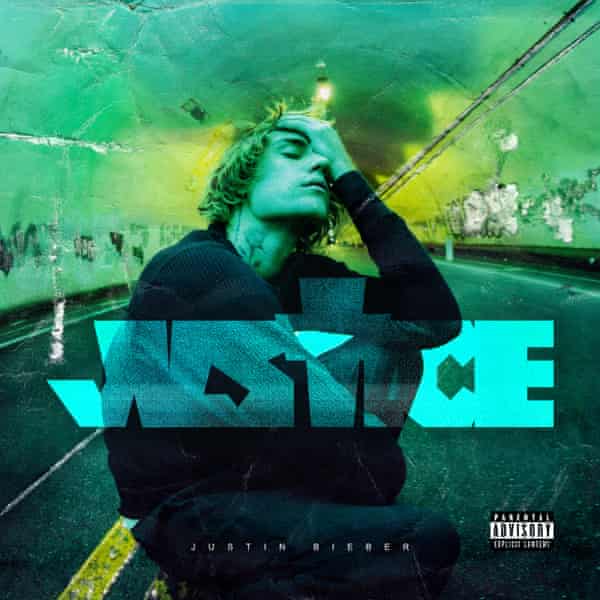 Perhaps the Serious Issues imperative currently weighs heavily on Bieber. His latest album was followed by Yummy, not so much a single as a jingle, his chorus is clearly designed for kids to play on their TikTok videos, the last few days' equivalent of trying to provoke a novelty dance craze. There was a distinctive note of greedy despair about the way Yummy was promoted. Better to appear concerned about healing and justice for humanity than to play with the streaming numbers by telling your Instagram followers to stream your new single non-stop while they sleep.
And you can see how the theme of "continuing the conversation about what justice looks like" fits into the interlude that divides the album, an excerpt from a 1967 sermon given by Martin Luther King during which he described the biblical story of Shadrach, Meshach. and Abednego as an act of civil disobedience: "If you have never found something so dear and so precious to you that you are going to die for it, then you are in no condition to live." The recording is intense, moving and completely at odds with the songs that surround it.
Aside from Lonely, a shattered and genuinely poignant confessional about Bieber's fall from grace: "everyone saw me sick, it seemed like no one gave a shit", these quickly stick to the theme of how much he loves his wife. You feel a bit rude to say it – the poor guy has clearly been through the special kind of hell reserved for anyone who has the misfortune to become famous at a young age, and it's lovely that he found happiness and peace, but this one. it is a subject that tends to fade quite quickly, even in the most skilled hands, as Paul McCartney's early 1970s work attests. Here, its dominance leads the listener to develop a kind of frantic desperation to hear something that isn't about how great Bieber's wife is. Off My Face's title looks promising, but it turns out to be about his wife as well: "One tap and you got me high."
Plus, you really start to wonder what all of this has to do with Martin Luther King, or indeed, justice for humanity and the healing of our broken world. Without wanting to sound too proscriptive, you can't just put a civil rights speech in the middle of a bunch of songs about how fit your wife is and then start playing like you've done What's Going On.
The lyrics are set up with music ranging from Bruno Mars-style pop-R&B (Peaches), to Radio 2's surprisingly scissor-style pop-rock (Ghost), to things that roughly emulate house styles. tropical from Bieber's 2015 smash hit. Sorry (I love you different). The quality ranges from in-one-ear-and-straight-out-of-the-other to pretty good: Die For You is a neatly crafted take on MTV-friendly new wave pop of the early '80s. The guest stars are well chosen. : Burna Boy, Kid Laroi and Chance the Rapper, whose sharp verse at least injects some wit into the process, rhyming "meaty" with "a Joe Pesci-like temperament."
But what's conspicuously absent are the kind of nailed pop anthems that dot Bieber's best album, the career-saving Post-Crash Purpose: Nothing here comes close to the worm status of Love Yourself or What Do You Mean? And that, more than his inability to make any alleged advance payments, is Justice's biggest problem.

www.theguardian.com
George is Digismak's reported cum editor with 13 years of experience in Journalism