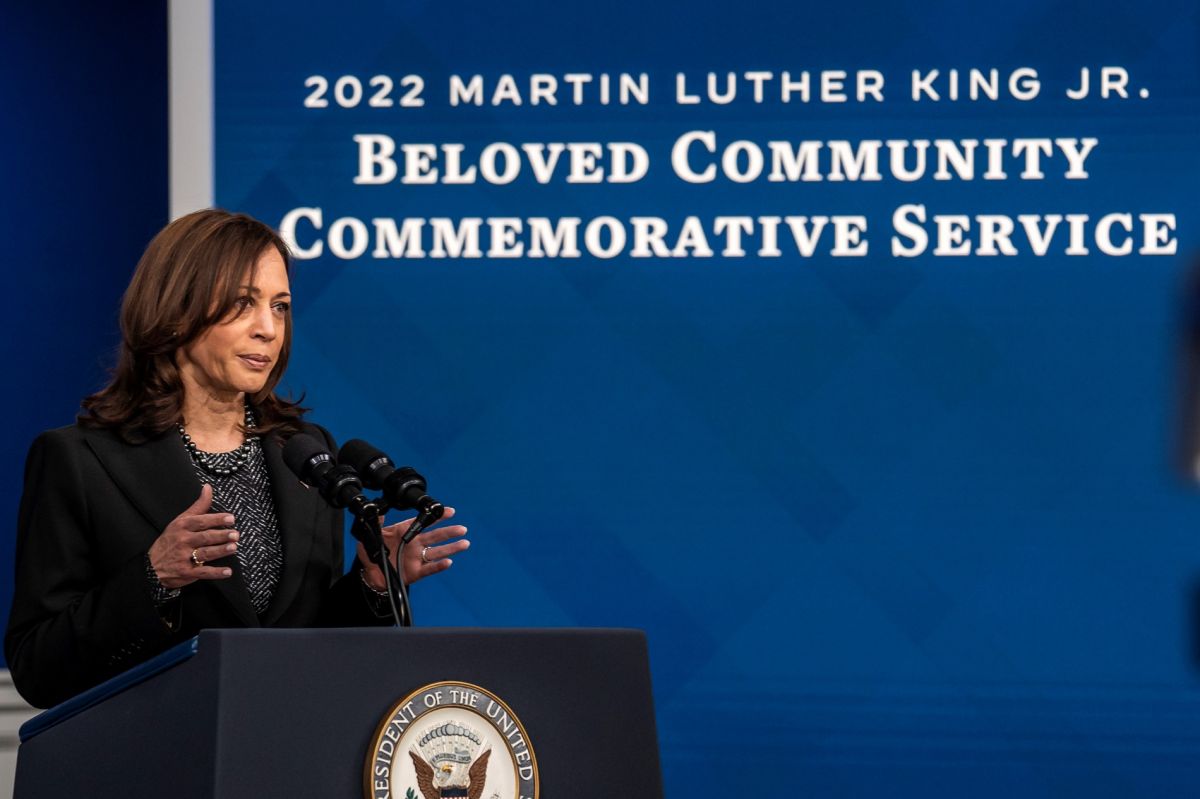 Photo: EPA/Ken Cedeno / POOL / EFE
Martin Luther King Jr. He was remembered this Monday for his fight for civil rights and whose achievements were not only for African Americans, but also for other minoritieslike Latinos. On this anniversary of the hero's birth, the United States faces a political battle over the right to vote, which was recalled by Vice President Kamala Harris and various civil organizations.
"Today, our freedom to vote is under attack", said the vice president at an event in the Eisenhower building. "In Georgia and across the country, anti-voter laws are being passed that could make it harder for up to 55 million Americans to vote."
Vice President Harris emphasized: "That's one in six people in our country." He said it in reference to laws that Republican governments have promoted in several states.
At least 19 entities have approved 28 laws that make it difficult for voters to vote and they were applied in 2021, according to the Brennan Center for Justice at New York University School of Law.
The vice president's speech began with a greeting to Dr. Bernice King, daughter of Luther King Jr.
"Dr. King was a prophet. He was a prophet in the sense that he saw the present exactly as it was then and the future as it might be. And he pushed our nation toward that future… He pushed for racial justice, economic justice, and the freedom that unlocks all others: the freedom to vote."
The vice president charged that those who promote restrictive voting laws seek to interfere in the democratic process.
"They are not only putting obstacles to the polls; they are also working to interfere with our elections to get the results they want and discredit those they don't want. That's not how democracies work," he said. "We know that all Americans, in all communities, in all political parties, will feel this attack on our freedom to vote."
The stagnant laws
Vice President Harris asked Congress to advance with the approval of the laws that guarantee the vote, on the way to the processes of next November.
It means to the John Lewis Freedom to Vote and Voting Rights Bills, on which the Republicans have not even given the Democrats a chance to debate the proposals, opening the possibility of ending the 'filibuster' or filibustering.
"A landmark bill, as we all know, is before the United States Senate: 'The Freedom to Vote: John R. Lewis Act,'" he said. "This bill represents the first real opportunity to guarantee the freedom to vote since the United States Supreme Court struck down the Voting Rights Act nearly a decade ago. And the Senate must now approve this bill."
you united
More voices joined the call for Congress to move forward with election laws, insisting on the fight and legacy of Dr. King Jr.
"Dr. King's dream was an American government that fairly represented its people," said Nicole Melaku, executive director of the National Partnership for New Americans. "He fought against the disenfranchisement of Black Americans, particularly in areas where they were in the majority and where people of color faced discriminatory voting tactics, including poll taxes, literacy tests, assaults and harassment."
He recalled the voting restriction laws in 19 states that discriminate against minorities, including Latinos and African Americans.
"Congress must pass the John Lewis Freedom to Vote Act and the Advancement of Voting Rights Act and make sure Senate rules don't stand in the way of their enactment," Melaku said.
Patrick Gaspard, president and executive director of the Center for American Progress, expressed the same position.
"It would be a wonderful tribute to both Dr. King and Rep. John Lewis to pass these landmark bills in their honor…they are about the future of our country and our willingness to shore up our nation at its most fragile since. the era of civil rights," he said.

eldiariony.com
Eddie is an Australian news reporter with over 9 years in the industry and has published on Forbes and tech crunch.