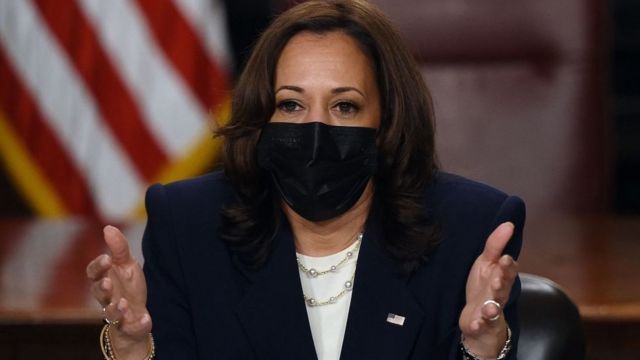 Joe Biden considers this to be "hard work" and claims to have chosen the "most qualified person to carry it out": Kamala Harris.
The US president on Wednesday instructed his vice president to take charge of the humanitarian crisis highlighted by the arrival of immigrants to the southern border of the country.
Since Biden's arrival at the White House there has been a notable increase in the arrival of new people, particularly unaccompanied minors, who are being held in immigration detention centers.
Biden's predecessor, Donald Trump, was harshly criticized for his administration's treatment of migrant minors arriving through the southern border, especially for its policy of separating them from their parents.
Since January, the Biden administration has reversed Trump's policy of returning unaccompanied minors to the border, opting instead to process their entry and find a place for them with sponsoring families in the country.
But critics of Biden say that this has caused an increase in illegal migration.
In February, US customs officials detained more than 100,000 people along the southern border, a 28% increase from the previous month.
"Brake migration to the southern border "
Announcing Harris's appointment as his immigration czar, Biden told reporters and White House officials: "She is the most qualified person to do so, to lead our efforts with Mexico and the Northern Triangle. [Honduras, Guatemala y El Salvador], and the countries that are going to need help to stop the movement of so many people, stop the migration to our southern border. "
Biden said Harris's previous job as California attorney general had prepared her to lead this new effort, adding: "When she speak, speak for me ".
In response, Harris said, "It goes without saying that it won't be an easy job, but it is an important job."
Many of those who arrive at the US border have been fleeing poverty and violence in Central America.
In an interview with CBS on Wednesday, Harris said it was necessary "address the root causes … of what is happening in the Northern Triangle".
He indicated that US aid must be managed in a way that contributes to the development of those countries so that the cause of why people are arriving is also addressed.
A portfolio full of political opportunities and dangers
Analysis by Anthony Zurcher, BBC reporter in North America
During the first two months of the Biden administration, Vice President Harris looked like a presidential understudy, accompanying her boss to important events but never becoming the center of attention on her own.
By putting her in charge of addressing the growing humanitarian crisis on the US-Mexico border, Biden has given Harris a significant portfolio, full of political opportunities and dangers.
Their challenge is to show that there is a way to stem the tide of undocumented immigrants arriving in the United States from Central America without resorting to what Democrats characterize as the draconian policies of the Trump administration.
If successful, Harris will defuse an issue that the Republican Party – and Donald Trump in particular – has used as an effective political weapon against the Democratic Party and earn the gratitude of influential immigration activists.
If it fails, the ensuing political fallout could derail Biden's presidency and overshadow all his early accomplishments.
Biden boasted that Harris, as a former California attorney general, is the "most qualified" person to handle the complex political, logistical and diplomatic challenges presented by this immigration issue.
Harris now has the opportunity to try it out and polish any future presidential credentials along the way.
Minors in detention centers
Earlier this week, images were released from a Texas detention center showing minors agolpados in rooms crowded and separated by transparent plastic curtains.
They slept on thin mattresses on the floor under aluminum blankets.
The photographs came from a center run by the federal government in the city of Donna (Texas), on the border between the United States and Mexico, with the capacity to house 1,000 people.
The photos, said to have been taken last weekend, also raised concerns about the Doubts about how much of social distancing demanded to stop the coronavirus pandemic was being held in that center.
Since Biden took office, no journalists have been allowed into detention centers although the White House has said they will be able to.
This Wednesday, White House press secretary Jen Psaki said the government is "committed to transparency and we will continue to work with federal agencies to create avenues for media access and make the interior of these facilities visible." .
"We are not a colony"
The president of Mexico, Andrés Manuel López Obrador, ruled out on Tuesday that Mexico will increase immigration control over its northern border in exchange for the loan of 2.7 million doses of AstraZeneca vaccines against covid-19 that it will obtain from the United States. .
"We do not accept supervisory visits. Yes We are not a colony, we are not a protectorateMexico is an independent, sovereign, free country, "AMLO said during his customary morning press conference.
That same day, the Mexican Foreign Minister, Marcelo Ebrard, and the Coordinator of the Southern Border of the White House, Roberta Jacobson, led a meeting in Mexico City to discuss the migratory transit from Central America, in particular of unaccompanied minors. .
Both governments agreed to seek "orderly, safe and regular migration."
Now you can receive notifications from BBC Mundo. Download the new version of our app and activate them so you don't miss out on our best content.

www.bbc.com
Eddie is an Australian news reporter with over 9 years in the industry and has published on Forbes and tech crunch.