James Landale
BBC Diplomacy Correspondent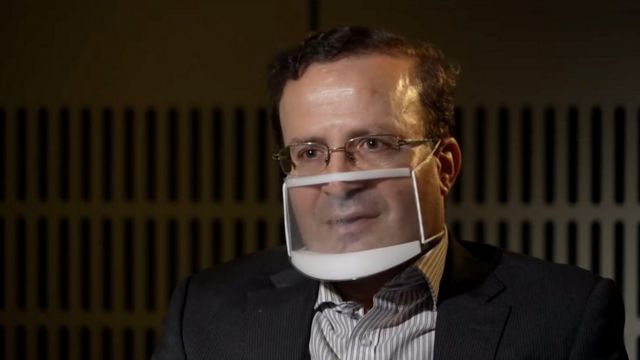 The path was "very long, very dark and very scary."
This is how Kameel Ahmady, a British-Iranian academic facing 9 years in prison in Iran, described to the BBC how he escaped on foot through the mountains to start a new life in the UK.
Ahmady was convicted two months ago of collaborating with a government hostile to Iran, a charge he denies.
The academic then decided to flee while on bail and appealing the sentence.
And to escape from the Revolutionary Guard he chose a difficult and lonely road crossing a mountainous border.
Who is Kameel Ahmady?
Kameel Ahmady was born in western Iran to a family of Kurdish descent. However, his parents sent him to the UK when he was 18 to study.
He stayed there for many years, studying at the University of Kent and the London School of Economics.
Before to return to Iran To work as an anthropologist, he obtained British citizenship.
His research focuses on child marriage and female genital mutilation (FGM) in Iran.
This caught the attention of the authorities because he campaigned to raise the age at which girls can marry, which is currently 13 years old.
The detention
One morning in August 2019, a man knocked on his door in Tehran saying he was a postman.
Ahmady opened the door and 16 revolutionary guards entered. He was arrested and taken to Evin Prison, from Tehran, famous for being the main place of detention for political and intellectual prisoners.
The academic said he was in the crosshairs of the Iranian authorities not only because he had dual citizenship, but also because Iran wanted to retaliate after the UK seized in July 2019 an Iranian oil tanker off Gibraltar that it is suspected of infringing. the sanctions of the European Union.
"By having dual citizenship, you are always a potential case," he told the BBC.
"My main interrogator said: 'You are (a case) very attractive', a) because I was a Kurd; b) I came from a Sunni religious background as opposed to the majority of Shiites in Iran; and c) I was an investigator who was unearthing delicate subjects' ", counts.
"And I was not just a simple researcher, I was actually acting on my research and using it to raise awareness," he added.
Ahmady spent three months in Evin Prison where he said his interrogators played mind games with him.
"They treated me, on a human level, fine. But don't underestimate the concept and seriousness of the so-called 'white torture', the psychological pressure they exert on you. And all these methods are played stage by stage, and they are very well trained in how to exert a little more pressure when necessary.
"There are all kinds of mind games, it's almost like a negotiation. You give me this, I'll give you that: a minute of phone call requires all kinds of negotiation with your interrogators or five minutes of fresh air extra than half an hour at a time. that you have the right.
"And this gets really sad and mean because you want to be interrogated even more, so as not to go back to the cell, which is almost like a grave, "he remembers.
After three months he was released before the trial, but was being closely watched.
Decision moment
Last December, Ahmady was convicted of collaborating with a hostile government, something he denies, after prosecutors claimed that a charity he had once worked for had received funding from the United States.
He also faced several other charges, including promoting homosexuality in his investigation.
He was sentenced to more than nine years in prison and fined more than $ 683,000.
While he was out on bail, he decided that he should flee Iran.
"The appeal was overturned. That was the moment I decided to escape because I couldn't see myself in prison for 10 years and watch my son grow up from a distance. By the time they released me … if they did, my son would be 15 years old. he told the BBC.
So without telling anyone but his close family, Ahmady fled secretly, crossing the mountains on foot.
"I just left. I packed my bag with a shaving kit, some books and a laptop," he detailed.
"And warm clothes because I knew I had to clandestinely get out of that train in the mountains. It was very cold, it was very long (the journey), very dark and I was very afraid," he said.
"I had to leave behind everything I loved, what I worked for, all my human connections. It was very sad and scary. If they arrested me, I would have gone back to the judge, and God knows what the other scenarios would be, "he speculated.
"It was a very hard and difficult decision. It was emotionally difficult. It was physically, mentally difficult. It was a decision that I made against my will. They fired me. And that was very sad," he acknowledged.
Ahmady now faces an uncertain future in the UK, out of work.
"I had to do what I had to do. I couldn't stay and spend 10 years (in prison). I can be much more useful outside and I have a responsibility towards my family, "he justifies.
The question now is how Tehran might respond and what impact it may have on other Iranian citizens with British nationality.
Remember that you can receive notifications from BBC Mundo. Download the new version of our app and activate them so you don't miss out on our best content.

www.bbc.com
Eddie is an Australian news reporter with over 9 years in the industry and has published on Forbes and tech crunch.