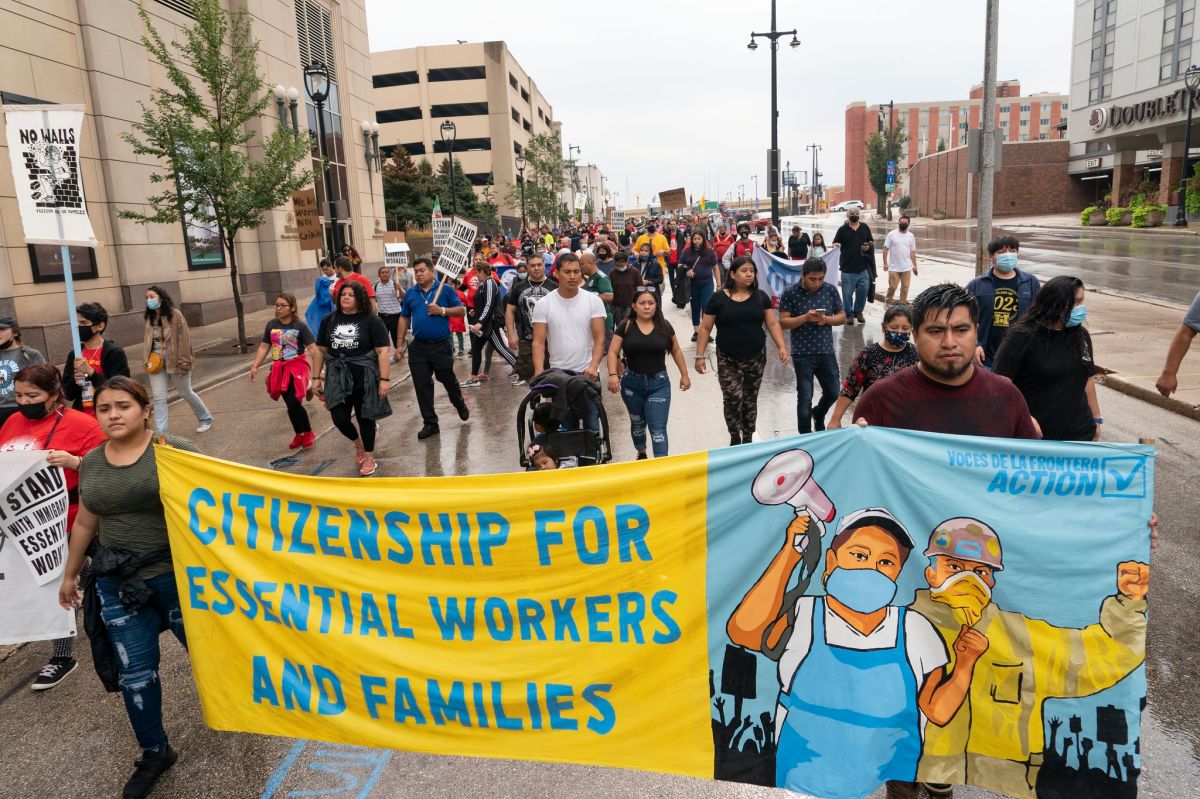 Photo: Voces de la Frontera / Joe Brusky / MTEA / Courtesy
It will be later this week when Congressional Democrats finish with the new proposal to protect undocumented immigrants from deportation and grant them a work permit, which they will have to deliver to MP Elizabeth MacDonough, who would make a decision the following week.
Several sources in Congress confirmed to this newspaper that the plan has not been concluded, since "the legal language" has to be reviewed, so that it does not violate any federal provision, in addition to the fact that congressmen await the return of MacDonough, who faces a medical treatment.
"She wants to review the proposal herself," said one of the Senate sources, when asked about the delay, this because the senator Dick Durbin (Illinois), chairman of the Judiciary Committee, and other Democrats could give the document to the official's team, but they will not make a decision.
This would be the Democrats' plan C, after MacDonough rejected a proposal to benefit eight million undocumented people, included in four categories: 'dreamers', people with Temporary Protected Status (TPS), agricultural workers and employees of other industries essential during the COVID-19 pandemic.
The second rejection went to the modification of the date in the Registry Law, to allow the path to citizenship to those who had arrived irregularly before 2010, which would have benefited some seven million people, according to estimates.
What is the 'parole'
Last week, this newspaper confirmed that Plan C, known as 'parole', was being prepared, that is, a kind of "pardon" against deportation which would be for five years with the option to renew it, in addition to granting these people an Employment Authorization.
"The 'parole' is not a path to citizenship," exposes an analysis by the Center for American Progress (CAP), but notes that it has a bipartisan and multi-year history, so it could potentially "satisfy" the concerns of the parliamentary.
The experts made an estimate of how many people would benefit under the new proposal and point out that they are at least 7.1 million, considering the $ 107,000 million integrated in the economic plan of $ 3.5 billion dollars of the Reconciliation process.
"If a 'parole' provision were drafted, to include anyone who entered the United States before January 1, 2011, it would benefit up to 7.1 million undocumented immigrants nationwide," it was stated.
The states where the most immigrants would benefit are California, with 1.56 million; Texas, with 1.28 million; Florida, with 441,800; New York, with 435,600, and Illinois, with 344,300.
They push citizenship
Immigrant activists and advocates have repeatedly stated that the priority is to achieve citizenship for undocumented immigrants, but after the MP's rejection they are open to temporary protection, although If MacDonough also refuses to include that plan in the Reconciliation process, then Democrats will be asked to take other action, including overriding the attorney's decision..
"If the parliamentarian frustrates our Plan C, then the Democrats should ignore her advisory opinion and use the majority that we helped them win to achieve the change they promised," said Lorella Praeli, co-chair of Community Change Action in a call with journalists .
Activists remind Congress that 70% of voters support a path to citizenship for the undocumented, so Democrats must honor their promise.
"We will not take 'No' for an answer, because our lives are at stake," said Greisa Martinez Rosas, executive director of United We Dream and United We Dream Action.
He added that pro-immigrant leaders "have been clear from the beginning," considering that the president Joe Biden, the vice president Kamala Harris, the Senate Majority Leader, Chuck Schumer (New York) and the president Nancy Pelosi (California) "have all the power to comply."
Gustavo Torres, executive director of CASA, and Jess Morales Rocketto, executive director of Care in Action and co-president of Families Belong Together, spoke in the same vein.
"We are optimistic," Morales Rocketto said. "We put President Biden and Vice President Harris in the White House to use their majority and keep their promise to the millions of families in need of help and recovery."

eldiariony.com
Eddie is an Australian news reporter with over 9 years in the industry and has published on Forbes and tech crunch.