Jose Carlos Cueto
BBC News World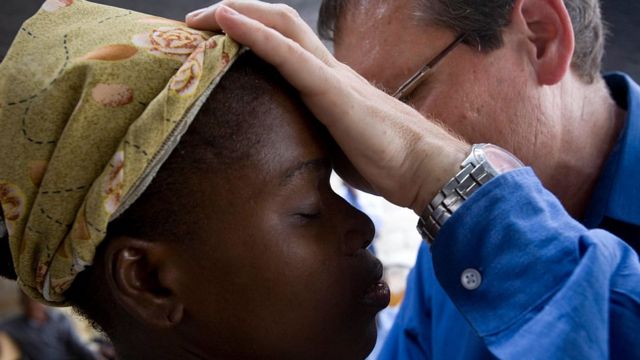 This is how Knox Thames, a former US State Department official, defines incidents that involve groups of missionaries in different countries and with which US embassies must deal.
It refers to events such as the 17 people who have been kidnapped in Haiti since October 16 and for whose release his captors ask for US $ 17 million.
Among the 17 are members of Christian Aid Ministries (CAM), an Ohio-based organization, who were surprised by kidnappers while traveling by bus in an eastern neighborhood of Port-au-Prince, the capital.
But the experts consulted by BBC Mundo say that this is not an isolated case.
By the nature of their work in other countries, American Christian groups are frequently involved in life situations O death, they are expelled from their missions or, as on this occasion, they end up kidnapped.
"This causes enormous problems for diplomats who have to solve their cases," Thames, former special adviser on minority religions for the United States Department of State, told BBC Mundo.
Humanitarian aid and proselytism
This type of organization mainly fulfills a humanitarian function.
In the United States, explains academic Melani McAlister, from the Department of American Studies at George Washington University, donations of money and humanitarian assistance are often channeled through non-governmental organizations (NGOs) that are often Christian associations.
According to McAlister, "many of these groups are limited to providing food or health care, and others, in addition to this, are also engaged in proselytizing," he tells BBC Mundo.
Proselytism is the effort to win followers for a cause or doctrine, in this case religion.
"The greatest difficulties are found when Christian groups proselytize in countries with a Muslim or Hindu majority or in countries where (such activity) is not allowed. In those cases They revoke their visas and expel them from the country"Todd Johnson, director of the Center for the Study of Global Christianity, a Boston-based academic research center, tells BBC Mundo.
On its website, Christian Aid Ministries, in addition to reporting on its humanitarian assistance, also highlights a Programfrom diffusion of the Bible with which he carries "the word of God into as many hands as possible."
It is a proselytizing program, according to McAlister, although it is unknown what activity the group of kidnapped missionaries was carrying out in Haiti.
Christian Aid Ministries is made up of groups and individuals from the Amish, Mennonite, and Anabaptist community.
"Haiti is overwhelmingly Catholic. Many Protestants and other Christian groups have an interest in converting CatholicsSo I wouldn't be surprised if CAM was proselytizing in Haiti, "says McAlister.
"Regardless of its purposes, what happens is that these types of organizations are at the forefront of important tasks and often (its members) can be kidnapped, killed or arrested, "says Thames.
BBC Mundo contacted CAM and asked them about the nature of their work in Haiti and the potential risks they face as a result, but did not receive an answer to those questions. And he also contacted other relevant Christian organizations, but they did not want to comment on it.
Incident history
"Every year, you hear stories about missionaries going places they shouldn't," says McAlister. And sometimes they don't end in the best way.
In 2018, the young American missionary John Chau died by crushes after illegally contacting an isolated tribe on India's North Sentinel Island.
The same year, Joshua Holt, an American Mormon, was released after two years in prison in Venezuela after being accused of illegal possession of a weapon of war.
The United States recommends not traveling to that South American country for the "arrest and detention of US citizens without guarantees of a fair trial or trial or as a pretext for an illegitimate purpose."
And both Johnson and McAlister mention situations in which groups of missionaries have been expelled from countries where they have violated anti-pro-elite laws.
Incidents of this kind have caused the relation between American diplomats and these groups is sometimes problematic.
"From experience I know the skepticism of each other. They do not understand each other. Missionaries don't trust diplomats, whose function is precisely to solve their problems, "adds Thames.
It refers to situations that diplomats abroad sometimes have to deal with as part of their job: cases involving US citizens breaking laws or exposing themselves to risky situations.
"Places more hostile than pleasant"
The US State Department also does not recommend traveling to Haiti due to the risk of possible kidnappings, crimes, civil unrest and the possibility of contracting COVID-19.
"Despite these recommendations, you will continue to find Americans there. Missionaries frequently they are in more hostile than pleasant places. In Haiti they were easy targets, "says Thames.
The experts consulted by BBC Mundo agree that it is unlikely that the nature of CAM's work in Haiti was the reason for the kidnapping.
The safest thing, says Johnson, is that "they have been kidnapped because they were clearly from another country with much more resources".
"But that they have not been kidnapped by their religion remove that isban in a dangerous place because of their faith. They may have made strategic mistakes, but I was not there to ensure it, "he complements.
Amish groups, such as those that make up CAM, are not particularly known for their wealth.
On the contrary, they are characterized by leading a simple lifestyle. They dress simply, they are peaceful, and they value rural life above technological advances.
But in a country like Haiti, the poorest in the Western Hemisphere, many see them as Americans and associate them with wealth, the experts interviewed by BBC Mundo agree.
Dangerous precedents
Experts foresee that it will be difficult to prevent this type of incident from happening.
As Thames points out, "The United States cannot prevent its citizens from traveling where they want."
However, once situations such as the kidnapping of these missionaries occur, the resolution is not easy either and "can set dangerous precedents."
"If you pay what the gang asks, if you make millions of dollars, you will know that by kidnapping Americans you make money. They will see us as an ATM", says the expert.
"At the same time, if the demanded is not paid, the victims can remain kidnapped for weeks, months or years," he adds.
In April this year, the gang called 400 Mawozo kidnapped 10 people in the same Croix-des-Bouquets district where CAM members were kidnapped.
Among those 10 people were seven members of the Catholic clergy including two French citizens. The group was finally released in late April.
Just like now, the kidnappers demanded a millionaire ransom, but it is unknown if it was paid.
Meanwhile, the Haitian authorities, with the support of the Federal Bureau of Investigation (FBI) and US officials, continue to work to free the missionaries kidnapped on October 16 in one of the countries with the most kidnappings in the world.
Now you can receive notifications from BBC Mundo. Download the new version of our app and activate them so you don't miss out on our best content.

www.bbc.com
Eddie is an Australian news reporter with over 9 years in the industry and has published on Forbes and tech crunch.