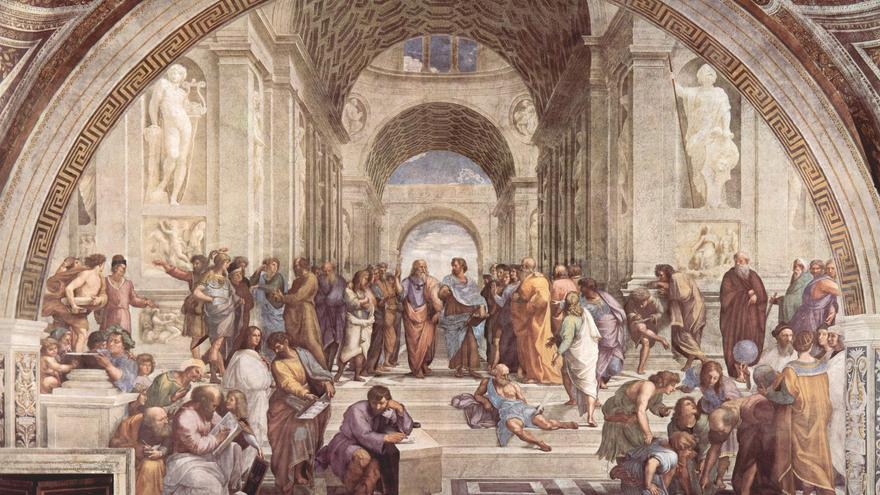 I was on the jury for the 19th Paco Mollà 2020 prize convened by Petrer City Council. The winning book of poems had the title it uses, with permission from its author, M. Josep Juan Ballester, for this article. A set of forty-four poems that has helped me to reflect, as she herself has done in her compositions, on one of the oldest existential doubts of humanity. It's been over twenty years since I read it Sofia's world of Jostein Gaarder, an excellent book for disseminating philosophy, where the author concluded with a very clear and concise expression: "we need to know who we are and why we are here."
It is obvious that humans have not been able to find the answer to our origin and our existence. The various religions, more or less fortunately, have tried to explain it, without, in my case, having found an answer that does not raise even more questions for me. It is very difficult to find a collective response that can meet the expectations we all have. Every individual has to discover the meaning in their own existence, no doubt, because we feel that we are part of something mysterious and we would like to know how it works. Have you ever thought about the same concept of infinity? Yes, we have always been told that the universe is like this, infinite, but how can it be, in our logical process of thought, to conceive that something never ends? How many gatherings or conversations have taken place throughout human history with this topic as the center of debate! Infinite, no doubt.
The scientist Stephen Hawking he tried to find an explanation that would serve for our understanding. Thus, he said that our universe is one among many, but that the total number of universes is finite and that the multiple existing universes are similar to each other. A final view of the cosmos that developed in the last months of life and was published shortly after. His work, done with the disciple Thomas Hertog, was based on the string theory of physics, which postulates that elementary particles are actually like tiny vibrating strings, and the concept of multiverses, which postulates that there are multiple universes. They thus transferred the study of the origin of the universe entirely to the field of the natural sciences and executed a revolution in the thought of one of the delusions which we continue without having a forceful answer.
You may be surprised at the topic that arises today. Despite being a man of letters, I have always been attracted, as an observer of human reality, to the origin of our existence and the evolution we have been making as an animal species that we are. The history of literature is full of authors and authors who have cared about it. Remember, for example, a novel published in 1973 and republished in Spanish in 2009 Herbert Wendt: In the footsteps of Adam. An adventure of cave explorers that provokes in the reader several reflections on what our origins are and the reasons for the existence of our species. All this because we are rational animals unlike the rest and we have displayed a language and social skills that make us a unique species. We think, reflect and act. This is the victory of the human being.
All this because, in theory, we are able to understand who we are, to recognize our own identity, and to constantly learn about our possibilities. But, you know, maybe as I say so many times, it's something of the age: it doesn't stop me from being amazed at the lack of sincerity we have in ourselves. We lie to others about who we are, give a vague or frivolous picture of our behavior, to try to overcome our shortcomings. We are afraid to acknowledge our shortcomings, run away from apologizing, and offer a haughty image that comes to impose our point of view without giving rise to debate or contrasting ideas. We consider ourselves perfect and do not understand that, as an animal species that we are, we have the right to make mistakes and to be learning all our lives. For my part, I can confirm, a long time ago I learned that I wanted to continue to discover myself as long as I have the capabilities that allow it. Faced with the difficulty of finding the collective answer to knowing who we are, at least I want to be able to understand who I am and what my role is in this existence. This makes me happy, because I know that I will be wrong and apologize, that I will learn, no doubt, that no one ever has the absolute truth and that the challenge of our life is exciting. And I will listen to criticisms of my behavior, of my way of understanding the world. An expression misplaced in the Don Quixote which seems to come from a poem by Goethe and popularized by Rubén Darío, says: "ladran, luego cabalgamos". Despite the barks I hear, I will continue to ride my way. No rush, but no pause: it's the house brand!

www.informacion.es
Eddie is an Australian news reporter with over 9 years in the industry and has published on Forbes and tech crunch.