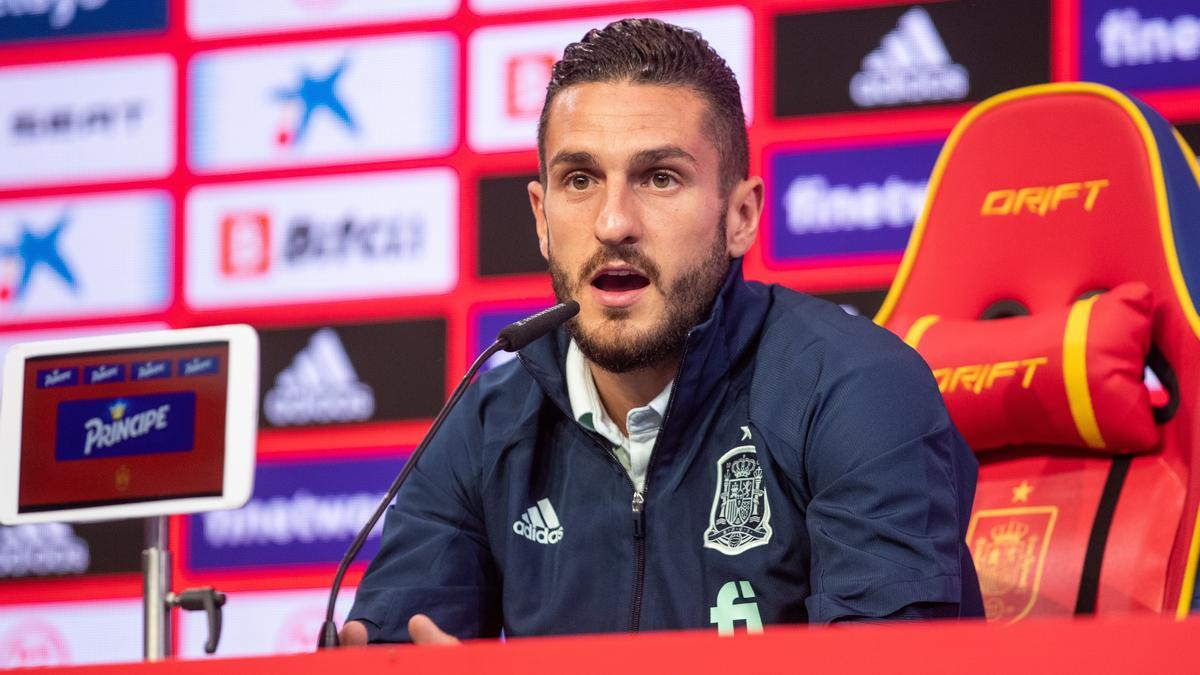 The Spanish national team midfielder Koke Resurrección said on Tuesday that people are "very hungry" in order to do a good job at EURO 2020, an event in which he believes that they are surrounded by "less pressure" than in the past when they had to go relieving the generation that won the historic Euro-World-Euro-Eurocup treble, and also admitted that the style of Atlético de Madrid this year has favored him and that Luis Enrique Martínez has "tactically surprised him."
"We have been preparing this tournament for a long time and people come very hungry. In addition, you can see in the atmosphere that there is not as much pressure as the one that put us before when the Euro-World-Euro-Euro was won. You can see less pressure and that will be good for people when it comes to playing, "Koke said at a press conference on Tuesday.
The Madrilenian stressed the "positive" of having in the national team "a mixture of young and veteran people who are hungry to win things," he pointed out that they are "very excited." "We have to go step by step with humility to try to become a champion, which is what we all want," he admitted.
The mattress player recalled that "in the national team there is a very high level "and that this is what causes people to have been left out like Sergio Ramos. "They are decisions of the coach, not only Sergio, but also other very important people within their clubs because we cannot all come. Sergio has always been there and it is a bit strange at the beginning, but we are a young group with enthusiasm to do things well. and so that those who have come to us feel proud of us, "he stressed.
The one from Vallecas will be one of the captains in the dressing room, something that does not change him. "They gave me some advice when I was able to be the first captain of Atlético and it was not to change my way of being and that is what I have tried, to always be the same person and not believe you more than anyone," he confessed.
Koke assured that he has not worked "anything especially" this year at Atlético to have his place in the 'Red'. "I haven't changed much from what I used to do, but we players go through moments of form. Atlético's style this year has benefited me the most because we have had more possession and we have attacked more, "he clarified.
"I am used to working in any system. On my legs I am strong, otherwise I would not be here, and I am very eager and excited to work and do things well. My role here has not changed much and is to add, whatever the Whatever position, on the bench or in the stands, I have to help the team try to win, "added the international.
"Luis Enrique has surprised me"
In this sense, he made it clear that Luis Enrique has "tactically surprised him." "He has a clear idea of ​​playing and as a midfielder I have a clear message that he wants to send, which is to have the ball, press up and always be in possession when defending. The message he sends is very good because he always wants to attack and the same idea regardless of the result, "detailed Koke, who he sees his teammate Marcos Llorente playing "in any position because wherever they put him he is going to perform and give the maximum possible for the team to win."
The Atlético midfielder arrives encouraged after being proclaimed champion of LaLiga Santander. "When you are champion you want to be champion again and you come here with that incentive. After a spectacular year and a very long season and where we have resisted and fought a lot, we want to repeat it now with the national team. We all come with that illusion, those of us who have been champions and those who don't, "he remarked.
And although there are many news and a team with less experience, it is clear that "the people are surely waiting at home for the national team to play after not being able to go to the stadiums for so long"" Surely that alone is hooked and if we are at a high level sure that many people will be watching and supporting us from their home or the stadiums because we are going to need it for this EURO, "he warned.
"Sevilla always supports a lot and I'm sure they do the same now. We miss people and at first it may even seem strange to us, but playing at home will give us a further confidence," added the rojiblanco, who considers win "a fundamental game" like the debut against Sweden in order to be "calmer".
Koke explained that Spain is "one of the favorites", but that you cannot think of demonstrations every day like the one signed against Germany in November. "It is impossible to win all 6-0. They require us to always win 5-0 and it is not reality because all teams compete and anyone can beat you. We have to do things well to win whatever it is, "he commented.
"There are many great teams that will give up everything to win the EURO and also with the least favorites it will be difficult. It will be a beautiful championship because everyone is going to leave what they have to win it," he said.

www.informacion.es
Eddie is an Australian news reporter with over 9 years in the industry and has published on Forbes and tech crunch.