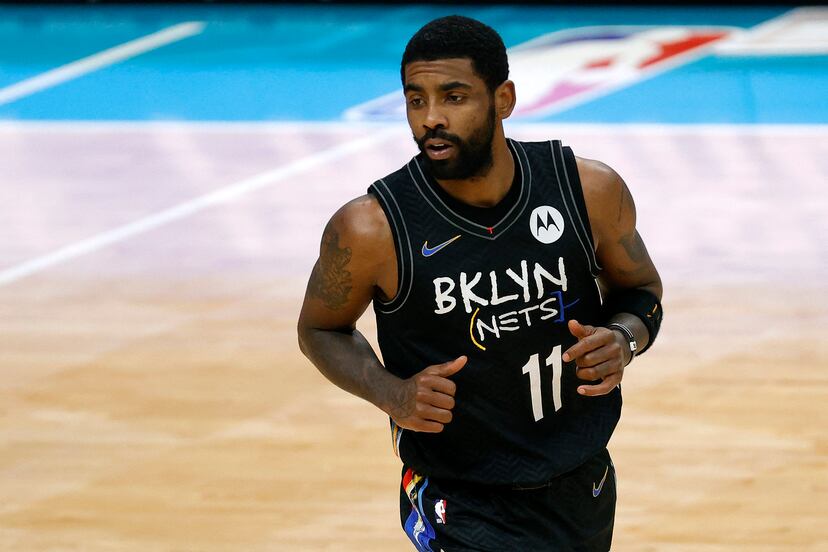 Kyrie Irving has swooped down on the NBA like an unexpected meteor. About to start the season, on Tuesday, with the pomp and circumstance due to its 75th anniversary and the return to near normality after the worst of the pandemic, the 29-year-old point guard of the Brooklyn Nets and one of the great figures of The League is reluctant to be vaccinated against covid-19. What might seem like a specific problem solved with the corresponding sanction has become a mess that fuels the debate on freedom and the rights of citizenship.
Irving's stubborn attitude is not so surprising when it comes to his personality and some of his outlandish beliefs. But it is not convenient to put everything in the same bag. Many put a cross and dash when in 2017 he defended that the Earth is flat. His explanations further discredited him. He drew his theory from an "investigation" on Instagram, he confessed. In October 2018 he asked for forgiveness. He said he expressed his theory as saying, "I'm a great conspiracy theorist." And he concluded: "I'm not very smart to say". He also held in a podcast that John F. Kennedy was assassinated because he wanted to end lobby banking and that the CIA tried to hire assassins to kill Bob Marley. "I was just kidding," he retracted.
Irving's situation is now much more serious. He can compromise his career – he has two more years on his contract at a rate of € 30.2 million this season and € 31.5 million the next – and it is not just a matter of more or less unfortunate comments. The position of those who refuse to be vaccinated is aligned and illuminated. He has not made any statements for weeks, but from his surroundings they explain that he claims not to be against vaccines and that his position serves to express his discomfort that people are losing their jobs due to the obligation to get vaccinated. It tries to challenge, they claim, the way society is controlled. "Kyrie wants to be a voice for those who have no voice," said one of his friends. Irving understands that what happened with another prominent player who did not want to be vaccinated, Andrew Wiggins, reinforces his thesis. Wiggins, of Golden State, the team based in San Francisco where the health authorities also require vaccination to access the enclosed areas, ended up giving in. "The only options were to get vaccinated or not to play. It was a difficult decision, "Wiggins lamented.
The NBA does not require vaccination, but the New York and San Francisco Health Departments require the vaccine to access the closed wards. The League intends to sanction Irving with 320,000 euros for each game he misses. The possibility was considered that he would only be absent in those scheduled in Brooklyn and in the two that will play at Madison Square Garden. But the Nets have decided to do without Irving – no games or training – until he is "fit to be a member of the team," not to write "until he is vaccinated."
Michele Roberts, the president of the Players Association (NBPA), does not believe the NBA can fine Irving on the grounds that he will not play "for unreasonable causes." Irving is precisely vice president of the NBPA, a position in which he relieved Pau Gasol, and has a rising among many colleagues. In the spring of 2020 he led a group that did not agree to the League resumption in the Orlando bubble due to the pandemic. They considered that the return to the courts limited social justice efforts after the murder of George Floyd in May 2020 as a result of police brutality. Irving has disappeared on more than one occasion from his team's radar without even his coach, Steve Nash, knowing his whereabouts. Already in January and August 2021 he was fined for failing to comply with the anti-covid health protocols. For this concept accumulates more than two million dollars in fines.
Activist and solidarity
He is supportive and generous. He bought a house for the George Floyd family. During the bubble of the Women's League, the WNBA donated $ 1.5 million to players who were unable to compete in Bradenton, Florida. Paid the debt of the students of the University of Lincoln. It financed 250,000 meals during the pandemic in New York. He donated thousands of dollars to the Sioux, was involved in their fight against a pipeline in Dakota, and got their logo tattooed on his neck. In 2018, the tribe named Irving Little Mountain. His mother, Elizabeth, a descendant of the Sioux, died when Irving was four years old. His father, Drederick, played for Boston University under Rick Pitino. He immigrated to Australia to play in a semi-professional league for two years. There, in Melbourne, Kyrie was born. They returned to the United States. Irving played at Duke University under Mike Krzyzewski, albeit briefly due to a serious injury. He immediately signed up to draft. Cleveland chose him at number one in 2011. He was Rookie of the Year and won the 2014 World Cup with the United States.
When LeBron James, after four years in Miami, returned to Cleveland, they shared a team. They played three finals in a row and won 2016, the same year that Irving also won the gold medal at the Rio Games. He asked to be traded in 2017 claiming he wanted to be more of a leader than alongside LeBron. He went to the Celtics. In July 2019, he signed for the Nets. In February 2020, he had surgery on one shoulder and that season he could only play 20 games. In June 2021, he injured his right ankle when he fell to Antetokounmpo in the fourth game of the Eastern Conference semifinals that the Bucks won 4-3. Now the Nets are the big favorites, but the rara reviews Kyrie Irving is upsetting everything.
You can follow EL PAÍS DEPORTES in Facebook and Twitter, or sign up here to receive our weekly newsletter.



elpais.com
Eddie is an Australian news reporter with over 9 years in the industry and has published on Forbes and tech crunch.