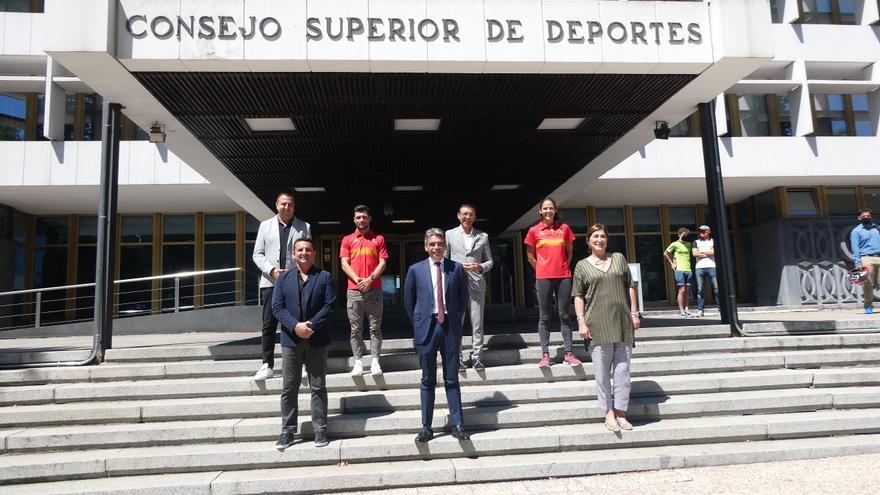 The signing of the agreement between the Spanish Triathlon Federation (FETRI) and the City Council of La Nucía took place this Thursday at the Higher Sports Council (CSD), in Madrid. The event was attended by José Hidalgo, president of FETRI, Bernabé Cano, mayor of La Nucía; Albert Soler, General Director of the CSD; Marisol Casado, president of World Triathlon and CIO member; triathletes Sara Pérez Sala and Roberto Sánchez Mantecón (World Champion under 23) and Sergio Villalba, Councilor for Sports of La Nucía.
The excellent relations between the FETRI and the City Council of La Nucía, after different meetings and events and hosting this year the new "Spanish Supersprint Duathlon Championships" has come to fruition with the signing of this collaboration agreement between the two institutions.
"The mayor said we are in the House of Sports, in the Superior Sports Council, where We want to congratulate La Nucía, for its commitment to sport as the main axis of its development. This is a benefit for the world of sport and for the city, because it creates wealth, creates employment and healthy lifestyle habits among its citizens. For us it is a great honor that municipalities in Spain are known for sport and it is to be recognized. Now La Nucía will be even better known as it is a FETRI Triathlon City ", commented Albert Soler, General Director of the CSD.
For his part, José Hidalgo, president of the Spanish Triathlon Federation, highlighted that La Nucía becomes the "first Triathlon City in Spain". "In this new project that we started as Triathlon Cities we wanted to be with the best and La Nucía is. It is a City of Sports and from today City of Triathlon. We hope to consolidate La Nucía as a training and competition center, nationally and internationally, and help the development of base triathlon in the locality ", he said.
"The signing of this agreement with the Spanish Triathlon Federation is a great step for La Nucía. This link between La Nucía and the FETRI will mark a before and after. Becoming a "Triathlon City" thanks to our excellent sports facilities, environment and growth possibilities will position us nationally and internationally, as an ideal place for competition, concentrations and triathlon practice in general. A growing sport that mobilizes thousands and thousands of people, both at the level of competition, training and tourism. It is a positive agreement at all levels since it will promote the "base triathlon" through the La Nucía Triathlon School and will train technicians, organizers and volunteers annually. From today "" La Nucía, City of Sports "is also the" City of Triathlon ", said Bernabé Cano, mayor of La Nucía.
Triathlon City
After signing this agreement, La Nucía becomes the FETRI "City of Triathlon". This agreement makes La Nucía the official training and concentration headquarters for the national Triathlon teams. Special emphasis will be placed on the "base triathlon" with the promotion of the Triathlon School, granting a technician to carry out the monitor training course at FETRI.
In turn, FETRI training courses will be held annually. This agreement will also mean an extra promotion of "La Nucía, Triathlon City" in the media, through different reports prepared by FETRI for Teledeporte, sports press, radio and digital media; as well as in the social networks of the FETRI. It will also appear on the backs and different supports of the FETRI in the 16 Spanish Championships, promotion of events, etc.

www.informacion.es
Eddie is an Australian news reporter with over 9 years in the industry and has published on Forbes and tech crunch.