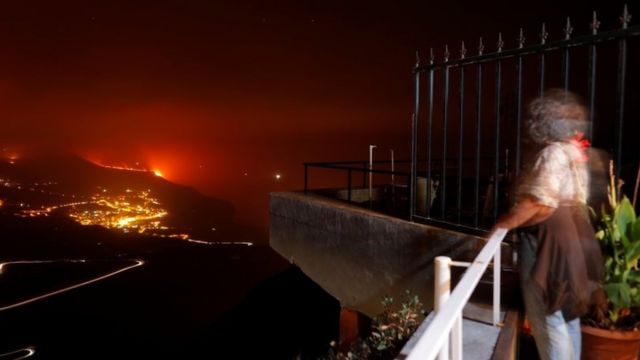 Lava from the volcano on the island of La Palma, in the Canary Islands (Spain), which erupted nine days ago, reached the Atlantic Ocean this Tuesday night.
Television images showed a river of lava falling from a cliff into the water and producing a large cloud of smoke.
Experts from the Spanish Institute of Oceanography who follow the advance of the lava live, said that "an impressive deposit of more than 50 meters in height is being generated" that continues to grow.
This event, which was already worrying the authorities, forced the Volcanic Emergency Plan of the Canary Islands (Pevolca) to ask residents of nearby neighborhoods to stay inside their homes.
"When the lava reaches the sea, the closure must be strictly observed," said Miguel Angel Morcuende, director of the Pevolca Response Committee, on Tuesday.
In addition, the exclusion perimeter on the coast was also expanded to prevent people from approaching the area.
Since Monday, the authorities had ordered the confinement of three coastal towns before the imminent arrival of the lava to the sea.
In several areas of Tazacorte, a coastal town, residents were also instructed to stay home.
When the lava from a volcano like La Palma comes into contact with salty water, "explosions and the emission of harmful gases" can occur, Pevolca details.
"When the magma touches the sea, large columns of water vapor will form because much of the sea water will vaporize. This is due to the great thermal contrast between the two: the lava has a temperature of more 900 ° C, while the water has about 23 ° C, "José Mangas, professor of geology at the University of Las Palmas de Gran Canaria, explained a few days ago to BBC Mundo.
"But as water has chlorides, sulfates, carbonates, fluorine and iodine (among other things), toxic gases will also volatilize," said the academic.
These gases can cause irritation to the skin, eyes and respiratory tract..
There are also fears that parts of the coast could collapse and cause explosions.
Since the Cumbre Vieja volcano erupted on Sunday, September 19, lava has destroyed hundreds of houses and numerous banana crops.
In addition, more than 6,000 people have been evacuated.
Faced with the devastation, this Tuesday, the government of Spain declared La Palma a "disaster area", which will allow the transfer of funds of about US $ 12.3 million to the island to provide housing for people who need it.
Some experts fear that the eruption could last several weeks or even months, according to the AFP agency.
Now you can receive notifications from BBC Mundo. Download the new version of our app and activate them so you don't miss out on our best content.

www.bbc.com
Eddie is an Australian news reporter with over 9 years in the industry and has published on Forbes and tech crunch.