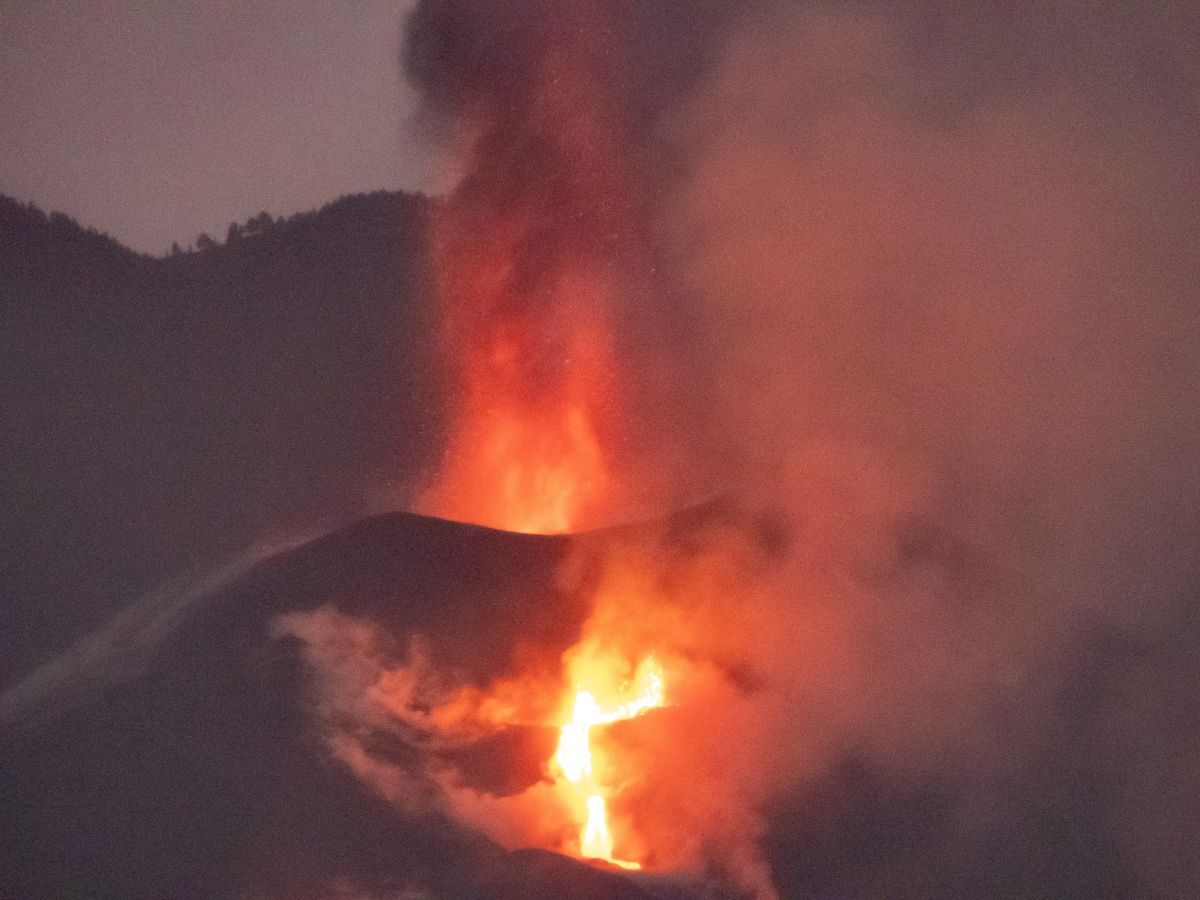 Photo: Miguel Calero / Getty Images
The lava flowing from the volcano on the Spanish island of La Palma today created a new lava flow that has reached a cemetery and a photovoltaic plant and that generates concern because it destroys everything in its path, in an area of ​​scattered hamlets and farmland.
The new river of molten rock emerged early this morning and runs parallel to the tenth stream of the Cumbre Vieja volcano., in eruption since last September 19, according to the technical director of the Special Plan for Protection against Volcanic Risk of the Canary Islands (Pevolca), Miguel Ángel Morcuende.
This new laundry, he added, constitutes "bad news" because it runs through areas "not trodden" previously by lava "and is destroying what it finds in its path, it has passed the Las Manchas cemetery "and it has passed quite quickly, although then it has slowed down because it is becoming viscous.
This is a consequence of the material that has dragged its way through areas of high urban concentration, and dispersed, which has slowed it down at about 25 meters per hour, very different "from the highest rate this morning, with a lava that probably emerges quite deep, very hot and fluid ", specified the Pevolca.

Given the concern generated by this new magma river, especially because it begins to enter an area of ​​steep slope, scientists and technicians are monitoring it and today there will be a meeting of experts to analyze its trajectory.
In addition, an increase in the emission rate is observed with an increase in the ramification of lava channels and overflows and, in fact, there has been an episode of sudden increase in the emission of lava from the main effusive center "very spectacular", although it has already ceased, a behavior that "falls within the expected" in a strombolian eruption.
Regarding seismicity, at intermediate levels it continues to be low and the deep one has decreased. The earthquake with the highest magnitude registered today, of 3.9 and felt with intensity IV, has been located 11 kilometers away.
The tremor also continues at low levels and there are no significant signs of ground deformation.
On the contrary, the emission of sulfur dioxide associated with the volcanic plume continues to be high, at around 30,000 tons, but with a downward trend since September 23, when it exceeded 50,000 tons.
Regarding air quality, in the last twenty-four hours a high quantity of gases has been detected over the areas of Las Manchas and La Bombilla, in the exclusion zone, while the situation is good or reasonably good throughout the island and regulate in Los Llanos de Aridane, where the daily thresholds for suspended particles of less than 10 microns have been exceeded.
The meteorology is not accompanying and, although today strong and persistent precipitations are registered east of La Palma, this island of the Spanish archipelago of the Canaries will be on an orange warning tomorrow due to rains that will affect the west slope, where the volcanic eruption is located. .
The good news is that A change in the wind is expected from Saturday that will favor operations at La Palma airport.
Currently, the area affected by magma amounts to 1,084.44 hectares and the width between flows has increased to 3,350 meters.
According to the latest data update, there are 1,484 buildings affected, of which 1,195 are for residential use, 160 for agriculture and 67 for industrial use.
The damaged crops occupy an area of ​​340.59 hectares, of which more than half are banana trees, and exceed 400 hectares if those affected by the ash are added, so the agricultural damage is beginning to be worrying.
---
Also read:
Photo: This is how the La Palma volcano at Cumbre Vieja looks from space
VIDEO: Astronaut shares images of a polar aurora from space
La Palma volcano: petals are thrown from a helicopter over cemeteries as access is not allowed (Video)

eldiariony.com
Eddie is an Australian news reporter with over 9 years in the industry and has published on Forbes and tech crunch.