Barcelona
Updated:
Keep

The 33rd edition of La Ruta de la Sal, the Mediterranean high-altitude regatta destined for the island of Ibiza, has already cast off.
The Denia version left at the scheduled time, from the RCN facilities in Denia, lowering the starting flag, as planned, at 11:00 am on Friday, setting the fleet to Ibiza. With a north wind, of an intensity between 4 and 5 knots, it allowed the boats to move NE direction through the Ibiza Channel towards the Ibizan destinations, with a light cross wind and when dismembering.
The barometric low formed in the area of ​​Palos and Mar de Alborán, has allowed the Regatta Committee of the Eastern version to start. With this circumstance, it is expected that the turbulences of the low originate navigable winds in the southern area of ​​the Island of Ibiza and that it will allow the navigation of the fifty sailboats that cover this Alicante exit.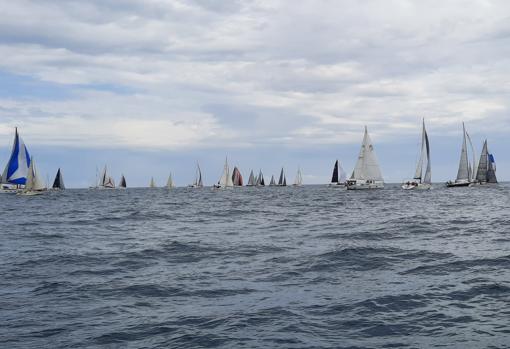 Special departure from Barcelona
The start from Port Ginesta (Barcelona) was very different. Here, a very stable barometric swamp, especially in the middle of the Channel between the Balearic Islands and the Iberian Peninsula, recommended to the Northern Regatta Committee, change the navigation program and establish a link in preserved navigation between Port Ginesta and Cabo Tortosa (at the mouth of the river Ebro) to start sailing from here, today at 8:00 p.m. scheduled for this afternoon. When this fleet (another fifty sailboats) reaches this point (some chose to leave on Thursday night to be on the starting line today at 7:30 p.m.), the starting line of the participants will be established between the boat of the Regatta Committee, which has accompanied the fleet and the Beacon Lighthouse at the tip of the Ebro river.
This modification in the calendar of La Sal, a regatta conceived to be a high-altitude sailing to be developed during the spring equinox, when the weather is more homogeneous in the open sea, and not like now, at the end of May, as it has been in this occasion, and where the winds are preferably circumscribed by the coastal thermal influence, governed by the sea-land breezes, has originated these changes of plans, conditioning this edition. .
Arrival scheduled for tomorrow
With these changes, it is expected that throughout the day on Saturday, the entire La Sal fleet will be moored in the docks of CN Sant Antoni de Portmany. The first to arrive will be those registered in the Mini Sal, leaving Denia and with the shortest route, since they cover an approximate distance of 55 nautical miles. The rest of the fleet is scheduled to arrive in unison to Sant Antonio, since with the cut of 55 miles of the participants in the North Version, in principle this route has 140 miles, it will balance the travel times with those of the version.
See them
comments

www.abc.es
George is Digismak's reported cum editor with 13 years of experience in Journalism