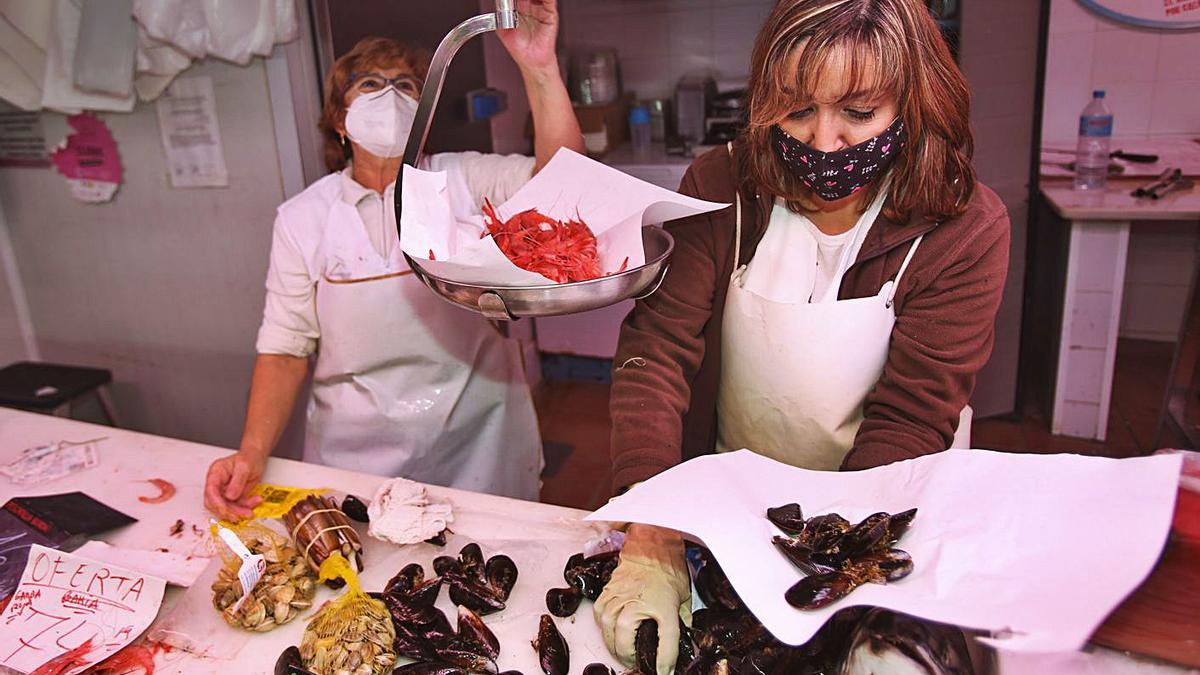 The fish stalls that offer red prawn from Santa Pola and Dénia They sell out their merchandise almost daily, despite the fact that the kilo is around 100 euros, due to the demand for the next parties. Families advance the purchases of the menus of the Christmas Eve dinner and Christmas lunch based on fish and shellfish to freeze and have a select product given the uncertainty that surrounds the celebration of the next parties, with the hospitality subject to restrictions, hence many consumers choose to spend more in the markets to dine at home . An inflow of money that is already noticeable, hence the placeros expect to collect between 10% and 15% more, despite the 90% drop in the traditional demand from restaurants. As for the meats, too lamb, kid, turkey orders are brought forward and the traditional fillings and elaborations, to avoid the most expensive last minute prices, and above all, queues and crowds due to the covid.
The limitations on the number of diners that will be allowed at family gatherings affect food purchases and reservations. Sellers agree that most order quantities for six people. At Central Market of Alicante there are stalls, such as Carnicería Moltó, where little papers with orders for Christmas are piled up. "People are being cautious when buying so as not to come with all the mogollón", says José Manuel Moltó. What is most requested is suckling pig, kid and lamb shoulder for Christmas Eve, and also fillings. "There are also people who ask and wait before the uncertainty about the number of people who will be able to join." Prices remain the same: 16.90 euros for a burgos suckling lamb, weighing six kilos, with which up to eight people can dine; and half lamb 11.95 euros.
In Nicasio Patricio's store, the 600-gram pieces of suckling lamb for one person, "who don't need that much oven," from Castilla y León, with a designation of origin, triumph. The cost of this meat is 29.98 euros per kilo. "We are not receiving orders as large as before. The one that used to be for twenty people is now for four ", he pointed out about the limitations for dinner this year. The vacuum serrano ham is selling a lot for Christmas, and also the whole legs for which you get to pay 250 euros.
The fish and seafood sector is already doing sale to freeze given the uncertainty about whether there will be a quality product on Christmas Eve. "It is an unknown year, there is little red and expensive shrimp, and there is no demand for the hotel industry. The good is already taking people, "said Evaristo López, president of the Association of Fish Retailers. Lucía Valor, mother of Francisco Pastor, a third-generation fishmonger, explained that "there is more shopping, we notice the difference because people are going to go out to dinner less. By contrast, our hospitality customers buy at a lower level. Domingo Martínez, who has a frozen food stand, said that there are more reserves, and that they have been selling for Christmas for eight or ten days. It warns that products may be missing because wholesalers make less sales forecast as consumption in the hospitality industry decreases.
100 euros: Cost of the kilo of red shrimp from Dénia and Santa Pola that is sold this week.
The sellers of the Central Market of Elche They expect Christmas shopping to get bigger starting December 1. "We noticed that customers take advantage of the offers of the shopping center establishments to buy products such as hams at a lower price," said one of the sellers, Manuel Valverde.

www.informacion.es
Digsmak is a news publisher with over 12 years of reporting experiance; and have published in many industry leading publications and news sites.