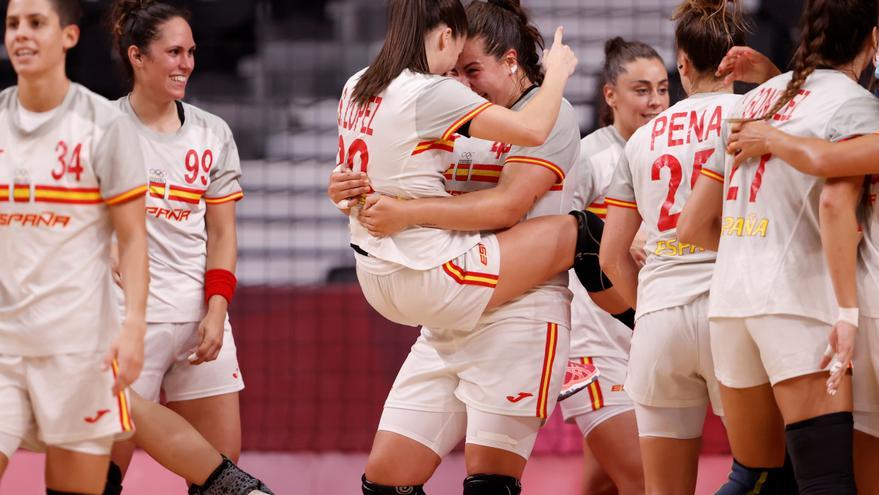 The Spanish women's handball team on Thursday added a key victory for their aspirations to be in the quarterfinals of the Tokyo Olympic Games after beating Brazil 27-23, after a match where the figure of goalkeeper Silvia Navarro stood out.
Spain continues to grow in the Japanese capital and to its great victory against France, added another of great value against the team led by its former architect, Jorge Dueñas, who had won both games. And he did it with a solid game, especially in the second half, underpinned by the Valencian goalkeeper, who signed a devastating 48 percent (18/39), with high-level actions.
And she did it from the beginning since she was the one who made sure that the national team did not disengage from the scoreboard. Spain did not start well in attack, with three losses in attack, a trend that would weigh them down in the beginning but that was not well used by their rival, stopped by the Valencian and her stops, only avoided by the individual actions of De Paula.
The 'Warriors', with a lot of work, remained hooked on the Brazilian team, but the 'wound' of the losses set off alarms after the seventh in 18 minutes (5-9). The Spanish team got stuck in attack and their best argument was their veteran goalkeeper, again in charge of preventing the difference from being greater.
Lara González broke a drought of almost seven minutes without scoring and from there, Spain had its best minutes, with a 4-0 partial that equalized the score, and two new losses did not prevent it from being about to go to rest ahead if not for a huge goal by Larissa Araujo.
Silvia Navarro causes the takeoff
The good end of the first half moved to the beginning of the second. Silvia Navarro raised a 'wall' in her goal with four almost consecutive saves and the current world runners-up took off on the scoreboard (14-18, min.37), causing Jorge Dueñas to time out.
But the return of the losses and the appearance in goal of Arenhart stopped this good moment. Spain 'dried up' in attack for ten minutes and lost Eli Cesáreo by a red card, but he drew on his survival character and the incredible actions of his goalkeeper to face the final five minutes with some comfort (24-20).
Brazil accused the blow and did not manage to play in the best way those decisive minutes, too dependent on individual actions well stopped by the 6-0 Spanish. Still, he had a counterattack to put pressure with two minutes to go with 25-23, but De Paula ran into the last memorable action of Silvia Navarro and Ainhoa ​​Hernández ended the contest.
Datasheet
Outcome: Spain, 27 – Brazil, 23 (13-13, at halftime).
Teams:
Spain: Silvia Navarro (p), Mercedes Castellanos (p), Alicia Fernández, Nerea Pena (7, 3 pen), Almudena Rodríguez (1), Paula Arcos, Mireya González (2), Alexandrina Barbosa (3), Lara González ( 3), Marta López (2), Carmen Martín (2, 1 pen), Soledad López (4), Eli Cesáreo (1) and Ainhoa ​​Hernández (2).
Brazil: De Arruda (p), Arenhart (p), De Paula (8), Do Nascimento (3, 1 pen), De Araujo (2), Rodrigues Belo (2), Anorim Taleska (2), Araujo (1) , Cardoso (1), Vieira (1), Guarieiro, Matieli (2) and Ventura (1).
Partial: 1-2, 3-4, 5-7, 5-9, 9-10, 13-13 – break – 17-14, 20-16, 21-18, 21-20, 24-20 and 27 -2. 3.
Referees: Mads Hansen and Jesper Madsen (DIN). They excluded Lara González, for Spain, and Araujo, Guarieiro and Amorim, for Brazil, after two minutes. Eli Cesáreo was expelled for red.
Pavilion: Yoyogi National Stadium.

www.informacion.es
Eddie is an Australian news reporter with over 9 years in the industry and has published on Forbes and tech crunch.