If you walked through the streets of the center of Madrid last winter, surely you came across one. It was inevitable. They were everywhere, and there were every color and theme imaginable, uncomfortable for the bulk of pedestrians and almost anyone with two eyes on their face. The final fireworks came at Christmas, when the Madrid city council installed a giant 10 meter high in the Plaza de Colón, flanked by a luminous red and yellow and other artistic manifestations that have transformed the square into an insane urban sainete (the phenomena that have place at this particular point in the capital are worthy of study). I am talking about the meninas, those figures who, by season, act as cultural symbols of the city and whose imprint endures, because they have become a genre in themselves. One that represents how no draw on artistic heritage.
"Madrid becomes with the meninas once again the largest open-air museum in the world," it proclaims on its website Madrid Gallery Girls, the initiative created by Antonio Azzato that brought them to the streets. In 2020, it celebrated its third edition and commissioned creators such as Agatha Ruíz de la Prada, Keka Martínez or Paloma Freestyle to rework the mythical figure in Velázquez's painting in an environment marked by the ravages of the pandemic. "In this hard time that we have had to live, we unite in solidarity and with the idea of ​​bringing joy and confidence back to the streets of Madrid through art," he added.
However, even if the intentions are good, the end does not always justify the means. Taking one of the most important paintings of the Spanish Golden Age, with thousands of hidden meanings and an infinite symbolic dimension, and simplifying it to the serial reproduction of dozens of figures molded in fiberglass, is a maneuver of doubtful artistic substance. At least that is how the self-proclaimed Anti-Meninas Platform denounces it, whose Instagram account @stop_girls it constitutes an eloquent (and hilarious) endorsement of his abolitionist argument.
The question of "bringing art closer to the street" should pose much more complex actions (and less literal) than scattering around Madrid a kind of ninots dressed in dresses with guards and courtly hairstyles to "claim freedom", because "we all need to be free and we need to resume our normality again ", as announced on the event's website.
The site of the Infanta Margarita and her entire clique of flattering ladies, of Felipe IV and his wife, Diego Velázquez, the mastiff and other characters that appear on the canvas, is in Breda, together with a victorious Ambrosio Spínola and his thirds of Flanders. He is in the forge with Apollo the snitch and Vulcan the horned. He's on the verge of an alcoholic coma with Bacchus and a gang of drunks. He is riding with Gaspar de Guzmán, Count-Duke of Olivares. Is laughing with the boy from Vallecas, Pablo de Valladolid or any other jester at the service of the king on duty. the girls they belong to the Prado Museum, that sober container of neoclassical architecture art that Manuel Azaña said "was more important for Spain than the Monarchy and the Republic together." Who really wants to see the girls, go to the Prado. In addition to the oil paintings by Velázquez, you will be able to see some other 'trifles' by El Greco, Goya, Rubens, el Bosco, Rembrandt or Titiano. Almost nothing.
The explotion of the girls and its forced reconversion into a contemporary cultural icon suitable for immediate consumption is the perfect example of how we should not treat art. We are facing a downward democratization process that affects too many masterpieces. The Scream Edvard Munch is no longer heard, the stars of The starry Night Van Gogh's no longer shine The Gioconda He has taken away the urge to smile (or whatever he was doing with his mouth when posing for Leonardo da Vinci).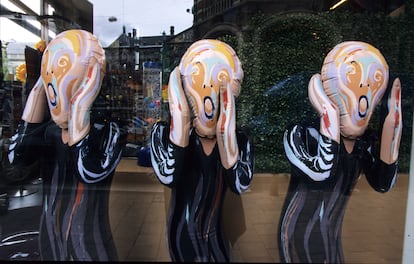 Don't get me wrong. Of course it is positive to celebrate art in any of its many manifestations. But why do we have to go back to certain creations over and over again? Why this obsession with to update masterpieces that transcend their own time when they are, by themselves and by their own merits, eternal?
One can lament, although there is another way, perhaps less responsible, but certainly more fun, which consists of turning the inevitable into ridiculous. So the magazine believes Sideguise, what publish now The Dirty Issue (The dirty number), in which a photomontage of New Menina Business Area: the Cuatro Torres de la Castellana with a skyscraper shaped like a menina in the middle. "Is there anything more unpleasant than this?" They wonder. Anti-Meninas Platform goes one step further and announces on its Instagram: "Apparently the works will start in 2022. What do you think?" "For me it is a montage. I don't think there is anything to worry about "(sic), writes a user.
Although building a giant 200-meter menina full of offices for the callousism wearing a white collar and a tie on the Paseo de la Castellana is a joke that forces the Meninas Madrid Gallery strategy to the point of absurdity, the truth is that making architecture in the shape of things is no joke. It had its golden age in the roadside buildings that were built around Los Angeles during the 1930s, as documented in California Crazy. American Pop Architecture. Most of the cafeterias and restaurants tried to capture the motorized customer with recognizable shapes that showed what they were selling inside: if the building was shaped like a coffee maker, they gave good coffee; but if it was shaped like a pig, it was best to order bacon and sausage.
Years later, Robert Venturi and Denise Scott-Brown became obsessed with a Duck building on Long Island, they wrote Learning From Las Vegas, and thus postmodern architecture was born. Well, no, it wasn't born that way. That would be to simplify things a lot (a lot), but showing that kind of sensitivity towards the symbolism of architectural forms was undoubtedly an important foundation for a new generation of architects who faced the sober with irony and impudence. establishment of the Modern Movement.
In the 21st century, altering the scale of an object and turning it into a building is an operation that is still in force. The Kansas City Public Library Its facade is an 8-meter high reproduction of the spines of 22 masterpieces of universal literature (they include The Lord of the rings de Tolkien, The Adventures of Huckleberry Finn by Mark Twain, The republic from Plato, Kill a Mockingbird by Harper Lee or History of two cities by Charles Dickens). In taiwan there is a glass church shaped like a 17 meter high heel shoe. Just a year ago the Seminole Hard Rock Hotel & Casino de Florida, an electric guitar 137 meters high. Didn't the architect Louis Sullivan say that "form follows function"? Did you want soup, Louis? Well, have two cups.
Where does the tribute end and the practical joke begin? We are half a year to find out.



elpais.com
Eddie is an Australian news reporter with over 9 years in the industry and has published on Forbes and tech crunch.