September 7, 2021 will be remembered in Mexico as the day on which abortion was decriminalized, that is, the day on which the Supreme Court of Justice of the Nation ruled that a woman would never step on jail for having stopped her pregnancy, and that those inside would regain their freedom. Soon they will be seen going out into the street. There will be about 40 or 50 in a country of 126 million inhabitants, because there is an even worse fact: surely more are dying trying to achieve what the States have been denying them for decades.
In Mexico, about a million clandestine abortions are performed each year and a third of them end in medical complications. The annual rate of hospitalizations per thousand women between the ages of 15 and 19 increased from 6.1 to 9.5 between 2000 and 2010, according to government data. The World Health Organization (WHO) estimates that 47,000 pregnant women lose their lives worldwide each year as a result of unsafe abortions. Mexico now wants to conjure up those figures. Generally, when a government legislates or a Supreme Court dictates, society is already ripe for it. But Mexican women are looking these days towards the neighboring United States, where the State of Texas, right there on the border, has just introduced a rule that practically prohibits abortion. And they are not willing to lower their guard.
On the southern border of the country the entire Latin American region extends, which in this matter presents the same inequalities as Mexico itself if one looks at state by state: only four of the 32 that make up the country have enacted a modern term law (they allow interrupt pregnancy in the first 12 weeks of gestation) and now, probably, Coahuila will join, on whose Penal Code the Supreme Court issued a sentence to abolish prison, a case that establishes jurisprudence and forces all Mexican judges to rule accordingly .
Similar occurs in the region. While Argentina waved its green handkerchiefs in December 2020 to salute a long-claimed deadline law, Chile is still in its infancy. Ecuador also recently benefited from its judicial system, which decriminalized abortion in case of rape, while in El Salvador those who tried or managed to stop their gestation are locked up in infected prisons. In Brazil, the interruption of pregnancy is relatively common, however, the legislation remains in the classic assumptions: only in case of danger to the life of the mother, when the fetus is anencephalic or in case of rape, reports Naiara Galarraga Gortázar. Of all of them, Colombia is the one that has shown the most hope with the sentence in Mexico. They expect a contagion in their territory, also through the judicial channels, which has shown signs in recent times that they want to banish abortion from the Penal Code, with some modifications.
"The trend in Latin America is positive, but Mexico has gone one step further. This is what we ask in Colombia from the Causa Justa movement. Hopefully this is a signal, an incentive for the Colombian Court ", says Mariana Ardila, spokeswoman for Women's Link Worldwide and lawyer for the Legal Directorate of this global organization.
Contagions between the highest courts in each country are not unusual, so feminists view the step taken in Mexico with optimism. Precisely in this country, the unconstitutionality of 16% VAT for feminine hygiene products is being claimed these days, a requirement inspired by what the judges in Colombia have already dictated.
The Inter-American Court returned their children to a Chilean lesbian judge, Karen Atala, in 2012, based on the ruling of the Mexican Supreme Court on equal marriage. There are many other examples. "Of course there is legal dialogue between countries and if not, we are already a legion of lawyers to make sure that ideas reach them," says Estefanía Vela, executive director of Intersecta, a Mexican feminist organization.
The fact is that women from half the world are now looking more towards the judicial courts than towards their governments, where sometimes they find nothing more than a few cold words. "I respect the decision of the Court," said the Mexican president only before the historic ruling last Tuesday. Andrés Manuel López Obrador, who heads a so-called leftist government, has always taken a profile on abortion because he considers it a matter that divides the population. And so much. It happens all over the world. But it is also divided by other policies and has not been shy about charging against the judges or the opposition to defend them. In Ecuador, the conservative Guillermo Lasso said practically the same thing when the Court decriminalized abortion in case of rape: we respect what was sentenced. Little more.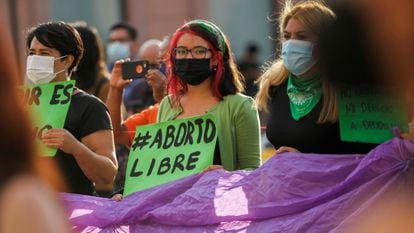 Fortunately, they do not stop sentencing. The Supreme Court declared the protection of life from conception unconstitutional this Friday, therefore that cannot be used to restrict the reproductive rights of women. That article has several of the States of Mexico, precisely to protect themselves against abortion.
Federal countries, such as the United States or Mexico, have little margin, it is true, to intervene in these issues, which are the responsibility of their states. "What could be done is to draft a federal Penal Code that would be complied with by all states, which would imply a constitutional reform," explains Rebeca Ramos, director of Gire, the most representative organization in the fight for abortion in Mexico. She is happy about the recently approved ruling of unconstitutionality and hopeful for the direction of some Mexican states, which are already showing signs of wanting to change things in this area.
With the US system, however, a sentence like the Mexican one would have decriminalized abortion in all federal states, explains Estefanía Vela. "Federalism has advantages and disadvantages. Now we wonder why a ruling of unconstitutionality like this does not oblige all states at once. But if the sentence had criminalized abortion in all of them, we would be suffering and we would not have had a free abortion like the one that has been in the Mexican capital for 13 years ", adds Vela. In his opinion, the important thing is that cultural changes are consolidated. In this way, Vela believes, companies will not let their governments regress, as has happened in Texas.
In a few countries like Mexico, the Constitution enshrines (in Article 4) "the right of people to decide the number and spacing of their children." "It's a dream," says Vela. But in this country, many dreams remain in the legal letter. "We can affirm that the States are not complying with the Constitution", affirms this lawyer. "Our judicial challenge system, the amparos, are not designed to deal with systemic problems such as discrimination. In Mexico there are more than 40 rulings that protect equal marriage and, nevertheless, we continue to have to resort to amparos to be able to get married, "continues Vela. "It is outrageous that states do not legislate to enforce the Constitution."
"Justice mistreated me"
The Mexican Dafne McPherson was 25 years old and working in a shopping center in the State of Querétaro when she felt severe pain in her belly and began to lose a lot of blood. It happened in 2015. A baby was delivered in the bathroom and soon died. Until then, she was unaware that she was pregnant. "They treated me as if I was to blame," he says in reference to the health personnel. After a lengthy surgery, McPherson awoke handcuffed to the hospital bed. Disoriented and under the effects of anesthesia, the Prosecutor's Office tried to get her to declare in writing that an abortion had been caused. Six months later, a court sentenced her to 16 years in prison and she spent three years and four months behind bars.
Now out of jail and after an uphill legal battle, McPherson rejoices at the Supreme Court ruling. "I felt very nice when I found out," he says over the phone. "In my case the justice mistreated me and it was cruel. The Prosecutor's Office compared me to a dog and the judges tried to blame me out of sheer prejudice. From the beginning I knew that they had already condemned me ".
Health personnel are the other leg of this matter. Conscientious objection is rampant. But the Supreme Court, again, plans to rule on this shortly.
The president of the Mexican Judicial Power, Arturo Zaldívar, has made one of the most audacious feminist speeches among those that have been heard these days. With a solemn and emotional tone, he celebrated the sentence he has awarded to the long struggle of women in Mexico for their rights and presented it as a tribute to all of them, also to those who are no longer there and those who are still locked up. "Yes, we can," he said at a press conference, after describing the unanimous ruling of the magistrates as historic. A couple of ideas have shone in this ruling of unconstitutionality: that women are autonomous to decide on their pregnancy in freedom and that the criminalization of abortion punishes poverty, since it is the most vulnerable women from rural areas who sleep in the prisions. "Rich girls always aborted, but they did not go through prison," Zaldívar said last Wednesday.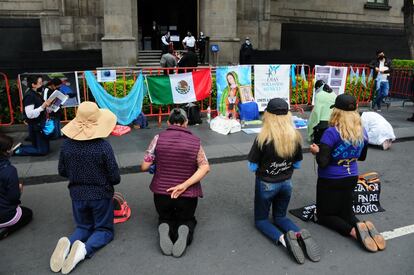 The organizations that have been helping women to abort for years know this well. Andrea, 33, belongs to one of these networks in Sonora (northern Mexico) and assures that she has accompanied some 5,000 abortions at home in the last decade. Step-by-step guides women before, during and months after, thanks to the protocol endorsed by the WHO to apply Misoprostol, a drug used in the late eighties in Brazil as a remedy for gastric ulcers that is also used to interrupt pregnancy. "In Mexico the purchase or sale of the drug is not illegal, although some pharmacies ask for a prescription to buy it," explains the activist. "We do it, but we are not doctors or psychologists, this is a right that the State should give women freely, safely and for free," she says.
Despite the fact that many states in Mexico still maintain restrictive laws against abortion, feminists recognize that at the federal level the health system has a friendly and effective behavior. It is assured by Rebeca Ramos, from Gire, and also Estefanía Vela, from Intersecta, among those consulted for this report.
These days, Mexican feminists, and with them all Latin Americans, have shown their best smile, despite the fact that the pandemic, they say, has not brought the green scarves to the streets en masse, as would have been expected. Society is maturing the idea reflected in the Constitution, aware that the time has come to leave women the free decision about their bodies. But they look askance at Texas and think of that phrase by Simone de Beauvoir: "Never forget that a political, economic or religious crisis will suffice for women's rights to be questioned. These rights are never acquired. You must remain alert throughout your life.
Subscribe here to the newsletter of EL PAÍS México and receive all the informative keys of the current situation of this country

elpais.com
Eddie is an Australian news reporter with over 9 years in the industry and has published on Forbes and tech crunch.