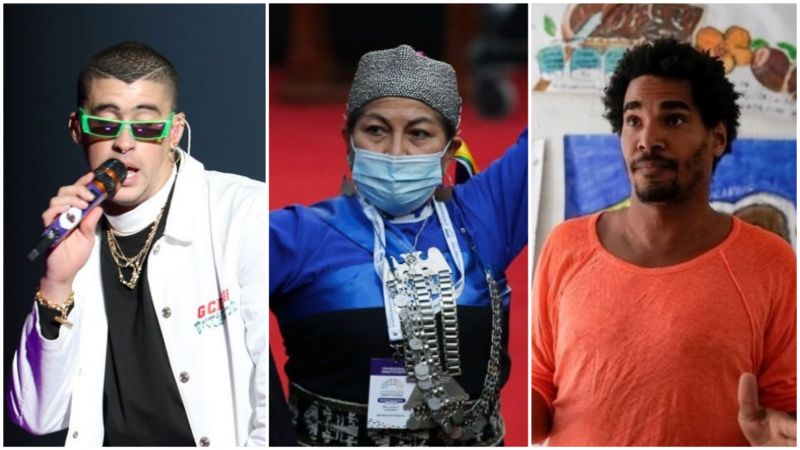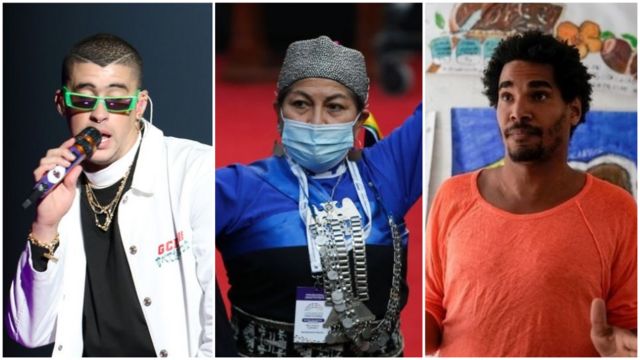 With five representatives from Latin America, the American magazine Time has just presented its selection of the "100 most influential people of 2021".
Leaders, icons, pioneers, titans, artists and innovators: this is how the publication has defined personalities from politics, business, music, culture, social struggles and even royalty included.
In the case of Latin America, two leaders were elected, an icon, a pioneer and an artist.
These were the chosen ones.
Luis Manuel Otero Alcántara – "íCuban cone "
The Cuban artist was considered by Time as a world icon and praised for his work, his fight for freedom of expression and his "uncompromising stance against autocracy."
"Otero Alcántara is a symbol and a leader within the San Isidro de Cuba movement, an influential group of artists and intellectuals who demanded greater freedoms as anti-government protests spread across the country this summer," the well-known writer wrote in his review. Chinese dissident Ai Weiwei.
The 33-year-old man has been deprived of his freedom on several occasions, but that has not prevented him from maintaining his protests and performances, with which he won the admiration of many in Cuba.
"It is through such struggles for freedom of expression that art transcends the condition of banality and mediocracy", highlights Ai.
The Cuban government considers Otero Alcántara, like other opponents, a "mercenary in the service of the United States." and accuses him of being behind "shows" and "media farces".
Olimpia Coral Melo Cruz – "pionera mexicana"
The activism of this Mexican has been so important that a law bears her name.
Olimpia Coral Melo was the victim of the so-called "revenge porn", after an ex-boyfriend published a intimate video of yours without your consent.
At first he tried to commit suicide, but regained his strength and fought so that "revenge porn" was considered a crime. Currently almost all states in Mexico have adopted the Olimpia Law.
"Melo Cruz and I are soulmates, and I hope that she inspires people around the world not only to take up this cause, but also to speak for themselves, "says American activist Amanda Nguyen, who promoted legislation similar to the Olympia Act in the US.
"It can be difficult to be a survivor, to talk about something so personal, but the impact of Melo Cruz will not only be significant in this moment, it will be remembered in history, and history is on her side. She has changed the world. That is. what she symbolizes, "he highlights.
Bad Bunny – "aPuerto Rican artist"
Rapper Benito Martínez Ocasio, known worldwide as Bad Bunny, is considered by Time as one of the artists most influential of the year.
Colombian singer J. Balvin says in the publication that Bady Bunny "is a phenomenon when it comes to music", although he emphasizes that his place in the world music scene "did not happen overnight", but rather work base.
"Seeing it is like vsee a little brother make his dream come true. I knew him when he was like a little monster, and now he's like Godzilla. He has amazing lyrics and understands the importance of creating your brand. If everyone goes to the right, he goes to the left ", highlights Balvin.
He considers him an "advocate of self-expression", that people dress or look however they want.
"That freedom connects a lot with people. He is an artist, period."
Elisa Loncón Antileo – "líthe mapuche"
Last July, Elisa Lancón made history by becoming the president of the Constitutional Convention in charge of creating a new Constitution in Chile.
But she is not a member of the traditional political class: she is a woman from the original Mapuche people.
"For the first time in history, indigenous peoples are participating in the life of the State as representatives of their native nations, and President Elisa represents centuries of their dreams and struggles," highlights the Mapuche academic Verónica Figueroa.
"The beautiful brown skin of the mestizos and indigenous peoples has been kept out of the corridors of power, but it is in those corridors that Elisa Loncón Antileo now walks," he emphasizes.
Watch It – "salvadoran leader"
On this year's Time list there is not only praise for the inspiring achievements of the chosen ones, but also denunciations.
This is the case of the president of El Salvador, Nayib Bukele, who is described as a leader intolerant of criticism or the opposition.
"In 2020, Bukele came to Parliament surrounded by armed soldiers to pressure lawmakers to pass his budget. Last May, he ordered the removal of Supreme Court justices, and now, new appointees have ruled that presidents can serve two consecutive terms, "says journalist Daniel Lizárraga, director of the renowned newspaper El Faro, who he was expelled from the country.
El Salvador's immigration authorities argued that Lizárraga, who is Mexican, could not prove that she is a journalist.
"For Bukele, the government's words are unquestionable, and whoever says otherwise is first burned on social networks and then, if they continue on their way, it is put before the authorities"Lizárraga denounces.
Bukele has rejected the accusations of acting beyond their powers, such as in the dismissal of magistrates: "Not only did we have the power to do so, but the people asked us to do so," he justified last May, in the face of criticism within and out of the country.
"The Constitution gives the power to the Assembly verbatim to appoint and remove the magistrates of the Constitutional Chamber," he said.
Remember that you can receive notifications from BBC News Mundo. Download the new version of our app and activate them so you don't miss out on our best content.

www.bbc.com
Eddie is an Australian news reporter with over 9 years in the industry and has published on Forbes and tech crunch.