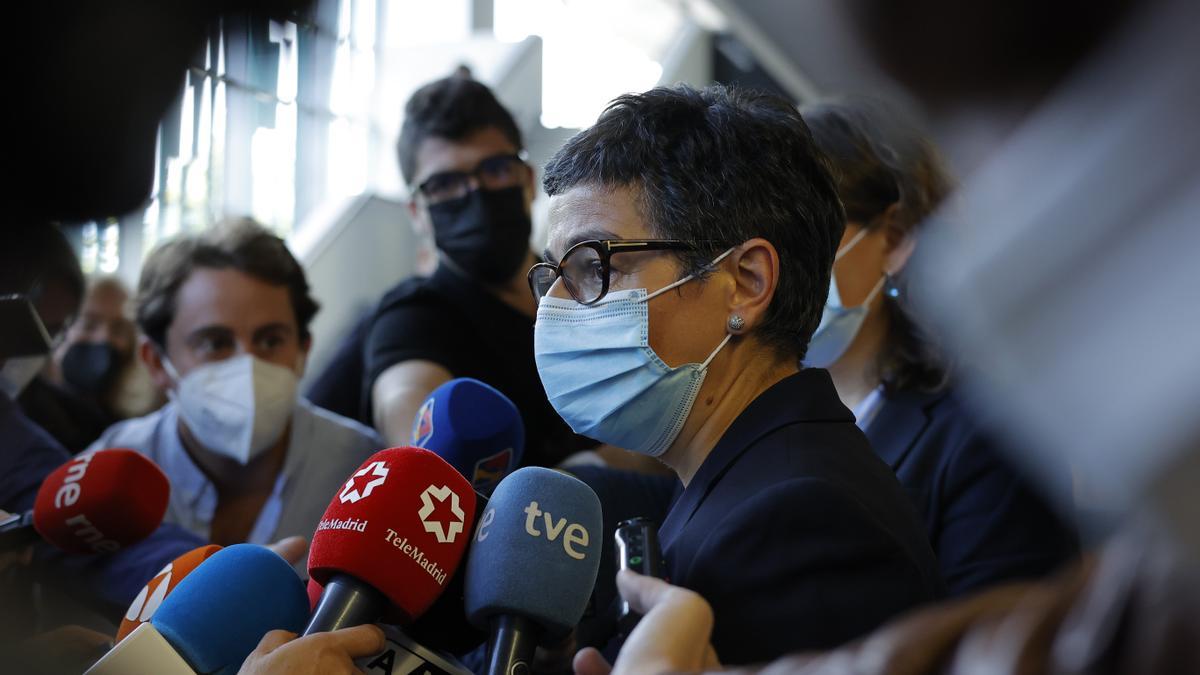 The former Minister of Foreign Affairs Arancha González Laya assured before the Court of Instruction Number 7 of Zaragoza that the entry into Spain of the leader of the Polisario Front, Brahim Gali, was done with "discretion" because his case involved "two neighbors" with "political edges", in reference to Algeria and Morocco, although he fails to mention the latter.
This is stated in the statement, to which Europa Press had access, of last Monday, October 4, when the former Foreign Minister appeared as investigated before the investigating magistrate Rafael Lasala for the entry of the leader of the Polisario Front into Spanish territory on April 18.
Gonzalez Laya highlighted the "exceptional" of the arrival of Gali to Spain and assured that it was motivated by four factors. In the first place, he pointed out that it was a request made by a third country and not by a non-governmental organization or an individual; he highlighted as a second factor that it was a person who was "seriously ill"; as a third point, he stressed that he was a "person with a political profile"; and finally, that it was a case that involved "two neighbors" whose relationship between them has "political edges".
"All of this makes it important, from the humility and good faith that has characterized our management of this issue, to treat it with discretion, "said the former minister. In this sense, she pointed out that" discretion is not arbitrariness ", that" it is not illegality "and that, of course," it is not concealment. "
The former minister insisted that she opted for "discretion" given the specificity of the case, as it is a request from "a third country with which Spain has specific diplomatic relations". He also added that the situation could "be complicated for another third country with which Spain also has very good neighborly relations."
González Laya stressed that the entire process was carried out "within the law and with scrupulous respect for the rules of entry into our country." In the framework of his presentation, he made reference both to the bilateral agreements between Spain and Algeria and to the diplomatic code of the Schegen space.
Thus, he defended that this last regulation gives flexibility to countries to allow entry outside the ordinary controls and that in humanitarian situations it also allows entry even if documentation is not carried.
Your passport was not verified
In the framework of the declaration, The former minister said that from Algeria they warned her that Gali was carrying an Algerian diplomatic passport.
"In this case, having announced who was coming and with Schegen's code in hand, in good faith I tell you, Your Honor, we understood that their entry could take place as it did, that is, without the access document being controlled", he indicated.
Faced with the argument of the former minister, the magistrate asked if – in accordance with the regulations – the rest of the countries in the Schegen area were notified of Ghali's arrival. González Laya insisted that the diplomatic code allows entry even without documentation in exceptional cases.
"But we are not talking about that assumption, we are talking about the assumption of a citizen who tells us he is going to come with a diplomatic passport, whose diplomatic passport is not verified when he arrives at the Spanish border, a courtesy in cases in which it is a state flight, "he explained.
"Did we make inquiries about whether this person had some kind of limitation for entry into the Schegen territory? No, Your Honor, we did not," he said after insisting that he was guided by good faith.
A few weeks ago, the judge asked the SIRENE office for a report on whether or not there were arrest warrants or alerts regarding the leader polisario.
Your child's residence permit
During his speech, González Laya also assured that lThe Algerian authorities had informed him that the Polisario leader was accompanied by his son and that he had "a residence permit in Spain."
The Information Brigade of the Higher Headquarters of Aragon informed the judge in an official letter on September 30 that the residence permit of Ghali's son was issued on April 23, 2021; that is, five days after it arrived in Spanish territory. According to the Police, said permit will be valid until March 14, 2026.

www.informacion.es
Eddie is an Australian news reporter with over 9 years in the industry and has published on Forbes and tech crunch.