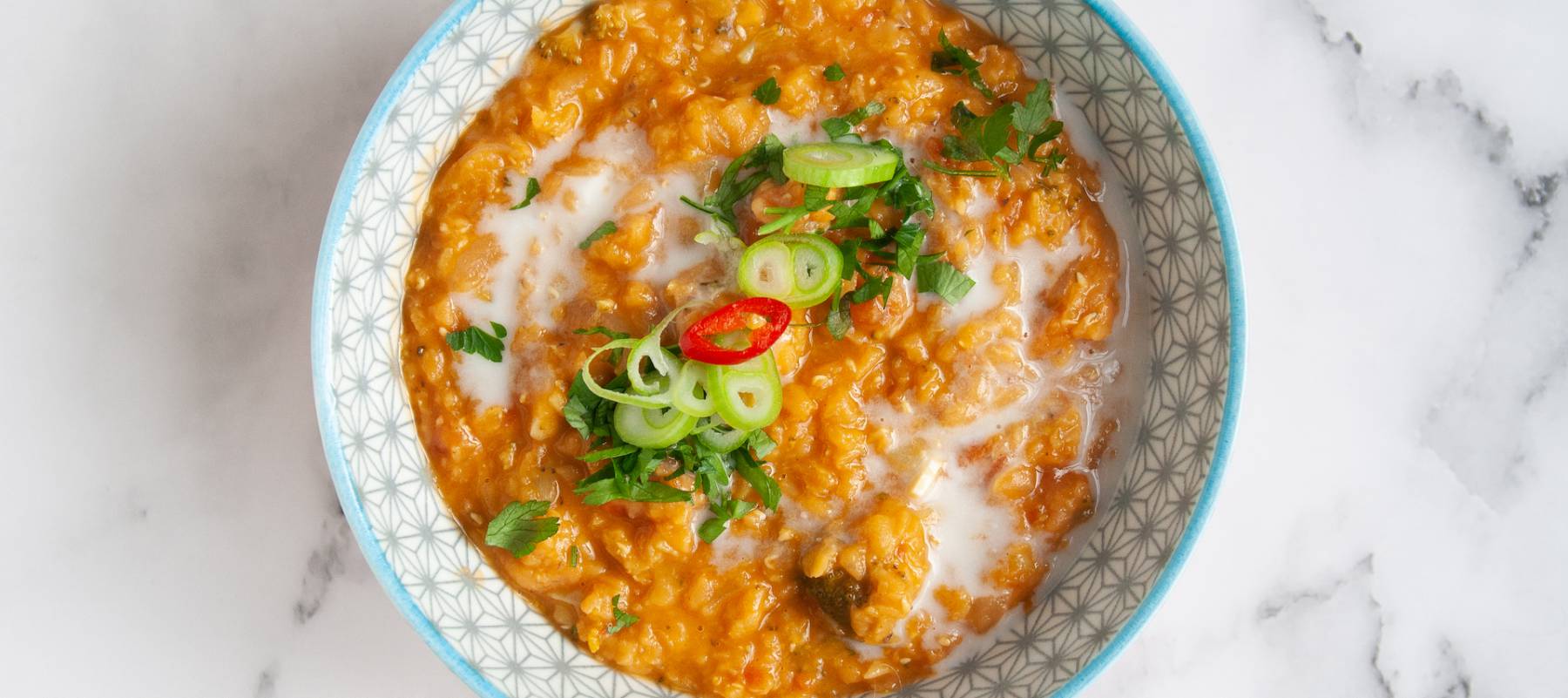 The word from is a Sanskrit term from South Asia, used both to call split legumes without skin and dishes made with these legumes. Although it may seem strange to us, it is possible to find legumes such as peas, lentils or chickpeas that have had the skin removed and are split in half. While the term from usually refers to the split legume (dhuli dhal), whole legumes can also be used to make from (sabut dhal).
Around 50 varieties of legumes are known in India from and it is a kind of staple recipe from South Asian countries (India, Bangladesh, Bhutan, Nepal, Pakistan, Afghanistan, Maldives and Sri Lanka). Some examples are the chana from, which is made with chickpeas, the moong dal It is made with mung bean or green soybean, very popular in Bangladesh, or the masoor dal with red lentils, like this recipe.
Legumes without skin have certain peculiarities that should be discussed. From a gastric point of view, they are much easier to digest, as the skin tends to give digestive problems to some sensitive people. Thus, although this form of legume has the counterpart that it has less dietary fiber by eliminating the skin, it can be an interesting way to introduce it into the diet of those who feel a certain rejection of the whole legume and only tolerate it in puree and pasadita by the Chinese, or that they do not eat it because of the intestinal discomfort it causes them.
It may seem that a legume without skin is easier to cook and does not require soaking, but this only happens with lentils. Thicker legumes, like split peas or chickpeas without skin, benefit from pre-soaking and cooking, preferably in a pressure cooker. Otherwise, we will have to keep the pot on the fire for several hours so that they are well cooked and obtain the characteristic semi-pureed texture: as it does not have skin, the starch dissolves in the cooking water, giving a result that is not very refined. , but very tasty.
The from it is eaten with flat breads (such as flatbreads, rotis or naans) or with rice. A very good way to ensure a quality vegetable protein, in addition to enjoying this delicious dish.
Difficulty
It's easier than saying from.
Ingredients
For 4 people
2 medium onions, julienned
3 garlic cloves
A piece of ginger about 2 cm
250 g broccoli, cut into small trees
2 tablespoons olive oil
¼ tablespoon ground cardamom
¼ tablespoon of ground cinnamon
1 small can of natural crushed tomato (240g)
300 g red lentils
1 l of water or vegetable broth
The juice of 1 lime
Coconut milk / cream
Salt to taste
To decorate
The green part of a chive
Coriander
Red pepper
In addition (optional)
Preparation
Peel the onions and garlic and cut them into julienne strips. Peel the ginger and chop it very finely. Cut the broccoli into small trees and chop the loose stalks. Reserve
Heat the olive oil and fry the onion with a pinch of salt for about 10 minutes. When it is transparent and begins to brown, add the garlic and minced ginger, and sauté for 3-4 more minutes, stirring occasionally.
Add the cardamom and cinnamon and fry for one or two minutes, stirring constantly so they do not burn (lower the heat a little if you consider it convenient).
Add the crushed tomato and sauté until it has reduced almost by half, for about 10 minutes.
Add the lentils, broccoli and water or vegetable broth, and bring to a boil. Simmer for 20-30 minutes, stirring occasionally, until the lentils look creamy. Add a little extra water or broth if you notice that the lentils absorb too much liquid during cooking
Add half of the coconut milk to the dal, mix well and let it rest for a few minutes. Taste and adjust the seasoning if necessary.
While the lentils are cooking, chop the green part of a chive, a little coriander and red chili. Serve the from with a drizzle of the coconut cream that has been left over and decorated with chives, coriander and red chili. If you like, you can complement it with basmati rice or some chapati.
If you make this recipe, share the result on your social networks with the hashtag #RecetasComidista. And if it goes wrong, complain to the Chef's Ombudsman by sending an email to [email protected]

elcomidista.elpais.com
Eddie is an Australian news reporter with over 9 years in the industry and has published on Forbes and tech crunch.