Since leaving prison, Joe Ligon has been asked several times if he was afraid of going out and landing in a world he only knew on television, but he does not understand: "Why? I was not afraid, no madam, I was not afraid, I am very happy to have come to this moment alive ". He entered prison in 1953, when he was 15 years old, Dwight D. Eisenhower was president of the United States and a black boy like him could not study in the same school as whites. It was not his case, then he did not know how to read or write because he had barely been in school. He took to the streets on February 11, 2021, 68 years later, at 83. He was the oldest prisoner in the country sentenced to life imprisonment as a minor. What surprised him most was not the cell phone, not the noise, not the people, but the tall buildings of Philadelphia.
"None of this was there when I entered the jail, it is very impressive …", he said this Wednesday looking through the window of his lawyer's office, in the center of the city. He is now 84 years old and a lanky man with strong arms, strong biceps, and a mixture of peace and sadness on his face. He can tell the first years of his life in a precious way, until the very night he was arrested, also the anecdotes of this or that prisoner, back in the sixties, eighties, nineties … During all that life that he has lived outside of the system.
Then he hesitates about the latest, the details of his trial, and barely remembers anything of his trial. It lasted only one day, on June 9, 1953, and he only spoke to plead guilty. Ligon was sentenced to life in prison for participating in a series of assaults and robberies one night in Philadelphia that left several wounded and two men dead.
He had come to the city two years before from the old south. He was born on May 3, 1937 in Alabama and grew up picking cotton and helping his grandparents with livestock. At age 13, when his family moved to Pennsylvania, he started going to college, but without much success or continuity. That February 20, he and other teenagers, all minors, got drunk and began assaulting people around the city. Joe admits that he attacked people, but claims that he did not kill anyone, although at trial he pleaded guilty. Four of the five were tried at the same time and convicted of murder. He turned 16 before the trial, but he was already behind bars.
Then the rest of his life began. Behind bars he came of age, he got older, then old and the first ailments began. He learned to read and write. He became a boxer. He lost his parents. Cancer patient. He was cured. He went through six prisons, saw several of them close and one of them, the Eastern State, until it became a museum. From television, he lived the course of History: the Vietnam War, the arrival of man on the Moon, the 9/11 attacks, the first heart transplant, the victory of Donald Trump. "The five o'clock news [de la tarde] They took you on a trip around the world. I have not been anywhere other than Alabama and Pennsylvania, but I would put myself in front of the TV every day and see the world, "he says.
Their story reflects the harshness of criminal justice against juvenile offenders in the US, where until 2005 they were not even exempt from the death penalty. That same year Joe Ligon met Bradley Bridge, a lawyer for the Philadelphia Defenders Association, who studied his case and went to jail to propose that he fight for his release. Until then, Ligon hardly knew well his own situation and his options. "At the trial they were not too careful to show that Ligon was with the boys who killed two men and he is not legally responsible for that. In 1953 they did not pay the same attention to that as that would be paid today, "says the lawyer. If he was tried now "he would have been found guilty of assault and attempted murder, probably and would have received a sentence of five to 10 years in prison."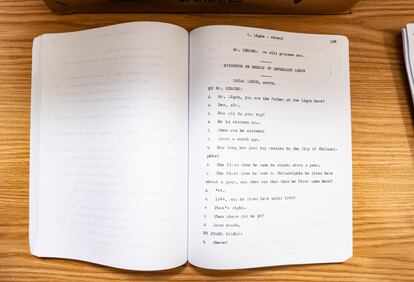 Joe never wanted to get out of prison on parole. In 2016, justice opened a great opportunity for prisoners like him. The Supreme Court decided to retroactively apply a previous sentence, from 2012, which considered life sentences for minors without the option of parole in mandatory sentences unconstitutional – the minimum established that the judge cannot change. Thus, those condemned had to receive new sentences. Ligon, with a new 35-year-old, could ask for parole, but rejected it. And Bradley Bridge kept working.
On November 13, 2020, a judge ruled that his life sentence was annulled and that, unless he was sentenced again, he should be released in 90 days. "He is a stubborn man with his principles, with so many years paid, he did not see fair to go out with the limitations that the probation implies," says Bradley. As early as the 1970s, he had rejected the possibility of being paroled. The governor of Pennsylvania at the time, Milton Shapp, granted clemency to hundreds of prisoners who were released – among them, the boys who were convicted along with Joe in 1953 – but he did not want to request it. "I had been treated very badly as a 15-year-old boy," he says.
Now he carries a copy of the judge's order folded in eight parts in his brown leather wallet. He takes it out and looks at it frequently. He wants it with him always to show it to everyone. God and boxing, he says, have helped him all along. As a child he was a blind admirer of Joe Louis, a famous black boxer of the time, and while in prison he met a guy named Charlie Matthews who assured him that he was a friend of Sugar Ray Robinson and trained him for years. Keep loving boxing. He has one sister alive and he has a niece. They live in New Jersey and have invited you to visit them this summer. It's close and you don't need to fly to see them. Joe isn't afraid of anything, he says, but he doesn't like airplanes.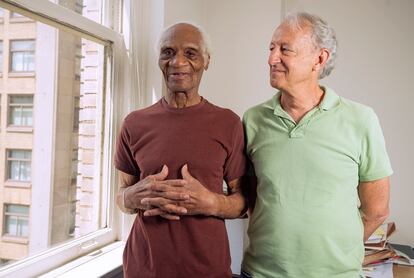 Justice is hardened again with life imprisonment for minors
Until 2005, the United States did not exclude juvenile offenders from the harshest penalties. Based on the case of a teenager named Christopher Simmons, the Supreme Court of the North American country ruled that year that the death penalty for minors was unconstitutional by violating the eighth amendment to the Constitution, which prohibits "cruel and unusual punishments."
In 2012, the High Court also ended life sentences without parole in mandatory sentences, those in which the judge has no choice and must apply the established penalty, considering that such a penalty can only be applied if the judge can assess the age at which the crime occurred. And in 2016 the magistrates determined that this decision be applied retroactively for all convicted minors, not only for those who had received mandatory sentences, "except for those whose crimes reflect permanent incorrigibility."
But the trend to limit the harshest punishments for children and adolescents changed the pace in 2021. In April, a Supreme Court with a renewed conservative majority (six to three) reversed this criterion and rejected restrictions on the application of the chain perpetual term for minors and established that US judges do not need to prove "permanent incorrigibility."
Subscribe here to the newsletter from EL PAÍS América and receive all the informative keys of the current situation of the region.

elpais.com
Eddie is an Australian news reporter with over 9 years in the industry and has published on Forbes and tech crunch.