Our state of consciousness can be modified by exposure to certain harmonic patterns. It is an ancient magical, psychological, meditative and artistic practice on whose healing power the filmmaker Jorge Suárez-Quiñones and the musician and producer Ylia have wanted to investigate, invited by RAYO, a festival of expanded visual arts organized by Cineteca Madrid and whose third edition will take place between July 1 and 4.
Suárez-Quiñones had been thinking about a project that demonstrated the curative capacity of filmic forms for some time. Gonzalo de Pedro and Pedro Portellano, the curators of the festival, have considered it from the beginning as a dialogue between artists from different disciplines who are invited to develop their project expressly for RAYO. For this reason, when they learned of the filmmaker's concern, they put him in contact with Ylia, whose work is characterized by the search for new sound territories in terms of timbre. She herself explains that since she was little she was "aware of the tremendous effect that music could produce", of how it is capable of making the mind focus "on one thing, amplifying attention" and of how it can modify emotions.
From this collaboration the piece was born Healing Ray, which aims to reverse the emotional consequences of the last year and during which there will be three projectors running; one for the films filmed for the occasion, another that will project signs and a third to illuminate the table from which Ylia will perform, live, the music she has composed, for which she has combined bianural beats with her own music. "The mental image that I have worked with throughout the process is that of water, the river as a healing element. That has led me to compose not so much 'songs' with a traditional structure, but rather sound currents that flow and intertwine, generating a series of accompaniments and tensions alongside the image. " Through the festival he got in touch with Teresa Bravo, from the CSIC's Environmental Acoustics group, specialized in the propagation of sound in materials, which gave him access to many studies carried out on binaural waves.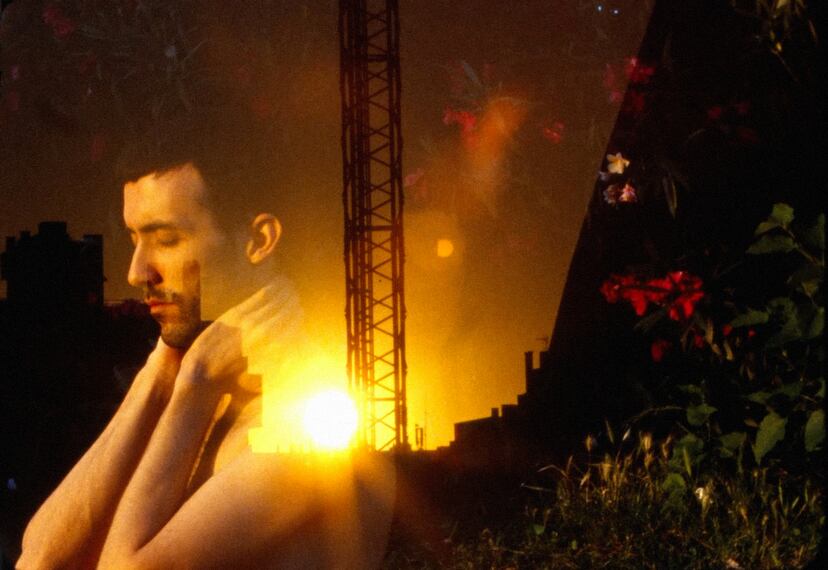 For his part, Suárez-Quiñones has shot simple healing actions, small rituals that lead the person who performs them to reposition themselves in the present space-time. The second screen will reflect formal patterns, color and rhythm, as well as symbols, the efficacy of which has been studied by various traditions. It is the same principle that animates, for example, the therapeutic psychological technique of EMDR, which works with bilateral stimulation and is used for cases of post-traumatic stress disorder of different severities. Although he is interested in the measurable effects of the performance, the filmmaker points out that he has relied on his own experience in search of healing and reconciliation with the present. He works with analog cinema because he considers that its material nature, more physical and tangible, makes it a better vehicle for healing. In this case, the format is 16 millimeters, but since 2017 he has been working mainly on Super-8, practicing mounting on camera, directly while filming. In this technique, even when it is not directed as in Healing Ray for a therapeutic purpose, he finds a deep relationship with meditation. Recalling the work of the German experimental filmmaker Helga Fanderl, Suárez-Quiñones compares the montage on camera to an exercise in calligraphy in which a blur can either be accepted, or all work can be discarded from the beginning. This requires "greater attention and a very intense relationship with the present, of absolute concentration and related to intuition. Perhaps without that tension the same results would not be achieved ".
Healing Ray is the piece that closes the festival, but from Thursday, July 1 it will be possible to attend other pieces such as the one devised by the filmmaker Albert Serra in collaboration with the improvisation group The Molforts and the German actress and singer Ingrid Caven, who in addition to Being famous as a muse for Fassbinder in recent years she has worked with Rita Azevedo Gomes and Ado Arrieta. Gonzalo de Pedro explains about this piece that Serra will use the projector as a light source on which he will apply filters and effects, which makes it very clear what one of Rayo's purposes consists of, which is to understand image and sound in one sense. broad, expanded. Also the practice of direct versus the invariable reproducibility of conventional films is one of the pillars of the festival. In this edition there will only be one piece online: Cabin Fever Prototype, by Esmeralda Conde Ruiz, will consist of a Zoom session accessible for 24 hours in which a choir of voices recorded from all over the world will perform a work composed by Conde based on his dreams. The artist has been working on this project since the first months of the pandemic, of which what can be seen on RAYO is a prototype.
Lolo & Sosaku are the only couple of participating artists who form a stable working duo. For your piece Vant Metal They have invented a set of instruments from motors, hinges and cables that will make it sound live. Polish video artist Angelika Markul joins musician and producer Suso Saiz in a search for beauty in landscapes that they create in visual and sound, respectively. Finally, the collaboration between Filip Ćustić and Carlos Gárate gives rise to the performance photoelasticity + electromagnetism; Ćustić will use his body as an instrument and distort it through glasses, while Gárate will integrate the sounds produced in a soundscape, in search of an experience of hypersensitization and investigation into the subjectivity of the perceptual.
In addition, the festival has scheduled ¡Foley!, a workshop for children by the British School of Noise, which in two online sessions during the weekend will teach them to use all kinds of household objects to create room effects.
LIGHTNING. Expanded visual arts festival. Cineteca Madrid. From July 1 to 4.
You can follow BABELIA in Facebook Y Twitter, or sign up here to receive our weekly newsletter.



elpais.com
Eddie is an Australian news reporter with over 9 years in the industry and has published on Forbes and tech crunch.