TThe ball reaches Lionel Messi in the center of the field. He returns it with a dismissive foot motion that says: I can't do anything with this. I do not want it. Take it back. And then he sighs and walks away in the opposite direction. Surprised and a bit embarrassed, Guido Rodríguez picks up the ball and looks for someone else to pass it to him.
Maybe it's because Messi gives so few interviews, and he tends to say so little in the interviews he gives, that over time you start to fool yourself, in a strange anthropomorphic way, that you can glimpse some kind of deep human insight into his life. football. That on a certain level, his actions in a field are his way of speaking to us. That misplaced pass was actually a form of indirect protest towards the Barcelona board of directors for their continuous contractual confrontation. That celebration was actually an act of solidarity with the striking Rosario dock workers. That attempt through the ball is his way of telling us that life is precious, but hope is fragile. And so.
All nonsense; probably. And yet, in the same way, if you're trying to "read" footballers, you could probably do a lot worse than starting with Messi. Even in his old age, is there a more purely expressive footballer in the world right now? A footballer with a richer or more varied vocabulary? Perhaps it is not surprising that when you can accomplish something with the competence and complexity of language, many people mistake it for speaking.
Even by his own standards, Messi has been enjoying a particularly expressive Copa América thus far. Just a week into the tournament, we already saw a sublime free kick from a distance in Argentina's draw against Chile, a crucial assist for Rodríguez in the 1-0 win over Uruguay. In addition to that, there have been many hurt looks, many mini-tantrums, many exasperated gestures to colleagues, as if to say: There. That's where I want the ball. That place. It's simple. You fold it over the defender, with the laces, just a little bit back, and … nevermind, I'll get it myself..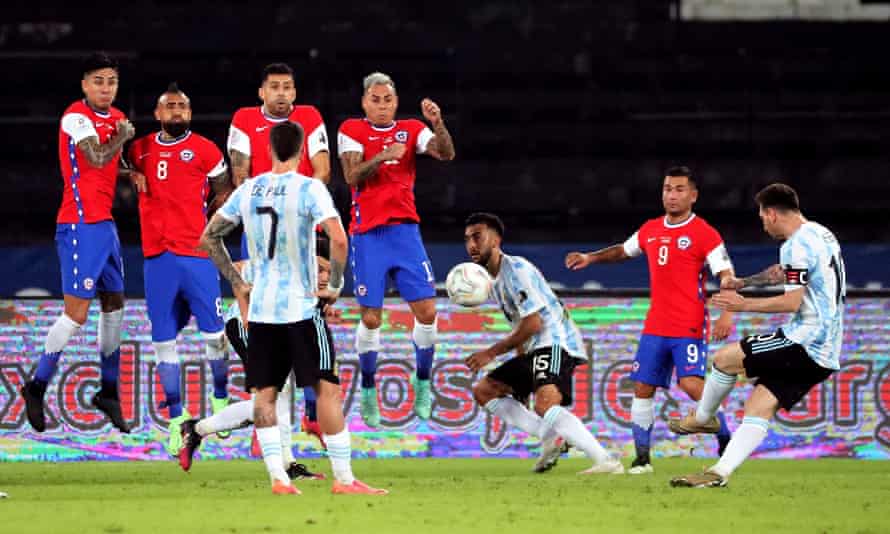 It's important to note that even this most lively and visible Messi remains a curiously remote figure – certainly when you compare him to many of his contemporaries. One of the most striking aspects of the international scene today is the number of teams that are essentially built around the charismatic energy of a legendary single player. There is almost cartoonish heroism in the way Robert Lewandowski races around the field for Poland, trying to elevate his championship-level teammates through sheer force of will. You also see it with Wales and Gareth Bale, even to a lesser extent with Cristiano Ronaldo's Portugal. It is a team game, of course. But also, somehow it is not.
Messi, for his part, has never really demanded this kind of role. Even in his peak years, he warned of the dangers of molding an entire team around a single player. Now, you can see it in the way he angrily returns the ball when he doesn't want it, in the way he spends much of a game actively trying to disappear – sneaking out of sight, biding his time, preserving his energy. And yet Argentina often goes through periods where they keep passing the ball to Messi and keep getting it back, an exchange that seems to tell the whole story of modern Argentine soccer in a fleeting moment.
This week Messi turns 34. Next week, fitness permitting, he will win his 148th international and break Javier Mascherano's record, despite announcing his retirement twice and then changing his mind. He's still as sublime a player as ever, but it's becoming increasingly clear these days that he can't do it all, even if he wanted to. This is your eleventh penchant for winning a major international tournament, and there are still people who will tell you that until you do, your greatness will remain somehow incomplete.
It does not matter the fact that Messi would have already won a World Cup and two Americas Cups if Gonzalo Higuaín had managed to convert an open goal. On some level, the ongoing search for an international trophy speaks to a broader existential angst in Argentine soccer, one that sees in Messi's advanced age not just his own watch, but that of the nation as a whole.
Most of the golden generation of the 2010s have either left the scene or are in mild decline. Meanwhile, the abundant pool of talent that once flowed from Argentina to Europe's biggest clubs has been alarmingly depleted. Only five Argentines aged 25 and under participated in the Champions League this season. Only one, Cristian Romero in Atalanta, reached the round of 16. And while there is still a lot of potential in players like Lautaro Martínez, Ángel Correa, Giovani Lo Celso, if you are a fan of Argentina right now it's hard not to wonder if when Messi finally retires, he will have your best shot at glory with him.
"Geniuses are repeat offenders, even with a cane," said the great Jorge Valdano in a recent interview with La Nación. And even in their fall years, surrounded by increasingly inferior players, stripped of the advantage of playing at home, in what could well be their last dance, there is still something there: a glimmer of a vision of a light that has never been seen. off completely. From this distance, with our inexperienced eye, it looks a lot like longing.

www.theguardian.com
George is Digismak's reported cum editor with 13 years of experience in Journalism