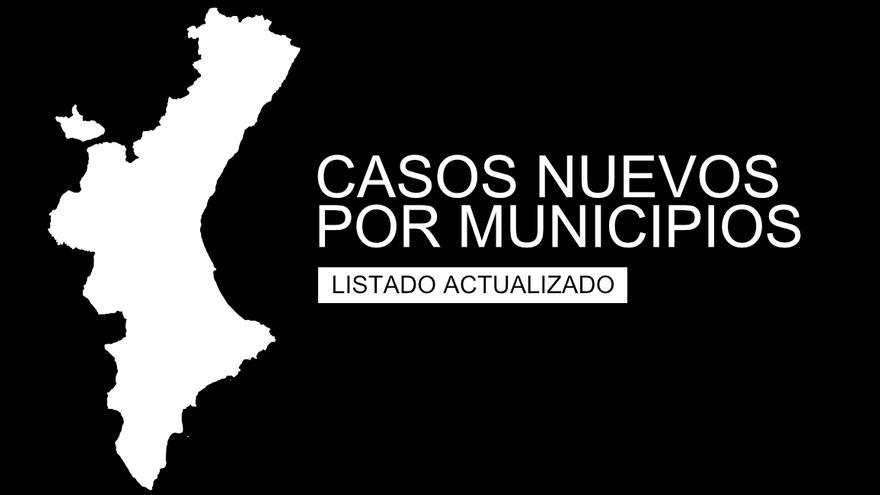 A total of 270 municipalities from Valencian Community they have registered new cases of coronavirus between Monday and Thursday, and eight of them have had more than a hundred cases. Valencia skims a thousand, with 991, followed by Alicante (332), Elche (212), Castellón de la Plana (199), Elda (151), Torrent (147), Sagunto (107) and Algemesí (103).
Less than 100 cases have been detected in other large localities such as Vila-real (94), Petrer (93), Orihuela (85), Alaquàs (78), Xirivella (77), Vinaròs (74), Alzira (70), Torrevieja (66), Mislata (65), Ontinyent (64 ), La Pobla de Vallbona (63) and Villena (61).
Furthermore, in Sant Vicent del Raspeig there have been 58 infections; in Alcoy, 57; in Almoradí, the Vall d'Uixó, Llíria and Paterna, 55; in Alcúdia, 53; in Catarroja, 51; in Novelda, 50; in Benidorm and Callosa de Segura, 47; in Crevillent, 46; in Benicarló and Silla, 42 and in Almassora, 41. Sueca has detected 39 cases; Paiporta, 38; Burjassot, 37; Bétera, Gandia, Monòver and Riba-roja de Túria, 36; Moncada, 35; Benifaió, 33 and Albal, Carlet and Ibi, 32.
Contagion
Between 20 and 30 cases have occurred in Alcalà de Xivert, Banyeres de Mariola, Picanya and Picassent (29); Santa Pola (28); Alfafar (27); Albatera, Benetússer, Carcaixent and Cullera (26); Godella and Manises (25); Alginet, Aspe and Pilar de la Horadada (24); Alboraia, el Pinós, l'Alcora, Rojales and Xàtiva (23); Massamagrell (22); Sant Joan d'Alacant (21) and Alberic, Dolores and Mutxamel (20).
Another 19 positives have been recorded in Almàssera, Bocairent and Utiel; 18 in Olleria and Montserrat; 17 in Benirredrà, Guadassuar, Monforte del Cid and Tavernes Blanques; 16 in l'Eliana and Onda; 15 in Benicàssim, Bigastro and Cox; 13 in Almussafes, Catral, El Campello, Vila Joiosa, Moixent and Puçol; 12 in Chella, Massanassa, Peñíscola, Quart de Poblet and Sax; 11 in Dénia, Guardamar del Segura, Rafelbunyol, Requena and Xixona and 10 in Aldaia, Barxeta, Borriol, Cocentaina, Oropesa.
New cases
Nine cases have been in Burriana, l'Alfàs del Pi, Museros, San Fulgencio and Vall d'Alba; eight in Benejúzar, Benigànim, Benissa, Callosa d'en Sarrià, Catadau, Foios, Meliana, Onil, Pedreguer and Tavernes de la Valldigna and seven in Canals, the Puig de Santa Maria, the Alcúdia de Crespins, Segorbe, Sollana, Villanueva of Castellón and Xàbia.
In Albaida, Albalat de la Ribera, Alcàsser, Benaguasil, Corbera, La Pobla Llarga, the Caves of Vinromà, Muro de Alcoy, Polinyà de Xúquer, Sedaví and Traiguera, six infections have been detected, while in August, Ayora, Benijófar, Benlloc , Càlig, Càrcer, Chiva, Moncofa, Navarrés, Pedralba, Real, Redován, Sant Joan de Moró and Villar del Arzobispo, five.
Four more positives have added Algorfa, Almenara, Beniparrell, Casinos, Caudete de las Fuentes, Real de Gandia, Enguera, Gilet, la Nucia, les Alqueries, Llombai, Otos, Ribesalbes, Rocafort, Salinas, San Isidro, San Miguel de Salinas , Turís, Xeraco and Xert; while in Alfara del Patriarca, Alfarp, Almoines, Artana, Benferri, Betxí, Cheste, Favara, Jérica, la Pobla Tornesa, la Romana, la Vilavella, Llucena, Los Montesinos, Montroi, Olocau, Rafal, Santa Magdalena de Pulpis, Torreblanca , Venta del Moro, Vilafranca, Vinalesa and Viver, three. These are the first cases in Otos since the beginning of the pandemic.
Two new cases have added Aielo de Malferit, Albalat dels Tarongers, Albocàsser, Altea, Benicull de Júcar, Biar, Canet lo Roig, Daya Nueva, el Fondó de les Neus, Estivella, Finestrat, Gata de Gorgos, Hondón de los Frailes, l 'Ènova, Llutxent, Marines, Massalavés, Miramar, Montaverner, Nules, Oliva, Ondara, Quesa, Riola, Rossell, Sant Jordi, Serra, Titaguas and Vilamarxant.
Albalat dels Sorells, Albuixech, Alcàntera de Júcar, Alcoleja, Alfara de la Baronia, Algueña, Atzeneta del Maestrat, Bellreguard, Benavites, Beneixama, Beniarjó, Beniarrés, Benissanó, Bicorp, Bolbaite, Bonrepòs and Mirambell, Bugarra, Buñol, Calp, Camp , Cañada, Cervera del Maestre, Cortes de Pallás, Cotes, el Genovés, Emperador, Faura, Formentera del Segura, Gestalgar, Godelleta, l'Alqueria de la Comtessa, la Font de la Figuera, la Llosa, la Pobla de Farnals, les Useres, Manuel, Massalfassar, Morella, Nàquera, Petrés, San Antonio de Benagéber, Suera, Vallada and Xilxes have had a contagion.
100 deaths in 51 locations
Regarding the number of deaths, a total of 100 deaths have been assigned during this week to their corresponding 51 municipalities. Valencia is once again the one that regrets the most deaths, with 17, followed by Castellón de la Plana and Villena (five each), Alicante, Elda, Petrer and Torrent (four) and Alcoy (three).
Burjassot, Carlet, Catarroja, Catral, el Campello, Llíria, Monòver, Ontinyent, Orihuela, Sant Vicent del Raspeig and Vinaròs have accounted for two new deaths.
In Aldaia, Algemesí, Almoradí, Banyeres de Mariola, Benidorm, Benirredrà, Bétera, Biar, Bonrepòs and Mirambell, Castalla, Chiva, Daimús, Finestrat, Gandia, Guadassuar, Alcúdia de Crespins, Los Montesinos, Mislata, Moncofa, Monforte del A new death has occurred in Cid, Museros, Picanya, Quart de Poblet, Redován, Rojales, Sagunto, Sant Joan d'Alacant, Sueca, Tavernes Blanques, Traiguera, Xirivella and Xixona.
Benirredrà, Bonrepòs and Mirambell, Alcúdia de Crespins, Los Montesinos and Traiguera have lost their first neighbor due to the coronavirus.

www.informacion.es
Digsmak is a news publisher with over 12 years of reporting experiance; and have published in many industry leading publications and news sites.