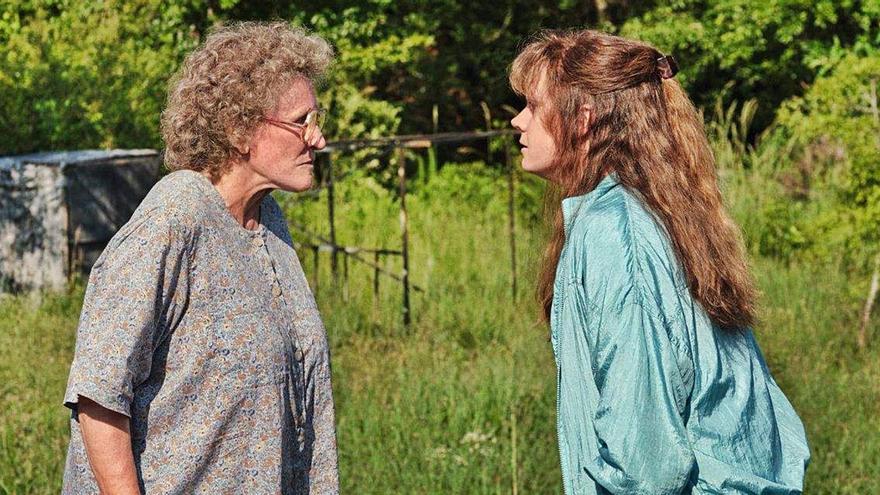 Amorous adventures in the Caribbean
The Spanish premiere of the week is Ni de coña, a choral film that brings together a well-known cast of comedy performers: Nathalie Seseña, Goyo Jiménez, JJ Vaquero or Jordi Sánchez are some of the protagonists of this story in which four married couples decide go to a couples therapy in the Caribbean to overcome their problems.
The unconventional methods of the gurus in charge of guiding the group will cause all kinds of crazy situations in which laughter is assured.
Colombian director Fernando Ayllón is at the forefront of this film, shooting a Spanish production for the first time. Known for his work as a director and scriptwriter of comedies in his country of origin, he also comes to conquer the Spanish public. And he does not do it alone. This film has the interpretation of his fetish actor: Ricardo Quevedo. Don't miss out on it!
Interrupted innocence
From Germany they propose The Year We Stopped Playing, the adaptation of the best seller When Hitler Stole the Pink Rabbit, by Judith Kerr. The author, who died last year, recounted in this novel the story of her own childhood as a Jewish girl in Germany in the 1930s, and the years of refugees that her family lived between France and Switzerland.
This film introduces us to 9-year-old Anna and how her simple, happy world will be altered by the imminent rise to power of Adolph Hitler. A fact that will change your life and that of millions of families forever.
Oliver Masucci, known for his role as Ulrich in the German phenomenon Dark, plays here the father of this little girl, who will have to put all his heart to help her live this uncertain process.
A lesson in perspective
Crossing the pond lands ¿Conoces a Tomás ?, a Mexican debut film signed by María Torres. He introduces us to Leo, an immature and clumsy musician who promises his girlfriend that he will take care of Tomás, her autistic brother, all day while she is working.
Different situations will make you discover how special Tomás is. It promises to be a breath of fresh air for Mexican cinema with a different proposal about diversity.
The Fixies return from Russia (with love)
In 2017 these little creatures arrived with their first solo adventure. Now they return with this sequel in which they must face some evil enemies. The Fixies against the Crabots is the Russian animation proposal for the smallest of the house.
In this new adventure, the friendly Fixies must preserve their existence by facing the Crabots, miniature robotic crabs that are faster and stronger than the Fixies. Can they win the most difficult challenge of their lives?
A snapshot of American rural life
We ended with the only US premiere of the week. This limited premiere will be presented in a selection of cinemas, and in our case, we will be able to enjoy it at the Odeon of San Vicente. Hillbilly, a rural elegy, directed by Ron Howard, features huge Glenn Close and Amy Adams in this adaptation of a powerful true story, a self-titled best seller in the United States. JD Vance collected in his book passages from his life in southern Ohio, recounting the unstable relationship with a mother who struggled with addictions and a grandmother who had to summon all her strength to raise him. Despite its limited release in theaters, it will be available on Netflix from November 24.
USA, 2020. Directed by: Ron Howard. Screenplay: Vanessa Taylor about a book by JD Vance. Music: David Fleming and Hans Zimmer. Photography Maryse Alberti. Cast: Amy Adams, Glenn Close, Haley Bennett, Gabriel Basso, Freida Pinto, Bo Hopkins, William Mark McCullough, Jesse C. Boyd. Duration: 116 minutes.
Germany, 2019. Address: Caroline Link. Screenplay: Anna Brüggemann and Caroline Link on a book by Juditk Kerr. Cast: Riva Krymalowski, Oliver Masucci, Carla Juri, Justus von Dohnanyi
Mexico, 2019. Directed by: María Torres. Screenplay: María Torres and Enrique Vázquez. Cast: Hoze Meléndez, Leonardo Ortizgris, Marcela Guirado, Alan Estrada, Pamela Almanza.
Spain, 2020. Direction and script: Fernando Ayllón. Photography: Henry Albadán. Cast: Nathalie Seseña, Goyo Jiménez, JJ Vaquero, Jordi Sánchez, Ricardo Quevedo. Duration: 97 minutes.

www.informacion.es

Digsmak is a news publisher with over 12 years of reporting experiance; and have published in many industry leading publications and news sites.