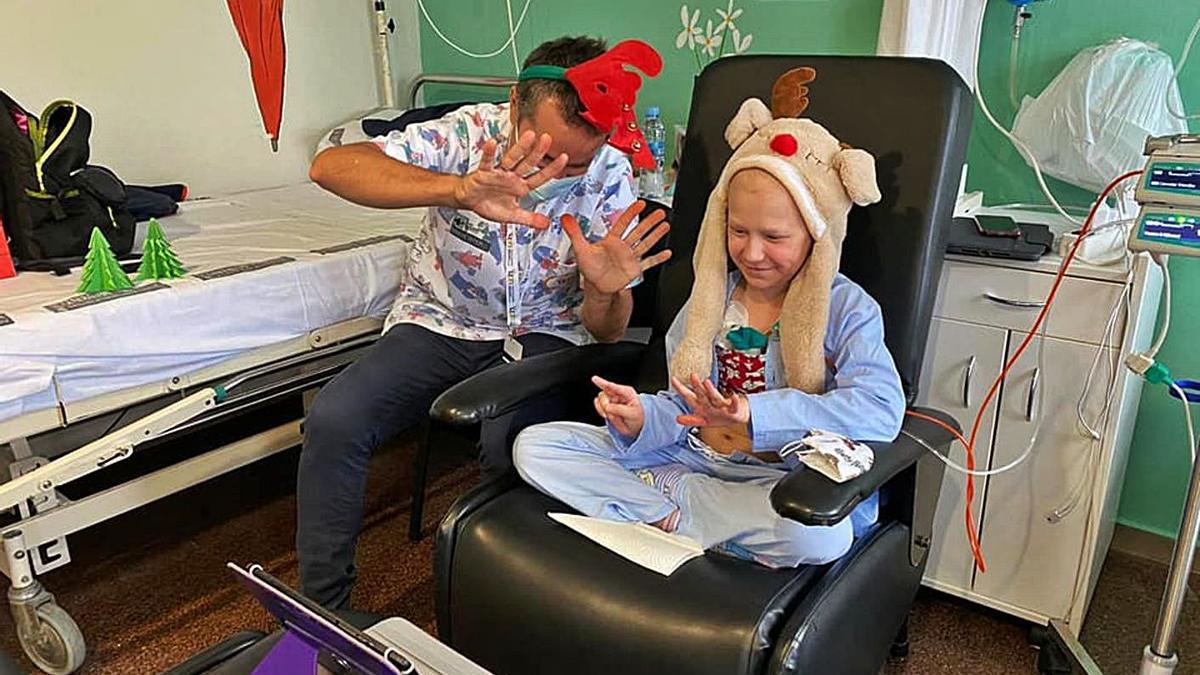 On the fifth floor of the General Hospital of Alicante There are some patients who are superheroes without capes, they don't need them either, capable of giving life lessons to everyone around them. They are the boys and girls who are admitted to the hospital and who are part of the Infanti Pedagogy Classrooml, a space created to provide them with a comprehensive education and that tries to liven up their day to day. "Here the coronavirus does not exist, the problems remain outside of this plant," says Marisa Ibáñez, its coordinator, but, in silence, this virus has made the professionals who work there have to reinvent the way of teaching, and the day to day of these little ones.
The Hospital Pedagogical Unit (UPH) has had to adapt this course to the situation that the covid has brought with the main objective of continuing to provide an educational service to admitted children, in addition to those with chronic pathologies sensitive to covid in oncological treatment that they must remain at home and that they have no possibility of going to their school.
They have also set up an outdoor play area: "When they go out to play, if they have a bad day this space heals them", says Ibáñez. On the other hand, they also teach face-to-face in the classroom where the maximum number of children is 5 students, always taking extreme security measures, something that leads to fire in this classroom. "Here we have children with oncological diseases, so we have always taken great care with hygiene and disinfection", says the person in charge.
For these little ones, having a daily routine, feeling part of a group and having a busy mind makes it easier for them to fight their illnesses and makes their teachers remind them if one day they forget to smile. "When someone new comes in we try to give them confidence and make them feel at home, in the end we are a big family and we think that happiness is the best therapy," he says.
During this course marked by the covid, the UPH has doubled its staff, going from having two professors, Marisa Ibáñez and Paloma Maestre, to four, with the incorporation of Pilar Aznar and Jesús Soriano. In this way, according to the coordinator, the entire spectrum of education is covered: infant, primary, secondary and high school. Also, they do not have a weekly organization, since they coordinate daily because they know that new children are constantly coming in, and others are leaving. Something that the covid has not taken away from them is that they have their daily classes and their cultural activities insured by entities such as the Archaeological Museum of Alicante, who telematically give them History classes.
The coronavirus crisis has brought with it a crisis within the health sector, where we have seen how saturation has reigned in it in these months of pandemic. However, this is something that no child found on this floor has suffered. "They have their comprehensive health care, nobody or nothing is going to take that away from them," says the classroom coordinator.
In this sense, the General Hospital of Alicante offers them total health, recreational and educational assistance, since they have also invested in educational materials and games for everyone to have in their rooms.
Likewise, Ibáñez points out that the children who are in the classroom learn the importance of living day to day, of enjoying each moment and not thinking beyond. «When they enter here, the problems remain outside, these little ones already have enough. Here we do not name the covid », concludes the person in charge.

www.informacion.es
Digsmak is a news publisher with over 12 years of reporting experiance; and have published in many industry leading publications and news sites.