So the rest of the Premier League is up to you. Over a cold lunch in South London, Liverpool produced a performance of ruthless champion quality, crushing Crystal Palace to the side with crushing ease and kicking up for the first time this season a thrilling rerun of last season's sweeping rhythms.
A 7-0 victory (vidiprinter: seven) left Jürgen Klopp's team, albeit briefly, six points clear at the top of the table. This was a day when Liverpool simply rose to their full height against the game, but outplayed their opponents. The score was surprising. The quality of the goals was something else. In the end, when Palace started and then started again, this felt like an act of sporting cruelty.
And suddenly the Premier League table looks sinister. It's that time of year when a jolly, bearded Teuton makes the rounds, spreading joy and disappointment. This was Liverpool's first of three away games during the holiday period, a series of eminently winnable matches.
They were absolutely ruthless in the first half here, producing something that almost resembled a mocking parody of the Mourinho-style counterattack. Yes, we can do that too, boy. Liverpool sat deep, bristling in midfield and was relentless in attack. They had three shots on goal and scored three goals, the first a couple of minutes after kickoff, the third a couple of minutes before the half-time whistle. How to kill a game: part one.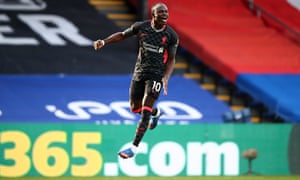 It was tough for Palace, who was eager and put a lot of effort into the champions in that first period. But this was Liverpool at peak efficiency, the difference between the two teams summed up by Sadio Mané's goal to make it 2-0 in the 35th minute.
Palace had begun to create a scheme of occasions, moments of energy near the goal. Despite Jordan Ayew's energy and Eberechi Eze's coolness on the ball, they always seemed to need too many touches.
Not so at the other end, where Mané produced a high-speed sniper goal, snatching the ball from Roberto Firmino, spinning into space and buzzing an instant shot flush to the corner, watching the space, executing the shot and deflecting punching the air. anyone could move.
Liverpool had come to Croydon without an away win in the league since September, but they remain top of the table thanks to their princely form at home. Here they were able to rest Mo Salah at the beginning after a streak of four consecutive games, his replacement the more studious Takumi Minamino. Naby Keïta was also back in midfield, Klopp perhaps drawn in by his energy and attack against a fighter Palace team.
Being awake at first might have been a better option, as Liverpool took the lead with alarming ease. The goal came from a moment of rush down Firmino's left, who first pressed and then stole Cheikhou Kouyaté. The cross was cleansed. But even when Ray Lewington yelled at Eze to shut down Trent Alexander-Arnold, the ball went past him to Mané. His severed back was diverted towards Minamino. He shot low and hard into the corner.
Palace backed away. Eze began probing to the left. With 12 minutes elapsed, Fabinho fell back just in time to deflect a Zaha cross away from Ayew in front of goal.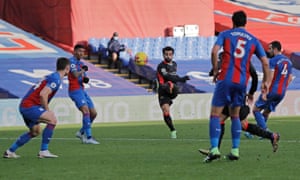 There was room on Liverpool's right flank when Eze and Ayew doubled over Alexander-Arnold. Liverpool FC's marketing department might want to think about commercially exploiting the sheer visceral power of Jordan Henderson's "TRENT" scream heard every few minutes as Liverpool's right-back wandered a bit, and surely an attractive choice as a tone for call or doorbell.
With 23 minutes elapsed, Palace really should have scored, as Ayew advanced through a surprisingly vacant Liverpool to the left, but missed the cut back to Zaha. It was his last moment of near parity. First Mané made it 2-0. Then it was 3-0 just before the break. This was a brilliant goal, made by a sublime team break, started and then finished by Firmino, and two moments of dreamlike high-speed skill in between.
First, Liverpool jumped forward from the right-back position. Firmino passed the ball to Andy Robertson. His inside pass was perfectly timed for Firmino to take the ball in stride with an absurdly easy first touch, before rolling it into the corner.
Henderson produced a beautiful curved shot into the far corner to make it 4-0 in the seventh minute of the second half. Firmino finished smartly in 68 minutes from close range to make five. Salah made it 6-0 from a corner, then added a good seventh from the edge of the box as the skies over Selhurst Park opened.
And that was more or less that. Klopp was able to take Mané out 4-0 to save those precious legs for tougher commitments, although he wasn't interested. Fabinho played all afternoon like a brilliantly natural defensive footballer, capable of covering, passing and scoring in any position. Liverpool will arrive at these festive dates with a sinister sense of momentum.

www.theguardian.com
Digsmak is a news publisher with over 12 years of reporting experiance; and have published in many industry leading publications and news sites.