Julen Pineda, 31, moved to his new apartment in Vitoria on March 5, 2020. After having shared a house several times and having lived with his mother in recent years, this was his debut alone. Nine days later, the Government declared a state of alarm. "I started my loneliness in a big way," he remembers now. As he wanted to live alone, after the first "scare days", he handled the confinement quite well. He decided to isolate himself completely and not know anything about the world. "I went three or four weeks without seeing a news program, without listening to the radio, without reading the newspaper. And I was enjoying my new house as much as I could and more ", he assures. The isolation was such that he did not find out that a field hospital had been organized in Ifema (Madrid) until it was being dismantled.
Like him, in Spain almost five million people live alone, according to data from the 2020 Continuous Household Survey of the National Institute of Statistics (INE). Before the pandemic, whether or not you liked living in solitude depended on whether it was a chosen situation or not. In the last year, even the most loving of their one-person homes have had their moments of doubt. The psychologist and psychotherapist Cristina Viartola points out: "When loneliness is imposed and the possibility of choosing social contact is cut off, as in the case of confinement, it can end up generating feelings of pessimism and hopelessness." These sensations can lead to symptoms of depression or anxiety.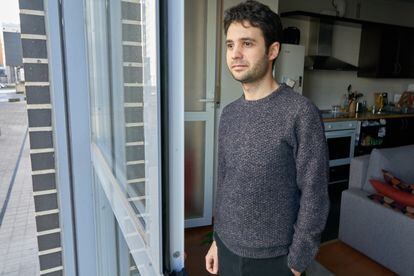 Not only that. Social isolation, which is easier to reach if you live alone at a time when contact with other people is not recommended, increases the risk of dying from any cause by 50%, according to a study carried out over 13 years at the Essen University Hospital (Germany) and presented in May 2020. In addition, even if it does not go to that extreme, the lack of physical contact also means depriving yourself of its benefits: according to the American Psychiatric Association, something as simple as a hug reduces the secretion of cortisol, the " stress hormone ", and promotes the secretion of oxytocin, the" hormone of happiness ". All this can have a negative impact on mental health, which was severely damaged in many groups of the population during the pandemic, according to a study by the University of Ottawa in December.
Alicia Conejero, 62, has lived alone in her apartment in the Gràcia neighborhood of Barcelona, ​​since her daughter became independent a decade ago. Early retirement due to illness, before the pandemic she led a very active life: she belongs to various associations, a cooperative housing project, and went to the gym every day. Even so, she also spent a lot of time at home and considers herself very homey. However, the last 12 months have been more difficult. As she is immunosuppressed, her confinement was stricter and during the first months she did not even go out to do the shopping. "The house was falling on me," he remembers. He also felt a "universal sadness" for the situation and for the world. Seeing himself like this, he decided to start therapy because he felt that he was "not coming out of sadness." Now he knows how to control the situation more and is "much better".
In this spiral of sadness, Eva F., 35, also found herself at various times. "In April I think I cried every day," he says. She had only been living alone for a few months when the pandemic hit, but it wasn't the first time and she had always liked it. With confinement, he realized that he actually spent very little time at home before. What affected his state of mind the most during those first months was the economic uncertainty. In addition to rumors of no renovations at his job, his family had to close their business. "I went from a situation of stability and tranquility to thinking that at any moment I would be fired and that my family was going to ruin," he says. As an example of the state he was in, he says that he came to hug a stuffed animal that he had at home "on more than one occasion." This is not entirely strange, since, according to the psychologist Cristina Viartola, "contact is a primary psychological need", as necessary as "food and drink".
Marina Grandoso, 25, has relied heavily on her partner this past year. The announcement of the state of alarm generated such anxiety that her boyfriend decided to go to confinement with her. He says that experience brought them together, but it was temporary. Now everyone is at home. He is grateful that exceptions are made so that people who live alone can see others in the same situation or with their partners. "2020 would have ended with me if I had not had a boyfriend, but it does not seem healthy to support 100% of my mental health in one person," he reflects.
Taking into account people who live alone in the restrictions that are being imposed and relaxing in the different autonomous communities is something that the psychologist Valeria Sabater considers appropriate, but she believes that it would be necessary to go beyond allowing contact with a specific family bubble . "It would also be necessary to have multidisciplinary units to attend to those who live alone (psychologists, social services, etc.)", he assures. In addition, the expert emphasizes that "loneliness is a silent and invisible disease with a great impact on our society, which takes thousands of lives every year".
Alicia Conejero has big imminent plans: in a couple of months she will move to the La Balma cooperative house, which she has been building for a few years with a group of people. There you will have your private space, but also other shared spaces and a feeling of community. A look to the future that the psychologist Valeria Sabater considers essential to better manage these times, with or without partners: "It is necessary to continue setting goals on the horizon, reformulate our objectives and nurture hope every day."

elpais.com
Eddie is an Australian news reporter with over 9 years in the industry and has published on Forbes and tech crunch.