Liz Cheney has become the figurehead for the Never Trumpers, Republicans seeking to loosen the former president's grip on his party, but the Wyoming congresswoman was by his side in the last election.
Fresh off the House leadership, Cheney spoke to ABC's This Week. When asked if he voted for Trump in 2020, he replied, "I did."
When asked if he had any regrets, he said: "I was never going to support Joe Biden and I regret the vote. I think it was based on the policy, the type of substance and what I know in terms of the types of policies. [Trump] he stated that they were good for the country. But I think it is fair to say that I regret the vote. "
Cheney spoke out against Trump after the deadly attack on the United States Capitol on January 6, by supporters whom he said would "fight like hell" in service of his lie that his ultimate defeat to Joe Biden was the result of massive electoral fraud.
Most congressional Republicans have lagged behind Trump, as one representative claimed this week that those who entered the Capitol were as orderly as the regular tourists.
"It's indefensible," Cheney said. "I will never forget seeing the law enforcement officers, the members of the Swat team, the rapid response forces, seeing them and their exhaustion. And they'd been through hand-to-hand combat, and you know, people died.
"And the idea that this was somehow a tourist event is shameful and despicable. And I will not be part of covering up what happened on January 6. No one should be part of it. And people should be held accountable. "
Cheney was one of 10 House Republicans who voted to impeach Trump, accused of inciting an insurrection. Trump was acquitted at trial after only seven Republican senators followed suit.
Cheney also told ABC that Kevin McCarthy, the House Minority Leader, should voluntarily testify before any commission on January 6 about his conversation with Trump when the attack occurred, or be forced to do so.
Cheney is a staunch conservative and the daughter of Dick Cheney, a former congressman, defense secretary and vice president. As such, he is a member of a party establishment that has been almost silenced by Trump's harangues, such as Senate Minority Leader Mitch McConnell; vilified by Trump supporters such as Utah Senator and 2012 nominee Mitt Romney; or just acquiescent.
Trump remains banned from social media for his role in the Capitol riots, but on Saturday he issued statements filled with spiel about alleged electoral fraud.
On ABC, interviewer Jonathan Karl asked if Cheney would remain in his party should Trump decide to run again for president and win the nomination in 2024.
"I'll do everything I can to make sure he's not the nominee," Cheney said. "And you know what it takes to make sure you never go near the Oval Office again."
But, Karl repeated, would he stay in the party if Trump were the nominee?
"I won't support it," Cheney said. "And we will do everything we can to make sure that doesn't happen."
When asked if she would run for president herself, Cheney said she was focused on reelection in Wyoming, where she will be challenged from the right. When asked if her father would want her to run, she laughed and said, "Well yeah, but he's my dad, so he's not objective."
Some Republicans outside of Congress have proposed a new Conservative party. Most observers think that such a move unlikely to be successful. Karl noted that other Republicans who have stood up to Trump, including Senators Bob Corker and Jeff Flake, have been swiftly expelled from the city.
Cheney said only a "handful" of Republicans actually believed Trump's lies. But, he said, "I know there are many members who have expressed concern for their own safety. And I think that's an important point to think about as well, that we now live in a country where the votes of the members are affected because they are concerned about their safety, they are concerned about the threats to their lives.
"But there is no doubt that at this moment, the majority of the Republican party is not where I am. But it is my responsibility as an elected official, it is my responsibility as a leader to lead and speak the truth.
The looming Republican civil war was to dominate political talk shows.
Cheney was also to be interviewed on Fox News Sunday. Another anti-Trump House Republican, Adam Kinzinger of Illinois, was hired by NBC's Meet the Press. NBC also hired Dan Crenshaw from Texas, a Trump loyalist.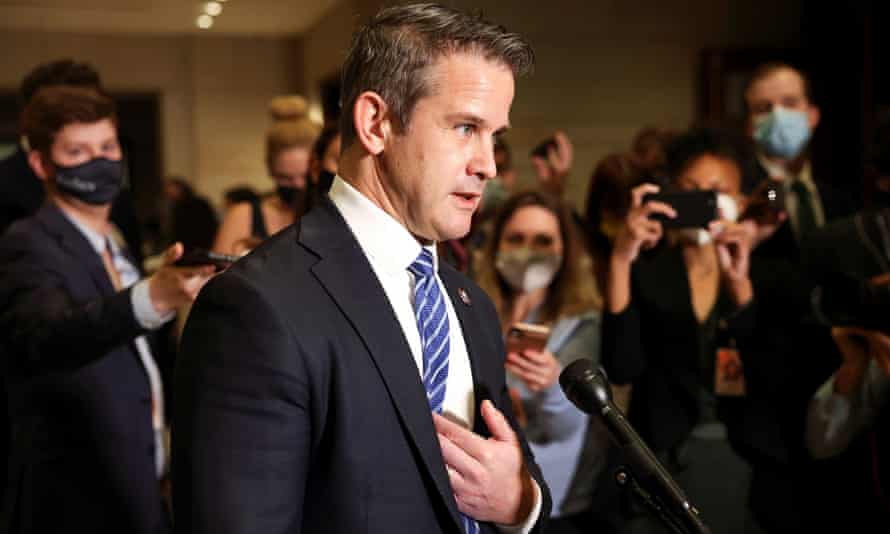 CBS's Face the Nation was to feature Iowa's Joni Ernst, the only woman in the Republican Senate leadership, who this week criticized the Republican Party for "canceling" Cheney. CNN's State of the Union hired Fred Upton, a Michigan representative who has been close to biden.
Cheney's replacement as House Republican No. 3, Elise Stefanik, was due to speak to Fox Business. The New Yorker is an ex-mod who moved quickly to the right. Stefanik backed a formal objection to the electoral college results in Pennsylvania, one of two states Republicans contested on the day of the Capitol riots. She indicated her willingness to challenge other states, but no senator did the same.
Cheney told ABC there was "no question" that an event like the attack on the Capitol could happen again.
"We have seen how far President Trump was willing to go," he said. "We have seen not only his provocation of the attack, but also his refusal to send help when it was needed, his refusal to immediately say: 'Stop.' And that in itself, in my opinion, was a clear violation of his oath and duty. "
"I think the problem really is Donald Trump and it really is the party and if we are going to be a party that is based on the truth," he said.

www.theguardian.com
George is Digismak's reported cum editor with 13 years of experience in Journalism