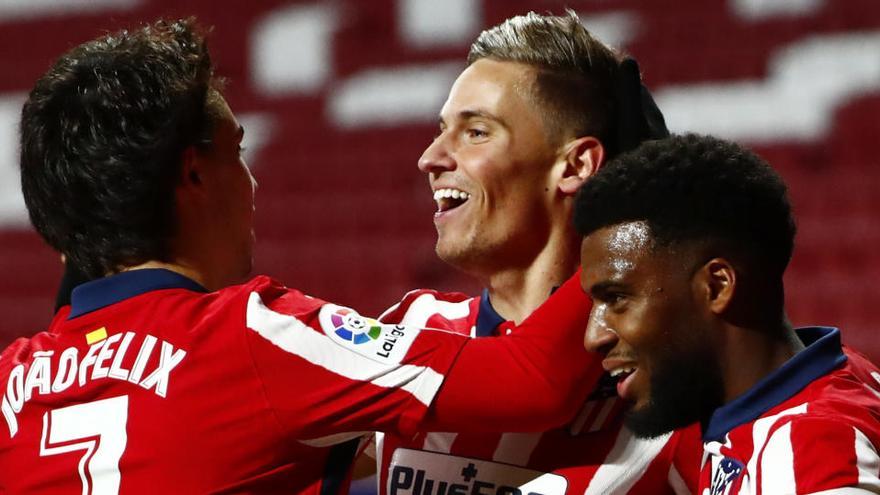 There are very few footballers with the impact of Marcos Llorente in Atlético de Madrid in recent times, who broke into the second half to make a difference against him Valladolid, first as the undoubted promoter of Lemar's 1-0 and later as the unstoppable scorer of 2-0 against a good adversary.
At half time, the rojiblanco team did not see it at all clear, competed from you to you by their opponent, who had reduced it to the minimum expression on occasions, but then yes. Because of Llorente's determination. The seventh consecutive victory in the League, like many other recent ones, it also bears his expressive signature, which supports Atlético in leading numbers and puts pressure on others.
The central midfielder, this time more attacking than anything else, is one of the clearest evidences, also an essential engine, of Atlético's progression, with rotations and with the 3-5-2 start; an election that today goes beyond names. Simeone did not have neither Carrasco nor Lodi, perhaps the most specialists to take on that long-distance mission on the left, nor for Giménez.
In the first half, Vitolo, whom the coach changed again at half-time, played Carrasco. And Felipe, from Giménez. But no one played Koke, who Simeone rotated from the start while Salzburg and the derby loom. Neither Saúl nor Herrera nor Lemar, in a kind of anodyne triangle, without the clarity or the handling of the current sensational moment of the captain. Neither did anyone play Joao Félix, today crucial in the best versions of the rojiblanco team, many this year. Not anyone, especially, broke as Marcos Llorente does, with his swift overflow and, later, when he entered the field, with an incontestable role.
There is no better warning than the already known experience. It took Atlético a world to beat Valladolid in their last two games at the Wanda Metropolitano stadium, resolved by 1-0 as they could also have ended in a draw; two obvious examples of the complexity faced by the rojiblanco team. He checked it immediately.
In the current season of change, more recognizable than ever in style and beyond the simple signing of Luis Suárez, there have been few occasions in which Atlético has felt such a rush from the start to dominate and create chances. Villarreal perhaps nothing more, but with a conformism that Valladolid did not have this Saturday, which pressed more, with more determination and with more idea of ​​attacking.
The ball did not weigh Sergio González's block when he had it. Nor when he crossed the midfield, when precision, daring and imagination are normally an incalculable value against the order of the adversary. It is very complex to get around a defense like Atlético's, but he tried with the conviction that many others lack. He shot a lot from the outside, nothing close, but in the intermission the game was one-to-one, competed and tied.
Nor is it easy to reduce the rojiblanco team to nothing in the auction in the first half. Not even a scorer like Luis Suarez, back after overcoming Covid-19 and four low games and just as messy as his entire team in the compact frame of Valladolid when he retreated. It was not a matter of punch, like other times, but of creation and clarity. And midfield. Neither Saúl nor Herrera nor Lemar generated what they should.
But not even that is enough to defeat Atlético. The one traded at intermission was Vitolo, perhaps because he had already received a yellow card or perhaps more because Simeone does not really trust him. The facts suggest so. The replacement was Marcos Llorente, who did not occupy the position of the canary, but the right interior, where Thomas Lemar played.
The first half of the French footballer was more than usual, with that pointless sequence of passes or dribbles, but the goal he scored in the 55th minute will elevate him to prominence above his match. But he scored the goal that broke the match. And that gives him an indisputable value against Valladolid. The best of the play, in any case, was Llorente's pass to the depth of the band to Trippier. Suárez did not reach his center. Yes Lemar. It was 1-0. He had not scored a goal since April 2019. A year and a half ago: 46 games.
Two occasions -Correa had crossed too much before a clear shot- and a goal. If Atlético lacked effectiveness in attack in the last four duels, with 55 shots for just three goals, this Saturday it was the opposite. On the third, moreover, Llorente made it 2-0, which was enough for a long clearance from Oblak and a touch from Trippier to become the undoubted owner of the victory.
Datasheet:
2 – Atlético de Madrid: Oblak; Savic, Felipe, Mario Hermoso; Trippier, Héctor Herrera, Saúl (Koke, d. 57), Lemar (Torreira, d. 76), Vitolo; Correa (Joao Félix, m. 57), Luis Suárez (Kondogbia, m. 62).
0 – Valladolid: Masip; Hervías (Míchel, m. 71), Javi Sánchez (El Yamiq, m. 82), Bruno, Nacho (Janko, m. 71); Roque Mesa, Alcaraz; Óscar Plano, Kike Pérez (Toni Villa, m. 61), Jota (Weissman, m. 61); Marcos André.
Goals: 1-0, m. 55: Lemar. 2-0, m. 72: Marcos Llorente.
Referee: González Fuertes (C. Asturiano). He admonished the locals Savic (m. 24), Vitolo (m. 40) and Luis Suárez (m. 48) and the visitor Javi Sánchez (m. 50).
Incidents: match corresponding to the eleventh day of LaLiga Santander, played at the Wanda Metropolitano stadium without an audience.

www.informacion.es
Digsmak is a news publisher with over 12 years of reporting experiance; and have published in many industry leading publications and news sites.