meEven if Maro Itoje and James Ryan didn't play international rugby in the same position, the pair would have a lot in common. In addition to being the advanced totems of their respective nations, they have both studied politics in college and share a strong sense of cultural history, with Itoje particularly fascinated by Nigeria's past and Ryan's great-grandfather having been involved in the Easter Rising. from 1916.
Next summer the two men may well have plenty of time to fix the world on the British & Irish Lions tour of South Africa, with all prospects standing shoulder to shoulder in the second row when testing begins. In the meantime, however, there are two spirited Anglo-Irish clashes to negotiate before either can be considered first among equals.
The second of those key dates will be the final weekend of the Six Nations in 2021, the final round of major testing before Warren Gatland names his group for the Lions tour. Will Eddie Jones's England have advanced further by then and will he begin to realize his obvious potential? Or will Ireland have regrouped and rediscovered the ironclad belief that made them so difficult to beat in the age of Joe Schmidt? The first episode of a potentially intense miniseries at Twickenham this weekend should provide some clues.
Listening to Itoje in particular, it becomes clear how eager England is to rewrite and avenge the fragment of recent history that irritates the most, namely their disappointment in the Rugby World Cup final last year. Regardless of the other media smoke screens Jones likes to erect, it's no secret where he thinks his squad can outshine all the contestants. Up front, it already takes a very physical team to intimidate England and Itoje is convinced that he and his teammates have much more in them: "My goal is to continually seek to push the limits of what I can do and where I can. go. My game is about physicality and pace of work and it's about having a greater impact in those areas. I think there is definitely room for improvement and for me to improve. "
Consequently, playing against Ryan and others like New Zealand's Brodie Retallick is a game for others to play. Opponents may watch the ball steal like an Itoje octopus in lineouts and mauls, and wonder how they can compete, but the 26-year-old is less concerned about his rivals than he is about himself.
"Obviously you watch rugby and you see what other guys do, but for me it's not really about them. It's all internal to me, in terms of what I can do and how I can grow. "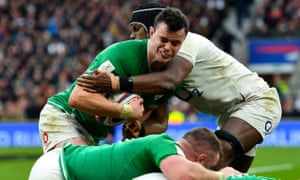 Ryan, 21 months younger but heavier and two inches taller, is a bit less flashy but just as effective whether he's wearing Leinster blue or Irish green. It took him 24 starts before he lost a game as a professional, including the 2018 Six Nations game at Twickenham, when Ireland led 21-5 at halftime and finished 24-15 as winners. It's exactly that quick start, physicality and aggressive attitude that Ryan and his friends need now as they seek to atone for three straight losses to the English.
On the subject of stridency, it has not escaped the attention of the Irish that Itoje can be, how to say, a bit of a hassle to play against. For some, the orchestrated screams and screams that accompany every defensive loss or stifled maul go against the spirit of the game, but England's prime suspect strongly disagrees. "I have an opinion that contrasts with the premise of your question. My celebrations, whenever there is a small moment or a small victory within the game, have almost nothing to do with the opposition. I try as much as possible not to waste energy on the opposition. My energy is towards my team, towards my teammates. It's more about me or any individual championing a value or behavior that we respect as a team. "
There is also the small matter of the relegation of the Saracens from the Premiership; even Itoje finds it strange that his club does not participate in the first weekend of the Premiership season. "It's a bit strange, to be honest. I was on Twitter the other day looking at all the rugby jerseys. I was like 'Where are the Saracens?' I had forgotten that we were depressed. I really don't know when we will be back. I know the guys are training and have a presumed date in January, but you keep hearing different stories and different things. "
Even after 40 games for England, and a 75% win rate, that would be enough to unsettle a lot of people. It seems not, Itoje. "No way. I'm at peace. I don't know if you ever saw The Lion King, but Timon and Pumbaa had a saying called Hakuna Matata. This means no worries. 'I feel like with this kind of thing, where you have no control over the result, you should try everything possible to resolve itself and not lose sleep worrying about X, Y or Z ".
The Lion King, huh? Maybe Itoje is trying to send a message to someone. In the short term, what matters most is keeping Ryan and Ireland at bay. England should extend their current winning streak to seven games, but expect their visitors to put up a much tougher fight this time.

www.theguardian.com
Digsmak is a news publisher with over 12 years of reporting experiance; and have published in many industry leading publications and news sites.