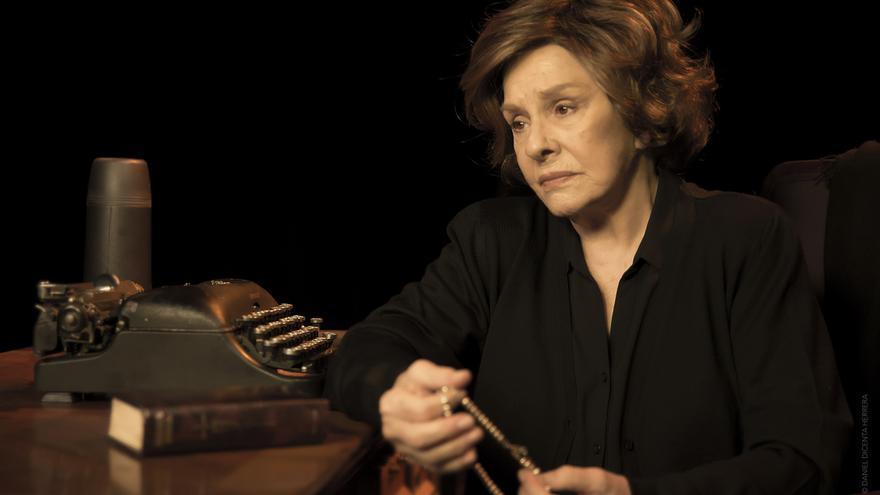 Lola Herrera does not think about the withdrawal although she does intend that, after her back to the stage with 'Five hours with Mario'This is her last reunion with Menchu ​​-Carmen Sotillos- the character created by Miguel Delibes and with whom she has been paired for more than forty years.
"I will never announce that I am retiring," he says bluntly Lola Herrera (Valladolid, 1935) in an interview with Efe. At 86 years old, she assures: "I will leave as I came, I will not announce that I am leaving. I am very capable of doing my job" and as long as she continues lucid she will be on stage, although she has warned the closest people to make her notice when not.
In 2016, to commemorate the anniversary of the novel by the Valladolid writer, he resumed the performances of 'Five hours with Mario', which faces its last season in Madrid at the Teatro Bellas Artes until November 28, a function that has been performing alternately for forty years.
Lola Herrera was one of the first to raise the curtain after the pandemic, "the most terrible thing that has happened to us in a long time", and in this new stage he recognizes that there has been a change in the way of approaching the character.
"I never thought that when I resumed it I would be so long" -she assures– "my life has been subject to chance events and circumstances have led me here."
Despite the time that has elapsed, the character has never been brought home. "Things are very separate in this job, I leave the character in the theater with his clothes and wig, although I know that the next day I have to go back."
Agile and with an overflowing vitality, he explains that during the time that the performances last "you do not let go of the character, but Menchu ​​is Menchu ​​and I am me, although we are both women and I also know the time, but I lived it in a different way"
He points out that his character is a victim of his time "as we have all been in one sense or another", a consequence of what he had to live, with the education that his family gave him, in a time of dictatorship until, finally, marrying a man who for him did not paint anything.
Herrera assures that Over time he has been able to glimpse different things each time he approached this character and understands the result of life that he hasThat is why he gives thanks "every day for having touched a family like the one that touched me, with progressive parents, who had a weakness for gaining spaces of freedom".
A text that talks about intrinsic issues of the human being: guilt, loneliness, isolation or the meaning of life, not very different from those that concern us now.
"Deep down things change very little, they are transformed, there is another language, other ways," he reflects, and emphasizes that there is a lot of rush and "we need more rest, more time to make decisions. Everything lasts 48 hours, not even the news. they have follow-up. "
Although he acknowledges that technology could unite us, it also distances us, "we communicate with messages, we no longer see each other. We have made great strides in democracy, in the rights of women or homosexuals, but in some aspects we have gone backwards. "
The reason he uses is that "it has not been taught" and he considers that what happened 20 years ago is a reference to analyze what is happening now: "It is convenient to know where we come from. Neither politically nor vitally has the youth been informed of what we have gone through not to scare ", to protect children and grandchildren, but he considers it a mistake.
The actress sees the theater as a place to breathe and learn, "whatever happens will be eternal", despite technology and space travel. "The theater is alive, it fulfills a function of closeness, of empathy, it is to put a mirror in front of the public where to look at each other. Go all together in a story. It will never disappear."
A space where young people come pushed by the family: "I believe in youth, there is everything and the profession has become great and has taken many colors. When I started, being an actor was frowned upon, it wasn't serious and it is, although depending on who they still don't take us seriously. "
The actress's passion for the theater has been such that she does not feel that the cinema has been elusive to her. "I have not missed him. I have been the one who has not pushed towards him, nor have I had a representative for years that has led the way. I chose the direct, the theater, and the public and the profession have left me. I am where I wanted to be".

www.informacion.es
Eddie is an Australian news reporter with over 9 years in the industry and has published on Forbes and tech crunch.