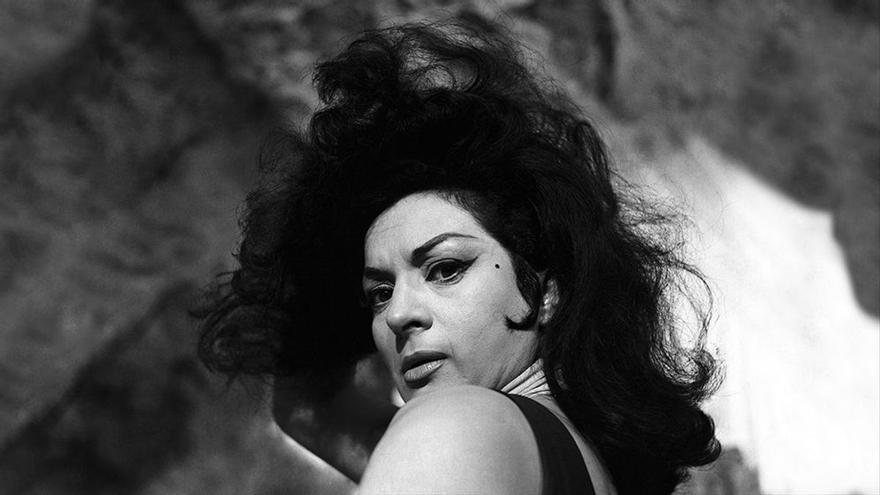 The production of 100 Balas (The Mediapro Studio) makes, in its four chapters, a journey through the artist's biography that, according to Del Santo, could be considered by her attitude, "The first Spanish punk, something that in 1947 was very difficult ". The director says that he wanted to make a series that could be seen today. · "A 'biopic' told in another way and in which we do not forget the artist to remain only with the saga of the Flowers and in the anecdote ".
From Rosalía to C. Tangana
In reality, the 'docuserie' is not aimed at unconditional fans of La Faraona, although they will find those great moments he shared on stage with Manolo Caracol which, the director maintains, were surely the most critical of his career. Rather, it is intended for those who do not know it, despite having spent five decades in the forefront. "The youngest will enjoy the format when they discover that their great idols have influences from it." They will see that Rosalía owes a lot to Lola Flores, who C. Tangana is inspired by El Pescaílla and that Nathy Peluso remember the might that she had, "he details.
They will be the ones who tell it, because they are some of the 44 interviewed, among whom are – "because Lola Flores is transversal to five decades" -, several generations of artists, such as Alaska, Javier Gurruchaga, Martirio, La Mala Rodríguez, José Póveda, María José Llergo … and journalists. In addition to his biographers. Representing the family are her daughters, Lolita, Rosario, and her sister, Carmen Flores. Lolita and Rosario appear as witnesses of her private life, because they have had access to things that nobody knows. "But we have not fallen into the trap of 'the saga of the Flowers'. Your children are not the protagonists. The exclusive protagonist is Lola Flores ", he warns. Although he recognizes that they are great artists. "Lolita has a Goya, whereas all the films of his mother were terrible ", he points out.
A luxury storyteller
The 'docuserie' has a luxury storyteller: Lola Flores herself. And this is not some virtual 3-D recreation. It is not necessary, because "the material that remains of the artist is enormous, since Lola Flores copied the media for four decades," recalls del Santo. With which he has had images extracted, in addition to 'The courage to live', from the two mythical interviews that 'the madman on the hill' Jesús Quintero and many others from José María Íñigo did. "We'll see a very funny world from a different TV, with journalists like Jesús Hermida ", he points out. The 'docuserie' also includes those moments in which La Faraona presents her own programs and even interviews herself. "Moments as crazy as asking Montserrat Caballé. 'To you, Montserrat, would you have liked to be Lola Flores?' That's my favorite ", confesses Del Santo.
In the four chapters everything is told without betraying the deceased, because she had already revealed everything. "I am not going to tell something that nobody does not know," says the director. Only what had been published will be denied: "Neither sing nor dance, but don't miss it", and it was not so. "That is one more legend than there is about Lola. But she told what happened and what didn't happen too ", she admits. Because it is proven that she is not very reliable as her own biographer. It was a 'Lolita the fantastic. "At a time when there was no Instagram, Twitter or Facebook, he had an amazing ability to reinvent himself, to create a character." And he says that although in English he only said 'ozú', he assured that he had had long talks with Churchill, Onassis, Gary Cooper, Marlene Dietrich, Ava Gardner … ". The other resources
One of the resources used to illustrate the narrative are film clips. Finding material has not been difficult, because it abounds, and the help of the Flores family has been vital, but there is also a meticulous documentation work. "We have had to deal with Colombia, Bolivia, Cuba, the US, Fancia, Italy … and practically all the Spanish media. We have even been able to contribute hitherto unreleased audios that he recorded with a cassette, which we illustrate with animation, "he explains. Animation, another resource. Because Del Santo was always very clear that fictional parts could not be recreated, which worked so well in 'El Palmar de Troya':" They could not compete with any moment in which she appeared on television or acting or dancing, because when she did, the camera seemed to stop, "he says. With what to tell very hard parts of his biography as abortions, abuse and prostitution, they opted for the animation of the artist Mateo Mariotti.
The series also tries to rescue his humor. "She was a great comedian, very intelligent, because to have a sense of humor you have to be. And that gave him an extraordinary power. Every time he approached a camera or a microphone to speak, he raised the bread ". As several of the interviewees say in the 'docuserie', if he lived now he would 'beat it' on Instagram, Facebook and it would be a common 'trending topic' on Twitter. Del Santo says that Lolita and Rosario have really enjoyed watching 'Lola' and dares to say: "I think Lola herself would have loved it, she would have had a great time."

www.informacion.es
Eddie is an Australian news reporter with over 9 years in the industry and has published on Forbes and tech crunch.