Norberto Paredes @norbertparedes
BBC News World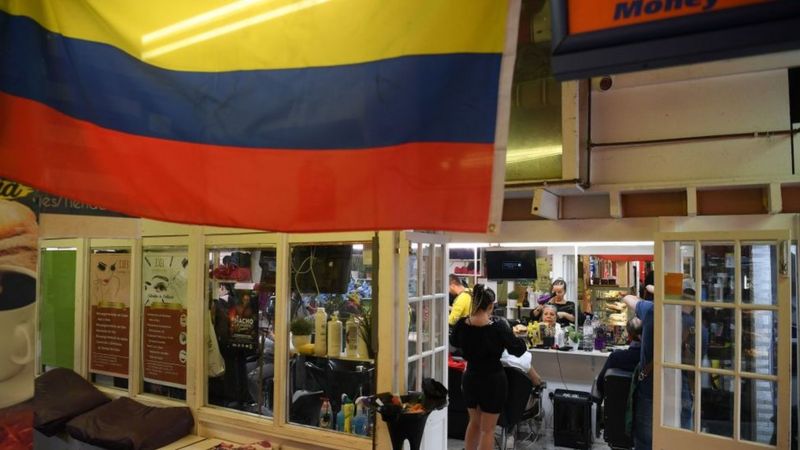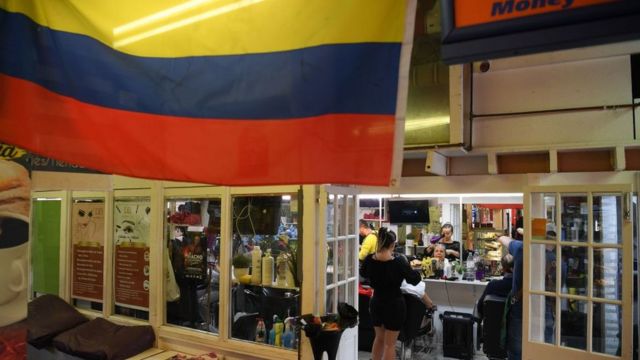 Despite being in the heart of the British capital, here you don't need to speak English to sit down to taste a Colombian coffee, eat an empanada or simply buy one of the many Latin American products that are offered in some stores.
For a couple of decades, the Seven Sisters Market -also known as the Pueblito Paisa or Latin Village-, has been a meeting point for the Latin community of London, where it is common to hear screams in Spanish and, from time to time when, a vallenato, a salsa or a reggaeton.
But for a few years, many Latin Americans who trade and live there have feared for its disappearance.
However, an intense and long campaign to preserve the market appears to have paid off, after the Grainger real estate company, one of the largest in the UK, abandoned its plans to demolish the site.
Vicky Álvarez, a Colombian who hit the market in 2002, says she couldn't believe the news when she heard it.
"Do you want me to tell you my real reaction? I wouldn't stop crying and then I went to party to celebrate, "says the 50-year-old paisa to BBC Mundo.
"I felt like I had just been told that I won many millions in the lottery. Now we can finally move on," he adds.
The House of Latinos in London
In 2004, the authorities of the Haringey Borough, North London, signed an agreement with the real estate company Grainger to turn the market into 196 apartments and a shopping center.
From that moment, Álvarez, who had been in the market for just two years, organized with other merchants to defend what he calls "the home of Latinos in London."
"Here many of us transport ourselves to our lands. a place that makes you feel at home, through music, food. Here you can also find a helping hand to help you find a new room or a job, "he explains.
"In 2004 we started organizing ourselves internally and called ourselves Pueblito Paisa Limited. At the beginning we did not have lawyers or any type of legal representation, but we had a vision of what we wanted at the community level."
Little by little, the group sought out a lawyer to represent them and architects who were in charge of translating their vision.
But the fight of the defenders of the market failed to convince the local authorities.
In 2012, the real estate company obtained a permit to demolish and remodel the site, owned by Transport for London, an entity in the hands of the city hall and which also owns the London Underground.
"A great example of the cultural diversity of London"
However, the legal fight did not end there.
The traders did not give up and even managed to have a team of United Nations human rights experts investigate the case and classify it as a threat to the cultural life of the people in the area.
"The regeneration project would force them to stop or relocate their activities. This will have a disproportionate impact on persons belonging to minorities and their right to equal participation in economic, social and cultural rights ", the experts concluded.
"The market provides a dynamic cultural space, which includes people from diverse places and of different generations, and is a great example of the cultural diversity of London," they added.
Despite this, a British High Court judge it almost killed hope from market advocates by confirming the approval of a mandatory purchase order in 2019.
"The nightmare is over"
Two years after that ruling, the real estate company Grainger cited in early August "rising costs" and the strength of "a small minority but sonora" announcing that he was abandoning his plans to demolish and remodel the site.
Now the Haringey authorities are supporting local merchants' plans to develop the place. These include making it a self-managed market, with low-cost offices and community facilities.
The Seven Sisters Market was closed a week before the first lockdown, in March last year, for health and safety reasons. Currently, Transport for London, the company that runs it, ensures that it is working to get traders back to their work sites.
"It's been a fight for 17 years, which is a lifetime. They were at least 15 terrible years of struggles and legal challenges and to make a lot of noise to be recognized and respected ", assures Vicky Álvarez.
"In the end, thank God, we managed to achieve what we wanted so much: to preserve this beautiful community. The nightmare is over."
Now you can receive notifications from BBC News Mundo. Download our app and activate them so you don't miss our best content.

www.bbc.com
Eddie is an Australian news reporter with over 9 years in the industry and has published on Forbes and tech crunch.