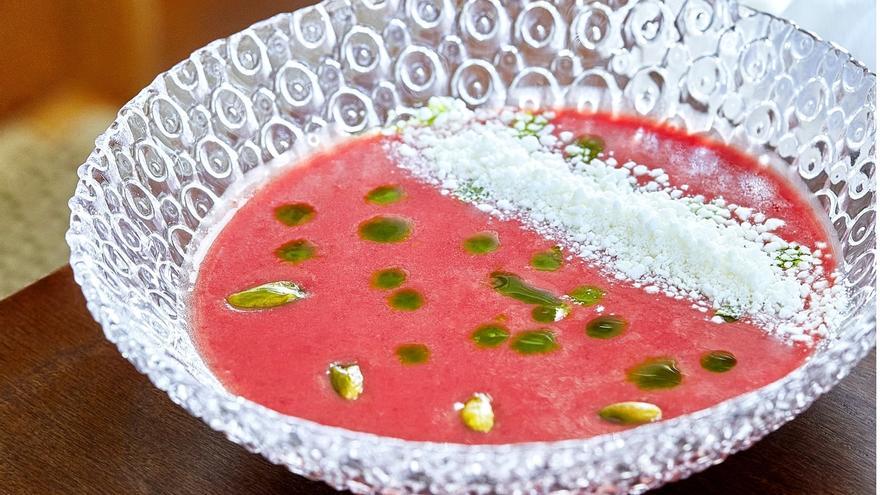 Up to 400 types of gazpacho has documented the gastronomic historian Fernando Rueda, although its germ – bread, garlic, oil, vinegar and salt – is far from what is currently consumed, since the tomato arrived from America has been joined by variations full of flavor that have made it worthy of its own World Day, which is celebrated this Wednesday.
For eleven years Rueda has been working on 'Gazpacho', his book number 43 and which he hopes will see the light in 2022 as the vademecum of this dish that has "more hot than cold versions", he explains to Efe, although the best known nationally and internationally is the one destined to refresh in summer, which in many restaurant menus around the world is translated as "cold Andalusian (or 'Spanish') soup".
Of uncertain origin, although its embryo is located in the Roman 'posca' (water and vinegar), the word gazpacho appears in the first general monolingual dictionary of Spanish, "El Tesoro de la Lengua Castellana o Española" (1611), where Sebastián de Covarrubias defines it as a meal typical of harvesters and rustic people.
This is how it was in the beginning and Rueda points out a saying in the same sense: "The ham is to the gazpacho what the Lord to the populace", because that mixture "of our daily bread", garlic, vinegar, salt and sometimes oil "It replenished those who arrived exhausted from working in the sun and served to recover mineral salts and hydrate themselves, like current isotonic drinks."
Its marine version was the galley capon that was consumed on ships, based on sponge cake (double-cooked bread), fish bones and the usual ingredients.
By adding other products, new varieties appeared that this expert does not hesitate to include in the cold gazpacho category, such as ajoblanco (with almonds, pine nuts or dried beans) or orange truncheon (with oranges), although it was necessary to wait for the incorporation of the tomato to the Spanish gastronomy so that the most popular version was implemented today.
"Today it is not conceivable without tomato", emphasizes Rueda, which also links it to the Andalusian culinary tradition for being a land of abundant cultivation, with variants without water such as the cordovan salmorejo, the antequera porra or the Osuna ardoria (Seville).
Haute cuisine, with pioneers such as Dani García from Marbella, was in charge of sophistication of gazpacho; his of cherries with fresh cheese snow, anchovies, pistachios and basil oil has been the subject of multiple imitations and after passing through his Michelin-starred kitchens it is now served in his other restaurants, such as BiBo (Marbella, Madrid and Tarifa) .
He tried other evolutions, including the iconic nitro tomato with green gazpacho and shrimp tartare, currently available at Dani, his brasserie at the Four Seasons hotel in the capital.
Other chefs have followed in his footsteps: Charo Carmona (Arte de Cozina, Antequera, Málaga) and Dani Carnero (Kaleja, Málaga) offer their version of aguaíllo, the first with tomato water, chopped cucumber and apple, and the second with its salad broth with squid and black olive background. The Cádiz-born José Calleja bets with his signature Andalusian cuisine in Surtopía (Madrid) for ajoblanco of pine nuts with tuna tartare.
They have even dared to take it to the cocktail bar at Baan, a Madrid restaurant specialized in Southeast Asia where they serve their White Mary Gazpacho, with clarified gazpacho, gin, vermouth, tincture of habanero chili and allspice.
That is why Fernando Rueda is firm in predicting "long live gazpacho."
Although the packaged gazpacho proposal has progressively increased -with chefs involved such as Pepa Muñoz (Qüenco de Pepa, Madrid) based on pink tomato- the recipe is easy to make at home with the help of mixers and robots, of which the gastronomic historian is an absolute supporter.
"Without those machines, it would have stopped preparing years ago, because otherwise you have to mash at least 15 minutes. The crime – he emphasizes – is not in using them, but in removing ingredients until it becomes a simple tomato soup or what they sell in jugs in the third regional bars, as false as a thirteen euro bill ".

www.informacion.es
Eddie is an Australian news reporter with over 9 years in the industry and has published on Forbes and tech crunch.