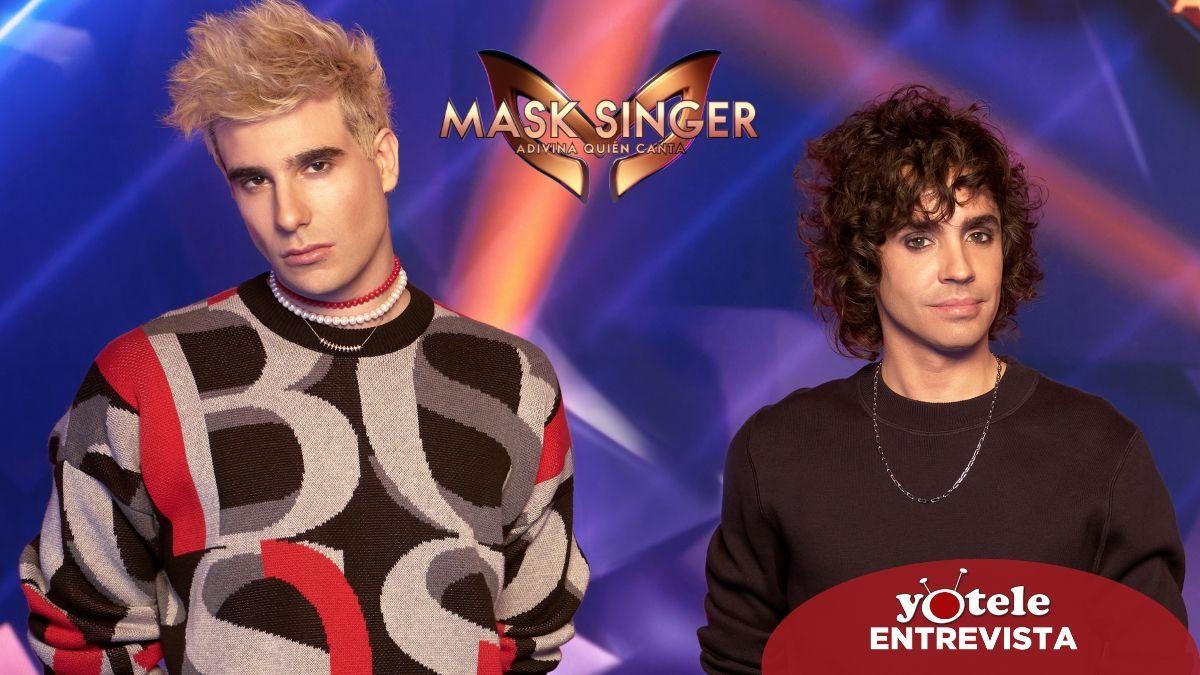 'Mask Singer: guess who sings' returns tonight to Antena 3 with a second edition in which 15 new celebrities will perform trying not to be recognized under a mask. In this new season, Los Javis (Javier Calvo and Javier Ambrossi) will be two of the researchers who repeat after the success that the format had on its arrival in Spain. YOTELE talks to the Javises about the new installments of 'Mask Singer' on Antena 3.
How did you experience the last edition from your homes?
Javi Calvo: The biggest success for me was that all my friends wanted to meet me to watch the show. I loved being able to be with my family, with my family and friends and to be able to enjoy 'Mask Singer' from home.
Javi Ambrossi: It's something they tell us on the street too, that they love the program. People transmit a lot of affection to us continuously, it is brutal. I thought it was going to be more complicated for the viewers than it was for us, but I did not have the factor of professional Twitter researchers. I was hallucinating myself with people, who already knew who was hiding behind the masks. I was very surprised, it is different to experience it as a researcher than from home.
How have you prepared for this year already having the experience of the last edition?
Javi Calvo: I have distributed several options by areas of life, for example, television or sports, I had my options. I have been pointing out the clues, I have been evaluating the options and it has been like studying at school.
Javi Ambrossi: I have prepared myself by reading the magazine 'Hello' a lot every week. I have not done anything different, but it is true that this year the tracks are focused in a different way. They are not data that people will easily be able to find in their homes. They are clues that you know or do not know. I hope the show doesn't start and everyone knows who he is on the first day.
Have you paid more attention to intuition than to the clues?
Javi Ambrossi: I think last year I was more obsessed with the tracks and didn't pay much attention to myself. This edition I have been carried away more by what I listen to and how they sing. We have let ourselves flow more.
Can anyone be under the masks?
Javi Calvo: After people see this season they will realize that anyone can be under the mask. Even Donald Trump could be under one of them. The characters are even more surprising than last year. They are international stars well known to all. People are going to freak out.
Last year, at the gala before the final, some famous photographs of the finalists were exhibited as a clue. This led to people on social media knowing who was under the masks and a lot was created spoiler towards the end. Has it been fixed in this issue?
Javi Ambrossi: The show has learned its lesson, this year there is no photo clue. I think it will not happen again. What happened surprised us all, because it upset a lot of people when they were told who those masks were. Even so, it must be said that people have played very well and now it's up to us to make a move. Now it is much more difficult.
Do you think that the way your audience sees you has changed with this program?
Javi calvo It is amazing to the people that we have come up with this program. We go down the street and everyone knows us. Television has a brutal power to reach people. I notice it seasonally, there are times when I go out to the streets and everyone recognizes me and when you hardly appear in programs, then things are calmer. I have really noticed the reach of this program.
Javi Amborssi: It's cool because that audience that sees 'Mask Singer' is later encouraged to see 'Veneno' or other projects we've done, like Paquita Salas. Thanks to this program, people who were not so inclined to start our series may have already done so. I also have the perception that thanks to 'Mask Singer' the public has known us how we are separately.

www.informacion.es
Eddie is an Australian news reporter with over 9 years in the industry and has published on Forbes and tech crunch.