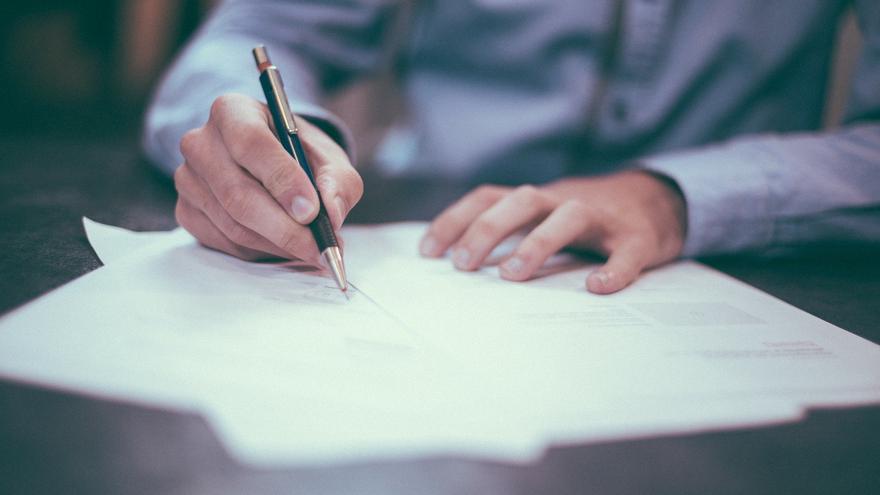 Correspondence, love or anything else, has been lost as our mobile phone becomes a cluster of applications that we never get to use. That is why it is so welcome the discovery that there are still people who, either because of their age or because they have not embraced (nor have they foreseen) new technologies, retain the beautiful habit of grabbing a pen and paper and leaning forward to write.
A few days ago, as soon as I got to my workplace, I came across a strange item on my table, because it was unusual: a letter to my name sent from Barcelona. For a journalist, accustomed to measuring any trifle in life in terms of what would be a five-column story and what would not be more than sad meat in brief, to discover early in the morning a calligraphic envelope, with careful handwriting, elegant line, line straight and compliant with the spelling, it constitutes an informative event of the first order.
I opened it carefully, awkwardly. I don't remember the last time a reader approached me by the traditional method, once so common. The usual thing is to use the fast track of social networks (manipulative press is the softest thing they dedicate to us). A handwritten letter sent to a newsroom can only mean two or three things, hardly any good: either it is anonymous or it is an enraged old school reader or a deep Throat sure you have Watergate in your hands and that how is it possible that journalists do not echo ourselves of the formidable fact that he narrates in his letter, a circumstance that he may or may not take advantage of to sneak in some disqualification. It has already been said: manipulators. Anyway.
Unless it's Christmas time, sending a personalized letter to a journalist via regular mail is often an extraordinary feat. Mine is postmarked ("Post, everyone's company) and a commemorative stamp of 40 years of Social Security, whose piggy bank, said with resignation and sadness, does not have much to commemorate. As I remember it, all the letters in my blue box bear a stamp valued in pesetas, in many cases 25 (0.15 euros to change) and the once omnipresent effigy of King Juan Carlos. Tempus fugit. There are no more pesetas and Juan Carlos walks among turbans, djellaba and desert sand. I try to find out the price of the stamp, but it only says rate A. Digging through the internet I find out that such rate category corresponds to "ordinary national letters and postcards, standardized up to 20 gr." In total, 0.65 euros (108.15 of old pesetas).
A lifetime has passed. This reader's letter, therefore, is the first in many years and, from the moment it is sent, points to a candidate for a place of honor in the blue box. "Hello, Mr. Jorge. I will introduce myself, my name is Carlos Bara Mateo, I am 71 years old and these lines are [sic] to say thank you for your writing… ", and quotes an article of mine published recently. Done on A2 size folio, optimal for writing, with a magnificent calligraphy of those who are used to writing by hand, oblivious to the notebook, very well constructed and without a single spelling mistake, Carlos praises the positions that I expressed in that political analysis. Immediately enter flour: So-and-so [se refiere a un expresidente del Gobierno] He was the great traitor to the working class (…) because it was the moment when much more could be done for the workers, but it was the other way around, unfortunately, not for him, because he pushed the revolving doors. They change color like chameleons change, and the bad thing is that all parties do it, they are the same. What my mother used to say – Carlos continues with a little poetry -: 'before fucking, promise a lot; after we screwed up, nothing promised. ' It is a pity that we do not have good politicians who are at the service of the people as they promise, but rather they are like leeches, and for not complying or penalizing them, and that is why they go to more, like the former president ". As a love letter it is out of the catalog, but the analysis – applicable depending on who to any former Spanish prime minister they are thinking of – I do not remove a comma.
The letter does not smell of perfume nor is it sealed with teenage lips smudged in rouge, but it preserves the honorable flavor of the old correspondence and the honesty of those who refuse to believe that any time in the past was better, although they have no choice but to look back resigned to a change that could have been and was not. The memory of time. I only hope one day to find the key to the box so that Carlos's letter can accompany the rest of the epistolary reminiscences, along with a pinch of life that was counted in pesetas and presided over the face of that monarch that one day we took seriously. That was a love story. Like so many memories witnesses of another time, it also looks like an old letter held by a rubber band.

www.informacion.es
Eddie is an Australian news reporter with over 9 years in the industry and has published on Forbes and tech crunch.