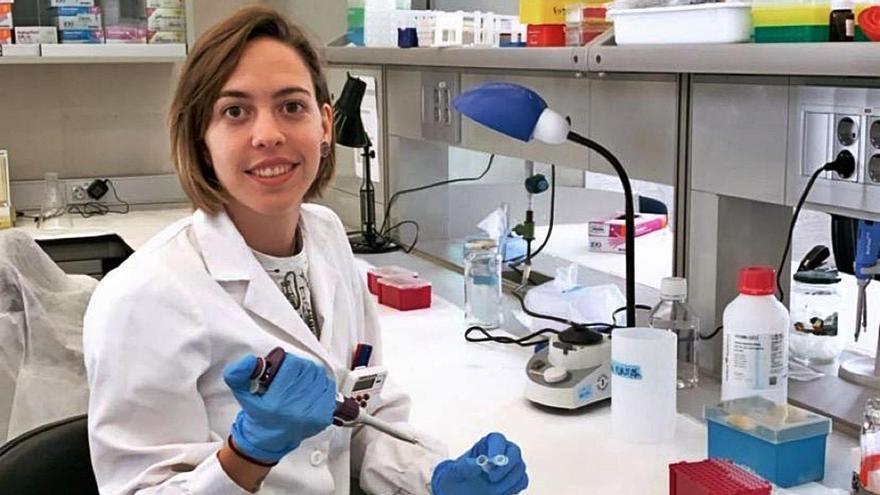 Lucía Almagro, from Elche, began two years ago a work of scientific dissemination on social networks that today results in a profile with thousands of followers who began to reach her thanks to her explanations about the covid.
How did "Diary of a scientist" come about?
Diario de una scientist was born in the summer of 2018 with the idea of ​​trying to bring people closer to what I did in the laboratory to teach people how to do science. With the pandemic I went around my profile because I began to see that there was a lot of misinformation and a lot of hoaxes and I thought it was a good idea to be able to explain to people what was happening. Before the covid science was for scientists, now it is of general interest and so I began to dismantle hoaxes about this virus and explaining what happened with scientific evidence.
The coronavirus has increased the interest of citizens in Science, what has this meant for your work in social networks?
Before, nobody cared what a vaccine was, what a virus is, where SARS comes from and now it is on the media agenda. It is very important to explain to the population what is behind each piece of news, the scientific study and the dedication that exists because advances in science do not come from one day to the next, it is a very long and very sacrificial journey. Therefore, with the covid data, followers began to come since weekly I collect the data provided by the Ministry of Health and I take stock to see what the real situation in Spain is and I try to explain everything to create an objective vision of the situation. From there each one must draw their conclusions.
"Before the covid, nobody cared what a vaccine was, now it is in the general interest"

You carry out a weekly balance on the situation of the coronavirus in Spain, so what is the current panorama?
After the second wave had passed, the experts warned that there was a small scare due to the considerable increase in infections during the December bridge as a result of the tourist mobility that occurred and that is reflected in the increase in positives in tourist places in Spain , such as the Valencian Community or the Balearic Islands. Yet it stayed there. Now we are in a stable situation because the contagions have stopped rising and the curve continues, but we are sure that after Christmas the stability will surely be lost and we will return to a state of maximum alertness.
At this time, a new strain of covid has entered the scene, what is the reason?
All countries are sequencing random samples of what is extracted in order to have a vision of which strains there are and which are the most common. Notably, this is something that is done for all viruses. In England it has been seen that of those samples taken, many have come out with that particular strain and it has temporarily coincided with an increase in infections. They have simply done a correlation, there is no scientific proof that this strain is more infectious or anything like that. There is no scientific evidence that this strain is the cause of an increase in infections in England. This strain has been in Italy and the Netherlands for a month and a half and there is no increase in infections in these countries as in England. From my point of view, I think they are covering poor management of the covid with the news of a new strain.
Thanks to social networks today thousands of people come to your work as a disseminator, what role are they playing in front of the covid?
Social networks are playing a very important role in scientific dissemination, but it all depends on the platform you are on. On Instagram I see more informed people and people looking for more first-hand information. Twitter for me is a thread of discussions where anti-vaccines and pro-vaccines are concentrated. However, Facebook is where we should work the most since the public is larger and the amount of hoaxes that circulate are overwhelming. I work more on Instagram and fortunately the community is very much the order of the day since we have a large number of disseminators and experts in the field, something that has caused people to find out first-hand on this platform because it allows you to contact direct with the source.
"Many people have promoted antibody tests without even being sanitary, they are scammers"
What do you like least about these new ways of communicating?
These platforms have a double edge and come from the hand of people who use social networks to make money at the cost of everything. I have seen how many people have promoted antibody tests without even being sanitary. Right now the number of scammers is impressive because anyone can do it, there is no filter. I have been contacted to advertise masks that were not recommended. I refuse to be part of this business that is profiting from a pandemic, I do not see it as ethical. All this advertising at the expense of the health of citizens should be prohibited.
Finally, do you think that social networks have favored citizenship to start having scientific disseminators as references?
Unfortunately today anyone without any experience or academic training has more credibility than a scientist or a health expert. This is a wound that the pandemic has left us who are dedicated to this. I must also say that as a result of the pandemic generated by the coronavirus, interest in science has been born, even momentarily, and many people have gotten closer to the expert. What I don't know is if when all this ends the interest will continue, I hope I am wrong and it will continue because before science was written for scientists, and I feel that the covid has brought us an interest in scientific popularization.

www.informacion.es
Digsmak is a news publisher with over 12 years of reporting experiance; and have published in many industry leading publications and news sites.