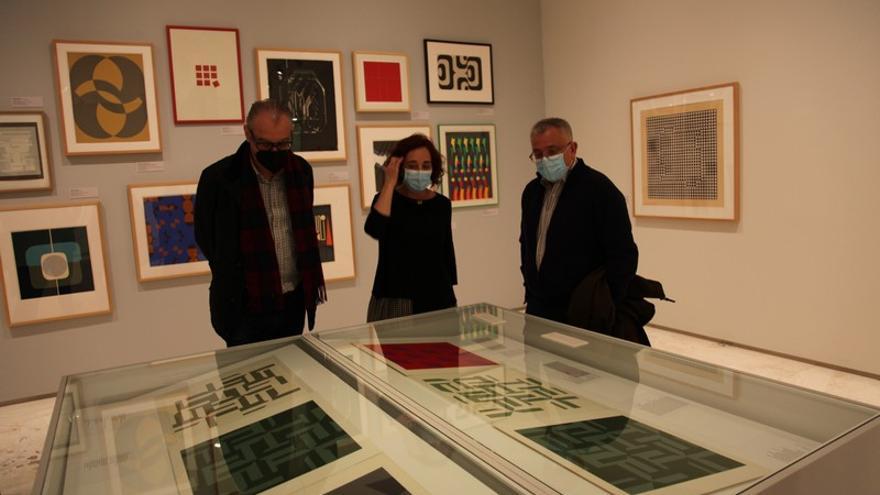 The Museum of Contemporary Art of Alicante dedicates, for the first time since its inauguration in 2011, an exhibition to the work of Abel Martin as an author and as a screenprinter. The work of Eusebio Sempere stamped in silkscreen by Abel Martín is well known and a display of technique and craft. However, little has been seen of the serigraphs made by him as an artist.
His creative facet develops in just four years, from 1968 a 1972, and includes very few pieces, some of which are collected in this sample. This exhibition has been possible thanks to the works donated by Florencio Martin, Abel's brother, and the works deposited at MACA by the artist's nephew, Javier Badenes Martín, from his collection Ars Citerior Valencian Community, who this morning toured the museum with the Councilor for Culture, Antonio Manresa, and the curator of the Alicante center, Rosa Castells.
The exhibition, which can be visited from next day 9, when the museum will reopen after a series of renovations, until the end of the year on the first floor, it is made up of 24 works from the XX Century Art Collection, one of them by Abel himself, as well as Andreu Alfaro, Eusebio Sempere, Soledad Sevilla , Cristóbal Halffter, Gustavo Torner, Pablo Palazuelo, Eduardo Chillida, Horacio García Rossi, Julio Le Parc, François Morellet, Francisco Sobrino, Joël Stein, Richard Anuszkiewicz or Victor Vasarely.
It also includes 21 works by other artists stamped by him, including Jean Arp. Auguste Herbin, Eduardo Chillida, Pablo Palazuelo, Manuel Barbadillo or Elena Asins; and finally 27 works of his authorship as an artist Among which the 6 serigraphs in the Musical folder stand out, made thanks to a grant awarded by the Juan March Foundation in 1971.
For Castells, "it was aesthetic justice to pay tribute in some way to the artist who shared life, time and artistic projects with Eusebio Sempere; to discover the importance of his work as a screenprinter for a whole generation of artists who had their work as a reference of commitment and quality , and how he contributed in an essential way to disseminating the work of art. "
In his opinion, "entering the work stamped by Abel Martín as an artist is to discover to what extent his work was in tune with the geometric currents and concrete of his time; or how he was one of the forgotten participants of the Seminars of Automatic Generation of Plastic Forms of the Calculation Center from the University of Madrid together with artists, engineers, architects, or programmers. This was a small necessary sample that should start a research process around this artist of whom we know so little ".
Manresa, meanwhile, has been "grateful to the entire MACA team, led by Rosa, for the great work they have done during these weeks, to show the public a brilliant exhibition, thanks to which we can meet Abel, an exceptional artist, but often forgotten ".
Geometric context of the 20th Century Art Collection
Eusebio Sempere and his partner Abel Martín learned the screen printing technique in Paris. On their return to Spain in 1960, they introduced this stamping technique, making beautiful prints of themselves and their artist friends, thus spreading abstract art until that time unknown. At first, Sempere and Abel worked together and then, in the mid-1960s, Abel was only in charge of the technical process. And so he became a key figure in the reproduction and dissemination of contemporary art in our country.
The deep conviction that graphic work deserved the status of original work, that it put contemporary art within the reach of a large majority of the public, turning it into a mass phenomenon, and the respect and enthusiasm that both profess for graphic work, has repercussions on their own XX Century Art Collection. A sample of drawings, engravings, lithographs and serigraphs He comes to complete the extensive list of essential artists, thus touring the suggestive territories of the artistic framework of the 20th century. This exhibition shows the works made in the concrete context, from the kinetic ones of Paris to the Spanish geometric ones.
Art made screen printing
Abel Martín (Mosqueruela, Teruel, 1931-Madrid, 1993) was an expert screenprinter. After dedicating himself to various trades, he went to Paris in 1958, following in the wake of his brother Florencio. There he met a group of young artists like Salvador Victoria, Lucio Muñoz, Pablo Palazuelo or Eusebio Sempere. With Sempere he established a close friendship and artistic collaboration until the end of his days. Together they learn the serigraphy technique in the workshop of the Cuban artist Wifredo Arcay, a learning "slow and full of little secrets", while they print works by the artists of the Denise René Gallery: Jean Arp, Auguste Herbin, André Bloc or Victor Vasarely .
In Madrid, both set up a workshop to stamp the first artistic serigraphs in Spain. A complex book by Lucio Muñoz with sand textures attracts, due to its perfection, commissions from other artists, especially those who gather around the Museum of Abstract Art of Cuenca: Antonio Saura, Fernando Zóbel, José Guerrero, Manuel Millares , Hernández Mompó, Gustavo Torner or Gerardo Rueda.
Abel became a reference in the trade of screen printing with a great quality in the realization of beautiful prints and books that came out of the Cuenca workshops first and his workshop in Madrid later. Many are the serigraphs that we know print, although we do not know the exact number or for how many artists it works. Thanks to the donations of Florencio Martín and the deposits of the ARS Citerior collection, in a generous way, we deepened our knowledge.
From 1968 to 1972, Abel Martín prints his own serigraphs, just a score of works in three folders entitled Metempsychosis with texts by Tomás Marco; Musical, with text by Enrique Delgado and six musical scores and Redes with a story by Felipe Briones, as well as a series of loose serigraphs. In all of them he works from geometry, on the plane or on the curve, using programming languages ​​very close to the Calculus Center of the University of Madrid, in whose seminars he actively participates, assuming since then, the collaboration between artists as a way of transversal and enriching creation.

www.informacion.es
Eddie is an Australian news reporter with over 9 years in the industry and has published on Forbes and tech crunch.