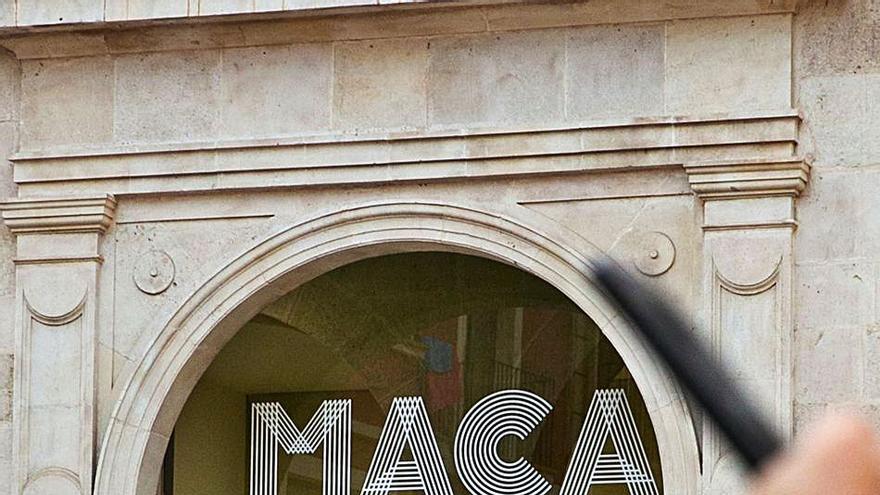 This new image, created by designer Alex Gifreu, takes as a reference kinetic art and the work of Eusebio Sempere, whose art collection is the origin of the museum. "We have concentrated the design in six lines because the MACA is full of lines everywhere, on all the windows there are serigraphs and Sempere's work is built on the basis of lines," says Rosa Castells, curator of the museum.
«We have recovered those lines of Sempere, which are six and which are the ones that intersect to create the letter M, while in the two A's they change the layout. The C is the only letter that consists of nine lines, referring to a piece by Sempere, and it is also the C for culture and cultural center.
To give visibility to the image and after a chromatic study, the chosen color was red, in addition to having designed it in black on white and in gray, also in gradient. "Red is the color of passion and vitality, of courage, so that MACA stands out, that it is perceptible and visible, so that everyone knows where it is," says Cecilia Matín, in charge of brand strategy.
"We have created a dynamic identity that integrates lighting and lines as a resource to create the perception of movement and bring to life the museum's promise to change the way you look at and move the world." A new image in which "we have based our identity not so much on what the museum is but on the effect it has on the public to highlight the power that art has to connect people and transform their lives."
New motto for the museum
MACA moves, expands, surprises, shakes and transforms. That is the motto that defines the new museum. «A museum – affirms Cecilia Martín – that positions itself, that moves, that stimulates, that inspires; a brave and challenging museum that encourages action and connects people with contemporary culture.
The idea is to define a museum that is in continuous movement, «that opens your mind to a world in constant evolution and that goes from being a mere institution to a place where very diverse issues are raised, from climate change, to the perspectives of gender, poverty or racism and what it wants is to be a revealing, challenging, vital, participatory, open and educational museum for all, which crosses borders and goes out onto the streets ».
With this new philosophy, it is about that everyone can be part of MACA, with a multidisciplinary, participatory and inclusive offer that goes beyond being a container to show art but also generates contemporary culture and encourages its study. "The objective is to discover different worlds, broaden the gaze and amaze, generate surprise and encourage active participation by connecting different disciplines."
Along with the image change campaign, which is now being made known throughout the city, work has been done to prepare objects to gradually implement the museum's merchandising, such as T-shirts, notebooks, bags, «so that MACA can enter in people's houses, that they can carry it and be accessible, "says Rosa Castells.

www.informacion.es
Eddie is an Australian news reporter with over 9 years in the industry and has published on Forbes and tech crunch.