Correspondent in Paris
Updated:
Keep

Emmanuel Macron has changed the blue color of the flag of France, to give it a more "vigorous" and "martial" tone, aspiring to "resume" with the "revolutionary" tradition of 1789, which was already very present in his triumphant presidential election of 2017 , with a book and political program called "Revolution!"
The colors of the national flag, blue, white and red remain intact since 1794. With two perhaps significant shades. In 1976, Valéry Giscard d'Estaing He decided to slightly modify the traditional blue of the French flag, giving it a "cobalt" hue, more "friendly" and less "brutal", "closer to the blue of the European flag." Giscard's official portrait, in its day, was made by Jacques Henri Lartigue, and perhaps the best of the portraits of a French president: a young president with a waving national flag, slightly retouched, in order to "harmonize" the tones.
Forty-four years later, in July 2020, President Macron decided to give another change of nuance, after long reflection and conversations with the official set designer of the Elysee, Arnaud Jolens: to give the blue of the national flag again the original and more "manly" navy blue hue of the 1794 national flag.
In a country that has countless art critics, photography critics, infinite exegetes of public life, no one had noticed that subtle change in the blue color of the national flag. until two journalists, authors of a book entitled 'Elíseo confidential', recently published, they have discovered the cake, which only affects, for now, a relatively small number of national flags: those that fly on the Elysee, various ministries and institutions. The slow replacement of the national flag throughout France will be carried out "slowly but surely".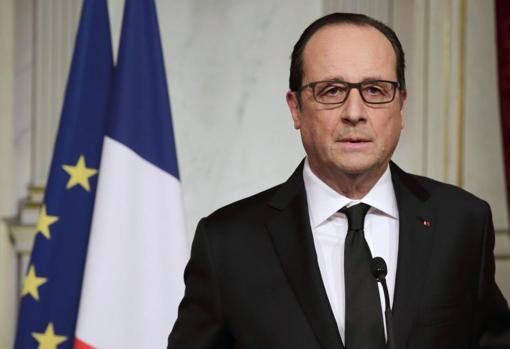 Purely aesthetic decision
The Elysee has not wished to comment at length on a "purely aesthetic" decision, according to unofficial sources, insisting that «It is not a question of modifying the symbols in depth of the Republic".
Six months before the next presidential election, the decision seems loaded with a powerful symbolic dimension.
Macron was elected president promising a liberal-reformist revolution: "Reform France to re-found Europe." Underway, shameful, the new presidential campaign is late to be discovered that Macron himself wishes to return to the national flag his "more virile and martial" colors, faithful to the tradition of the first of the French revolutions, that of 1789-93.
Well. To be sure, the choice of a "stronger" blue color may not change the vote of many thousands of French people. But the insistence on the "values" and "principles" of the revolution that founded modern France confirms presidential ambition deeper: to present a political project, a «common house», where politicians and voters from the center, right, center left and center right could have a place, waving the flag and saber at the ready, on horseback and charging step of the magna Bonapartist tradition, flying a "very manly" flag.
See them
comments

www.abc.es
George is Digismak's reported cum editor with 13 years of experience in Journalism