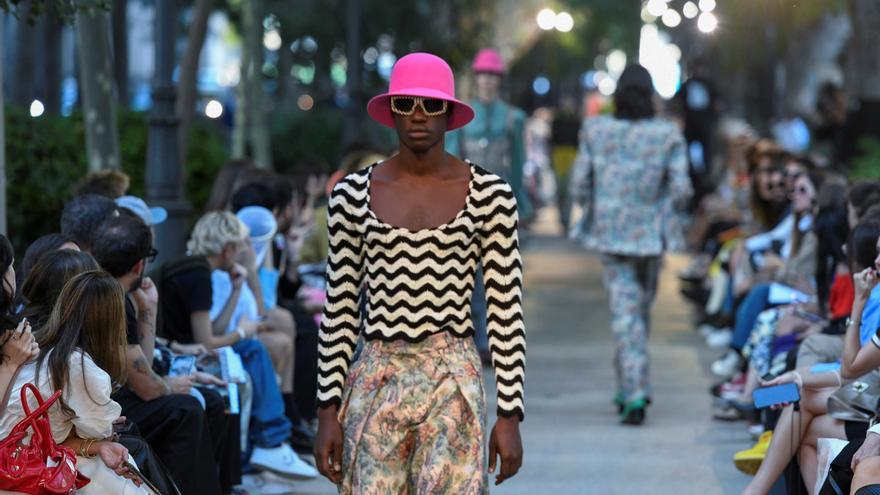 Irreverent and sophisticated, Palomo Spain looks to its origins to celebrate its fifth anniversary in 'Córdoba', a tribute to his cultural heritage with which he returns to the Paseo del Prado, the heart of Madrid, the starting point for the presentation of his first collections and the prelude to his fashion shows in Paris or New York.
More than fifty proposals take Madrid's Paseo del Prado in 'Córdoba', the new collection by Alejandro Gómez Palomo that, in an "exercise of introspection", turns his world of inspiration onto the catwalk in pieces that range from his classic 'palomos' to other casual ones, with which he engages in 'streetwear' and enter the new signature codes, for which the dancers 'El Yiyo' and 'Tete' and Israel Fernández have paraded.
"In this return to the physical parades we wanted to take people to the origin," explains Alejandro Gómez Palomo in an interview with Efe about the collection that, after a first attempt to present itself in Córdoba, finally lands in the nerve center of Madrid, the Paseo del Prado. "We go back to our house, where we started and did the first show."
Five years have passed since that first presentation, in which the firm has consolidated and crossed borders, dressing international celebrities and showing their proposals on international fashion calendars. "To the Palomo of origin I would say that everything is learning and patience. Now we are more aware of the business reality ", says the man from Cordoba about his evolution.
"The intention behind what we present now is not to be a passing parade, but to translate things onto the street into comfortable clothes that people can wear. We want Palomo to be part of life ", explains the designer who, after a five-year career in fashion with his firm, confesses that he has also become an entrepreneur. This idea and the know-how that he centralizes in his Posadas (Córdoba) workshop, under careful manufacturing standards, are what have given the creator a success formula.
Now he is stringing together a collection in which talks about his own roots, which are also those of his workshop, and with which he turns the Paseo del Prado into a particular Cordovan patio, configuring a fashion that invites you to dream in large events, but also in everyday life. "'Córdoba' talks about my roots and the personality of the Cordovan, half austere and impregnated with the cultural load that the mixture of its Arab, Christian and Jewish heritage gives," she explains about the collection, of "very clear references" to this culture that come as a result of "strong introspection".
Irreverent, lavish, dreamy and sophisticated, Palomo Spain's designs have been for years a brooch that breaks with the canons established in fashion, in which it traces its own language that blurs the conventional to, at the same time, praise it as a flag converted into avant-garde. "I always go back to my own thing", he says about this collection, in which he looks "towards the future", but always with an eye on his roots, and with which he reinterprets the traditional on a three hundred meter runway. "In this location you can feel how alive the city is and it is easy to get caught up in its energy. I've been thinking about it for a while. "
Cargo trousers, flat sleeves, and meticulous Svarowski crystal inlays embroideries converge with "a badass bullfighter point" in garments that drink from inspirations like Manolete or Julio Romero de Torres. "We are eclipsed by the work that is inside a bullfighter's pants and their dressing ritual, where the work goes from the inside out." A rite that the Cordovan personifies in trousers that appear on the catwalk turned upside down, in "exquisite employer experiments" that present a concept of styles that seem to be "half dressed", as extolled by the anti-fashion culture at the end of the eighties.
Palomo classics are not lacking, in pieces such as shirts with ties, ruffles and large volumes loaded with theatricality in giant coats, dresses and kaftans. There are also structured and "oversize" winter suits, which, dotted with hats and colorful glasses, are part of a particular parade that puts the finishing touch to fashion weeks. "We have established our own rhythm, we do not depend on fashion weeks or multi-brand stores, we have created a sustainable way for the firm to sustain itself," he explains about choosing to present his collection outside of the weekdays calendars. fashion: "we have always been a bit punk, now we are more", he jokes.
The fact of having found these solid foundations adds to his production rhythm, which he has always maintained in his workshop. "It gives us the freedom to do whatever we want, we are very little influenced by outsiders, we have found a comfort that works for us," he explains about his way of making fashion, part of his identity.
In this equation comes into play meet your customer, a fundamental point for which the pandemic has become an ally. "It gave us time to stop, see what we had built, be very aware of who our client is and listen to what they need," he says about this time, after which he returns to physical parades materializing his continuous expansion.



www.informacion.es
Eddie is an Australian news reporter with over 9 years in the industry and has published on Forbes and tech crunch.